Melania Trump's Parents Just Officially Became American Citizens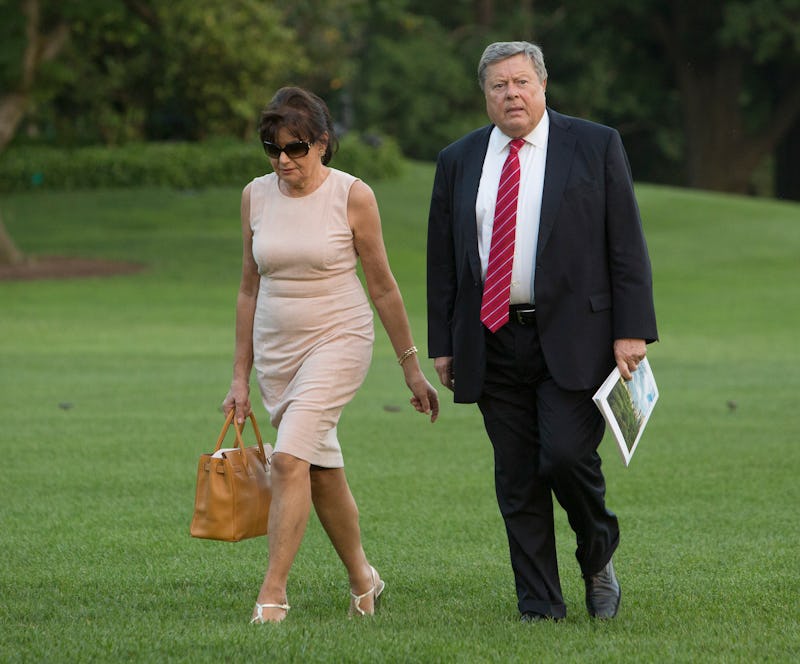 Pool/Getty Images News/Getty Images
Following months-long speculation about whether or not the first lady's family benefited from "chain migration," Melania Trump's parents were sworn in as U.S. citizens on Thursday in New York City. According to The Washington Post, Viktor and Amalija Knavs have been living in the U.S. with green cards they may have obtained through a family reunification process heavily criticized by the president. However, this has neither been confirmed nor denied by their immigration lawyer, Michael Wildes.
Although both are now retired, Viktor used to work as a car dealer, while Amalija worked in a textile factory, according to ABC News. They raised Trump in a rural industrial town in Slovenia, until she settled in New York in 1996. CNN reported that since Trump's husband assumed the presidency, Viktor and Amalija have often joined the first family on trips to Mar-a-Lago and Bedminster, New Jersey, and they are also frequently spotted in Washington.
Earlier this year, immigration experts told The Washington Post that Trump likely sponsored her parents for green cards, though Wildes did not confirm this. This is a practice that Trump's husband has routinely criticized as "chain migration," misleadingly suggesting that "a single immigrant can bring in virtually unlimited numbers of distant relatives." The president went on to propose limiting family sponsorships to spouses and minor children, which would have made it impossible for him to sponsor his parents-in-law.
"This vital reform is necessary," the president said in his defense of ending this particular family reunification program, "not just for our economy, but for our security and our future."
As a result of his remarks, Viktor and Amalija came under scrutiny, with critics suggesting they received favorable treatment because the president didn't mind white immigrants from European countries as much as he did those that came from other parts of the world. According to Vox, the spotlight thrown on her parents' residency in the U.S. also sparked questions about Trump's own immigration status, including speculation that she briefly worked on a tourist visa before obtaining an H-1B visa for skilled workers in October 1996.
Politico pointed out back in 2016, however, that Trump may not have knowingly committed visa fraud. What is clear, though, is that there are records of her working 10 modeling jobs prior to obtaining her H-1B visa, CBS News reported.
Speaking to reporters outside the Manhattan courthouse where Viktor and Amalija took their oath of citizenship, Wildes clarified that "the application, the process, the interview was no different than anybody else's, other than security arrangements to facilitate today," despite critics arguing otherwise.
"I've had the privilege of coming to this building for more than 30 years, working with some of the finest families and individuals," Wildes said. "My father was John Lennon's immigration lawyer when they took on the Nixon administration in this building, and this golden experiment — these doors that are in America — remain open to beautiful people as they have today."
Wildes went on to ask the reporters to respect Viktor and Amalija's privacy, and encouraged Americans to continue paying attention to the "dialogue that we're having on immigration." In Wildes' view, the first lady's parents are an example of immigration "going right."
"They have travelled a wonderful journey like many have, like millions have," Wildes said.