Melissa McCarthy's New NSFW Trailer Shows Puppets In A Way You've Never Seen Before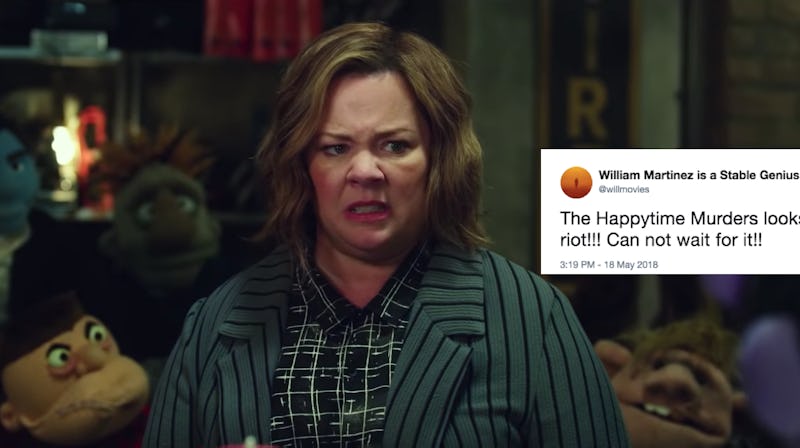 STX Entertainment/YouTube; willmovies/Twitter
If you ever wondered what an R-rated Muppets movie would be like, Melissa McCarthy will soon answer that question. A new trailer for The Happytime Murders shows puppets like you've never seen them before. As the trailer says, it's "No Sesame," but "all street," and that seems to accurately summarize the somewhat shocking and completely NSFW footage that features Muppet-like puppets using lewd language and doing drugs — well, puppet drugs, which actually may just be sugar from Pixie Stix. The Happytime Murders comes out on Aug. 17, and based on the trailer, it's like a raunchier version of 1988's Who Framed Roger Rabbit, pairing crime noir with non-human characters which you typically see in children's movies.
Not only does a murder-mystery story involving hilarious puppets sound exciting, but the human cast is pretty awesome as well. While McCarthy stars as LAPD detective investigating the murderers killing puppets, she has quite the team to back her up. That team includes Leslie David Baker (aka Stanley Hudson from The Office) playing a Lieutenant, and Joel McHale as an FBI agent — or as McHale's character in the trailer says it, "the f*ckin' FBI."
Again, if you plan to watch this trailer at work, make sure you have your headphones in. As if that human cast isn't great enough, the upcoming murder mystery movie also stars the hilarious Elizabeth Banks and Maya Rudolph together.
Even though the movie doesn't include the puppet characters you grew up with, the movie has ties to the Sesame Street crew. As Deadline pointed out, The Happytime Murders is directed by Brian Henson, who happens to be Jim Henson's son. Jim, as you probably already know, created the Muppets and even performed as Ernie and Kermit the frog. Brian, Jim's son, also got into the puppeteering business, and he serves as the chair of The Jim Henson Company, which his father founded.
Even if the movie has its roots in familiar — child-friendly — entertainment, it will be unlike anything you've ever seen before. According to a statement published by The Hollywood Reporter, McCarthy is pleased with the pairing of R-rated comedy and unexpected characters. "When a really good script combines puppet strippers, Los Angeles' underbelly and comedy, it's like my fever dream has finally come true," she said.
"Puppet strippers" and "underbelly" barely scratches the surface of what this crime movie consists of, and people on Twitter couldn't help but react with their own shock from the trailer that eventually includes an incredibly graphic puppet sex scene at a work.
Whether or not the workplace sex scene is intended as commentary on inappropriate office misconduct, it's hard to deny that the movie takes vulgarity to a new level. It's like from Sausage Party when Seth Rogen masterfully turned every food item you might find into a grocery store into a NSFW euphemism for something. Ribald puppets isn't exactly a new concept in comedies — the Broadway musical Avenue Q successfully turned furry creatures into crude comedians years ago — but that doesn't mean you've exactly seen what The Happytime Murders has in store for everyone.
In the trailer, you see everything from sex-workers propositioning McCarthy to a bunch of murdered puppets who literally had the stuffing knocked out of them. If you go see the R-rated movie this summer, it's most likely going to be a moviegoing experience that you've never had before.
Raunchy adult comedies featuring either animated characters or even puppets sometimes have a hard time with toeing the line between corny and absurd, but it seems like The Happytime Murders will have no problem pulling off the comedic feat. With Stanley Hudson involved, you know it will be a good time.