England's Penalty Shoot Out Win Produced Some Truly Lit Memes & Celeb Reactions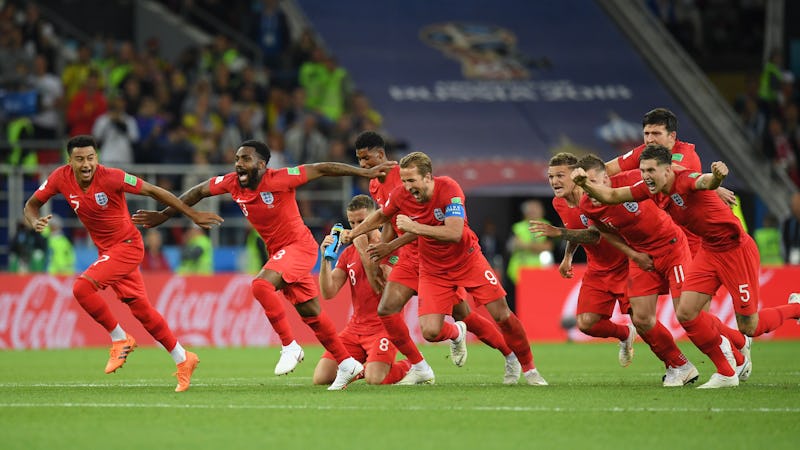 Matthias Hangst/Getty Images Sport/Getty Images
In case you've been living under a rock and/or doing a pretty extensive social media cleanse, you will by now know that England just about beat Colombia to advance to the quarter-finals of the 2018 FIFA World Cup. After drawing 1 - 1 at full time (and following the yellow-carding of six Colombia players), the England versus Colombia game went into extra time and then penalties, which left England fans in a bit of sweat, considering the team has never before won a penalty shoot out during the FIFA World Cup. But, the Three Lions went on to beat Columbia 4 - 3 in the penalty shoot-out. Predictably the England World Cup memes after beating Colombia were incredible.
But, first, the game. After a goalless first half, England scored the first goal of the match when Harry Kane sunk yet another penalty around the 57-minute mark. It then looked like England had it in the bag, still ahead by one as the game reached its 90-minute mark. However, heartbreak was to come when Colombian defender Yerry Mina put the ball past England goalkeeper Jordan Pickford 3 minutes into added time. England then failed to score during the subsequent 30-minute extra time period, which meant one thing: penalties.
As the BBC reports, England had never won a penalty shoot-out at the FIFA World Cup, so fans were pretty nervous. And, after Jordan Henderson's penalty was saved, things weren't looking good for the team at all. But after a Colombian player hit the bar and a solid save from Pickford, Eric Dier stood up to take the last England penalty. With one strike, he made history.
Speaking after the game, my new national hero Eric Dier explained how England players were pretty disgruntled by their full-time draw but "stayed calm" to emerge victorious. He told ITV: "To get knocked down at the end like we did with the goal, it's difficult to come back from that but we were ready for that," he explained. "We stayed calm, we stuck to our plan. We never panicked all the way through extra time."
Of course, Dier wasn't the only one with a reaction to that nail-biting penalty shootout. Indeed, viewers and England football fans on social media also did what they do best during incredibly tense situations and expressed their excitement/anxiety/joy through the art of memes.
Here are just a few of those reactions:
Of course, England's win didn't escape the attention of the celeb world. Indeed, from the likes of Russell Brand to Gary Lineker to the Three Lions legends Baddiel and Skinner, a lot of public figures also had thoughts about Tuesday's stressful AF — but ultimately joyous — game.
Here are just a few of those reactions:
So, what's next for England? And, is football *really* coming home? Well, there's quite a way to go yet, people.
Indeed, after finishing second in the group stages behind Belgium, England secured an arguably easier route to the World Cup final and will next face Sweden in the quarter-final on Saturday. However, two wins still stand between the England team and the World Cup final, and despite Tuesday night's win, England manager Gareth Southgate has his eyes fixed firmly on the next game.
He told ITV: "I thought we played so well in the 90 minutes, we showed incredible resilience to come back from huge disappointment at the final whistle." Given Southgate's notorious penalty miss in Euro 96, he also knows something of the challenge and pressure of that moment. "[Penalities] are tough," he said. "We talked long and hard about the process and we kept calm, and great credit to the staff and our players that they took it all on board and gave us a special moment.
"I'm now thinking about Sweden! Of course, this was special, but I want us to go on now. It's going to be a real tough test. I don't want to go home yet".
England vs. Sweden airs at 3 p.m. on Saturday, July 7 on ITV