Harry Styles Just Became A Hilarious Meme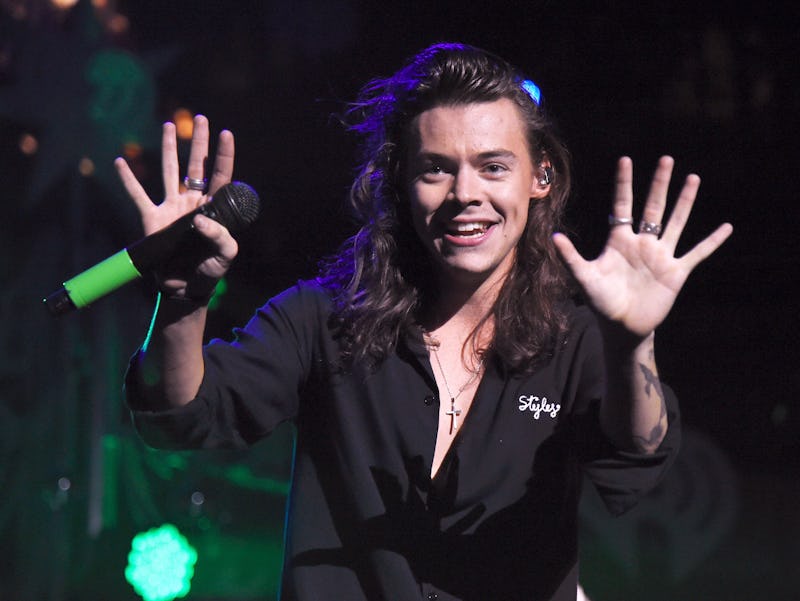 Jason Merritt/Getty Images Entertainment/Getty Images
These are exciting times for One Direction fans. Not only are they getting ready for a new single from Harry Styles on April 7 called "Sign of the Times," but at some point they can also expect a new music video for the single. According to The Sun, he was recently spotted filming for the video in Scotland and the photos have caused quite the reaction on Twitter. So much so, there are now a ton of memes of Harry Styles flying in the air.
The photos taken of Styles reportedly filming the video for his new single show the 23-year-old attached to a helicopter and flying through the air. Specifics surrounding the concept behind the alleged video have yet to be unveiled, but based on the images it sure looks like the former 1D member had the time of his life. It also looks like a terrifying experience, but I guess I shouldn't knock it until I try it? Yeah, that probably will never happen, because I'm pretty sure a helicopter isn't going to willfully drag me through the air. Nor am I sure I'd want that to happen — ever.
Whatever the case, this big stunt put on by Styles has thankfully stirred the creative juices in Twitter users. There are so many jokes about it that are hilarious. Of course people are going to react to Styles hanging from a helicopter with memes. What else would you expect? Speaking of jokes, all I can think of when I look at Styles is the opening of Sister Act 2: Back in the Habit when Deloris is flying through the air and it gets out of control.
And with that, enjoy the following memes.
What An Attention Seeker
He's all like, "Look at me flying in the air."
SpongeBob SquarePants Lookalike
He clearly found inspiration here.
The New Chocolate On A Pillow
This really isn't too much to ask, is it?
A Natural Harry Potter Reference
How can you not?
Is That Mary Poppins?
Too bad Emily Blunt scored the role in the new film.
He Makes A Great Souvenir — Or Tea
These look like best sellers.
The Resemblance Is Uncanny
Spot. On.
He's Definitely A Spy
Styles, Harry Styles.
A "Stronger" Version Of Himself
Perfection.
This Caption Says It All
Anyone else literally LOL'ing?
He's Just Feeling Childlike
I mean, some people just get it.
He May Be Michael Myers
The details surrounding this photo remain unclear, like whether or not this is really Styles, but what is happening and why does he seriously look like Michael Myers?
Or Is Some Type Of Shape Shifter
The eyes! Its eyes! I'm terrified.
Here's hoping his music video provides just as much entertainment as the photos of him filming it.