Harry Styles Is Soaring To New Heights In His Next Video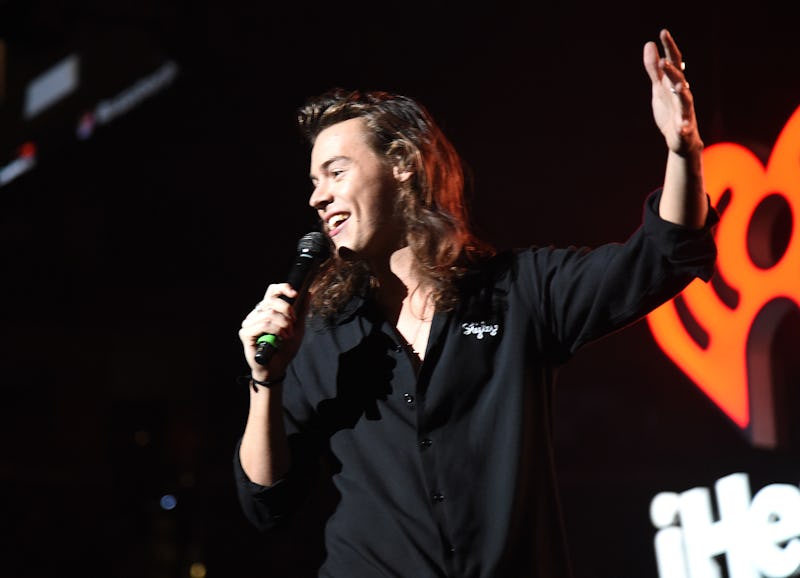 Jason Merritt/Getty Images Entertainment/Getty Images
Harry Styles is up to something. And by "up to something," I mean up in the air and hanging from a helicopter. On Tuesday, The Sun shared a whole pile of photos of the One Direction darling suspended from a chopper somewhere in Scotland. What in the name of Simon Cowell was this boy bander doing? According to The Sun, Styles was shooting a music video for "Sign of the Times." As the pop star announced last Friday, his debut solo single will be out on April 7. And earlier this week, he apparently threw a coat over his chunky knit sweater, wriggled into a harness, hopped out of a 'copter, dangled over a body of water, and shot the video for the forthcoming record.
What's this music video about? Normally, I'd ring my best friend Harry Styles and ask him, but Harry Styles has been pretty busy lately. (Oh, you didn't know Harry Styles and I are best friends? Well, now you do. Sure, it might be in my mind, but whatever.) So, I suppose I shall settle for option number two: Stare at these photographs and formulate some predictions.
Here we go: Maybe he plays Peter Pan in the music video? Or maybe the music video an homage to the live version of *NSYNC's "Sailing" cover? Or maybe it's his tribute to an anthropomorphic sponge who calls a pineapple under the sea his home? Or maybe he's going whale watching? But like, extreme whale watching. Or maybe there's an aerial yoga segment in the vid? Or maybe the music video is literally just four minutes of Styles hanging from a 'copter because he's always wanted to feel like a seagull?
I'm going with the seagull prediction. My best friend (yep, I'm still sticking to this story) is totally the sort of a guy who'd want to see the world through a seabird's eyes. That's what makes him beauti-gull.