Even A Royal Is Getting Involved With These Hilarious AF "It's Coming Home" Memes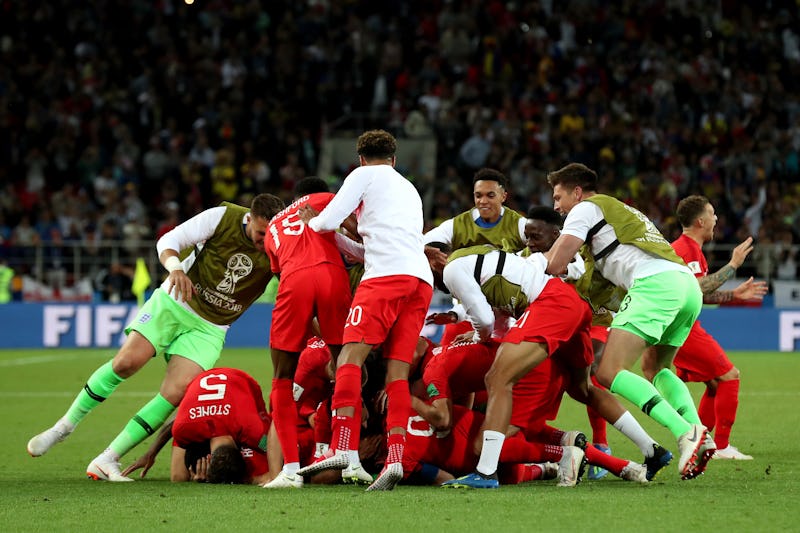 Clive Rose/Getty Images Sport/Getty Images
It's arguably one of the best football anthems of all time which everyone, footie fan or not, knows the lyrics to. With England doing a bit of alright this tournament, mega football fanatics and not so mega football fanatics (cough, me) are tuning in to see what's occurring. As per, when the nation goes wild for something, expect a heavy dose of memes. Oh yes, our favourite way to take the Mickey out of important historical events. So, as the best known World Cup song is playing on repeat, what about the "It's Coming Home" memes?
On Tuesday night, the nation collectively took a deep, agonising breath as a last minute goal by Colombia sent England into extra time. No goals in extra time meant the feared, hated, and collectively dreaded penalty shoot out, which has felled England's World Cup glory time and time again. Who doesn't remember poor old Becks messing up in 2004? The team, led by Gareth Southgate, showed that all of their training, coupled with some pretty cool brain bending expertise from psychologist Dr Pippa Grange has culminated in them getting through to the quarter finals. Let these memes guide you through this year's World Cup, when football might actually come home.
Ross Kemp lost it and chose to film his celebration, because why the heck not. Look at the madness in those eyes.
Kermit's man in the mirror bit is a classic meme, perfectly representing the now not so quiet hopes of England fans.
Do you ever wonder what football managers are writing on their little notepads?
Memes are like, the perfect chance to show off your crappy but fun photoshop skills and of course the World Cup is providing some pretty lit photoshop ops.
This little nugget shows that football may be coming home wrapped up in a blanket in the basket of a bicycle being ridden by Southgate. One second what?
Nothing says football like a camp as Christmas musical.
Rio Ferdinand got in on the action too, invoking one of the biggest memes of last year.
Yeah but you got to remember that like, footie isn't all that's hitting the news right now and as per, local TFL workers are ready with hilarious daily whiteboard statements. The people who write these deserve an award IMO.
This one is titled "Creation of Adam(n) good goalkeeper". That left hand really will go down in history.
Dead serious about it coming home though.
Some people have got seriously creative with it, too.
Behold, a Matrix sequence.
Even the OGs behind the anthem that is "Three Lions (It's Coming Home)" came to the party on Twitter to affirm what we were all thinking.
And then to cap things off, even the British royals are having their say on the matter, with Princess Eugenie posting a pretty priceless meme on her Instagram account with music dubbed over an iconic scene from Friends. Make sure you watch to the very end to get the punchline. One is very much amused Princess Eugenie.
With the action, excitement and build up far from over, I am sure that countless more hilarious footie memes are on the way, to get you giggling while watching the beautiful game. The will-they won't-they win question remains unanswered, but what we definitely know for sure is that once again the nation will be holding its breath during the quarter final. The quarter final game with England v Sweden is on this Saturday, with kick off at 3p.m. Tune in to BBC One to see if football really is coming home.