Twitter Is Lit With 'Bachelor' Finale Jokes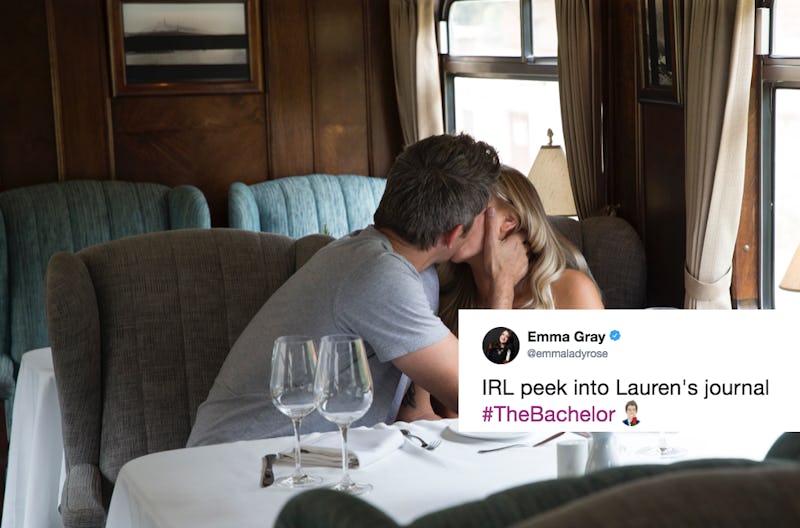 Paul Hebert/ABC, emmaladyrose/Twitter
After a mildly boring season of The Bachelor, Arie Luyendyk Jr. ended up giving fans a finale they will never forget. Despite the fact that he gave the final rose to Becca, Arie broke up with her to go after Lauren — a move that shocked so many people. People who have now taken to the internet to share their thoughts, and... most of them are actually really funny. There are already tons of memes and tweets about The Bachelor finale, because this one gave fans so much material to work with.
Let's be real: Bachelor finales are usually pretty great fodder for mocking, whether you watch the show for the love story or the drama. The proposal usually offers up enough cheesiness for a few jokes, but this time around? Well, let's just say that Arie's last minute change of heart has put the entire internet on overload. Chances are good that he is never going to live this down, and these memes are going to be around for seasons to come.
Here are some of the best memes and tweets about this season's Bachelor finale. Hey, it may have had a really dramatic ending, but the comedic material that has come out of this has been gold.
What Lauren Was Writing In Her Journal
Unfortunately, the show never filled us in on what she was actually writing, so now we'll never know.
On The Subject Of How Truly Ridiculous This Finale Is
Every single time Chris Harrison appeared on screen, he just had to hype up how explosive/dramatic/historic this finale was about to be. Then, we were all forced to sit through meeting the parents and final dates before we got to the good stuff? That was rough. And if you read spoilers? Well, the wait was even worse.
Arie's Difficult Choice
What was more painful: Watching Arie try to decide between Lauren and Becca and then change his mind again, or knowing exactly what he should have done in the first place without the ability to tell him through the television?
His Date & Conversation With Lauren
All season long, all of Arie and Lauren's dates have proven that together, they are a couple of few words (although that could be just what the editing has shown us, to be completely fair). Because of that, these tweets are just so accurate.
His Final Date With Becca
Becca's gift was super sweet and thoughtful, and really showed that she pictures a real future with Arie. Lauren? Well... it was missing that feel, but now that we know the way things really played out in the end, it doesn't seem like that ultimately mattered.
The Very Dramatic Proposal Scene
We all know the first person who arrives to the proposal spot is the one who's getting sent home. In this case, though, it was the opposite... as long as Lauren was prepared to wait several weeks for her possible happily ever after.
And Everything That Happened After Arie Changed His Mind
Is it enough to say that people are seriously pissed at Arie and want to fight for Becca? After everything she's been through, no. No, it is not. It would be impossible to blame fans for all of the negative things they're saying (and tweeting), because let's face it — it's what we're all thinking.
One thing's for sure: This is going to be a finale that people never forget, no matter what happens in future seasons of The Bachelor franchise. And thanks to these memes and tweets, we'll be able to remember exactly how cringeworthy and awful certain parts of it were. Um, thanks, Arie?