Men Worry Less About Sexual Harassment Now Than When #MeToo Began, According To This Study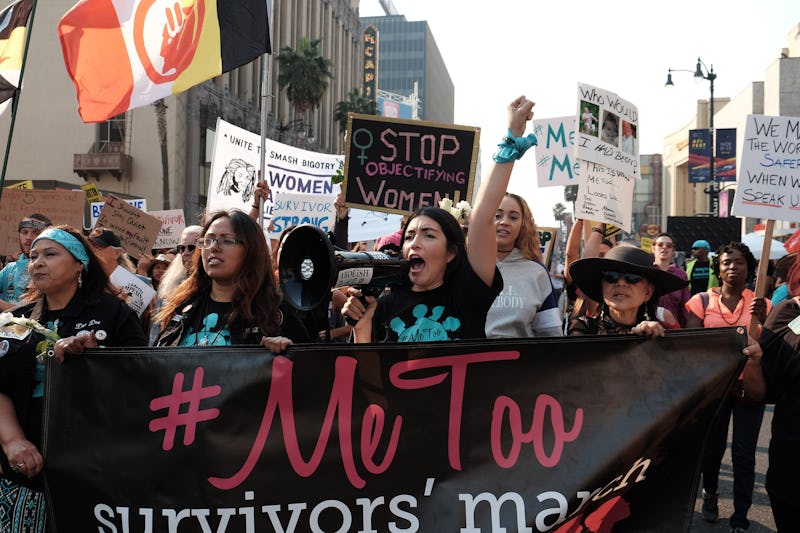 Sarah Morris/Getty Images Entertainment/Getty Images
A lot has changed in the year and a half since the #MeToo movement first shook the United States. Though many perpetrators of sexual misconduct have been ousted from positions of power, concern about the issue seems to have declined. A Gallup poll released Monday showed that men cared more about sexual harassment in #MeToo's immediate aftermath and now believe that it's less of a problem.
Gallup's initial survey was taken at the very end of October in 2017, more than three weeks after The New York Times broke the story of Harvey Weinstein's alleged sex crimes (which he has denied). At that time, 66 percent of the men polled said they believed sexual harassment in the workplace was a "major" issue. In a repeat of the survey taken last month, just 53 percent of male respondents said the same.
Meanwhile, reports continue to shed light on the prevalence of sexual misconduct within specific industries. The American Economic Association is currently grappling with a recent survey that revealed deep gender and racial biases within the field. The poll found that nearly half of female economists had experienced gender discrimination and that hundreds had been touched inappropriately or stalked.
The #MeToo movement has had an uneven reach and hit some fields sooner than others. Bloomberg's one-year #MeToo retrospective counted up the cases of those who had been accused of sexual misconduct and received mainstream media coverage. The overwhelming majority of the accused worked in politics, entertainment, arts and music, or media.
Women are increasingly likely to say that they have experienced sexual harassment, according to the new Gallup poll. While 42 percent said that they'd been harassed in 2017, 48 percent now say the same. The spike was particularly steep among women under the age of 50.
The Gallup survey also shows that men are more likely now than they were in 2017 to say that people in the workplace are too sensitive to the issue of sexual harassment. While 33 percent of male respondents answered that people were too sensitive then, 45 percent said the same in the new poll.
But women have a somewhat different impression of the problem. While fewer women also reported feeling that sexual harassment was a major issue than in 2017 and more suggested that people were being too sensitive, their responses changed less than men's. Women also believe that the problem is more serious: 70 percent of female respondents said that workplace harassment is a "major" issue this time, compared with 53 percent of men. Notably, though, 97 percent of all U.S. adults believe that it is a major or minor problem, and only a very slim minority think it's not a problem at all.
Gallup offers some potential reasons for why public opinion may have shifted since late 2017. A "preponderance of news coverage may have put men on the defensive," the report suggests, or people may "have become somewhat desensitized to the issue since" the #MeToo movement left the spotlight.
Gallup also noted that both men and women feel greater concern over workplace sexual harassment than they did in 1998, according to its own polling from the time. Progress may not be linear, but it does continue.