The 'Grey's Anatomy' Spinoff Trailer Is Here & Fans Are Going To Love It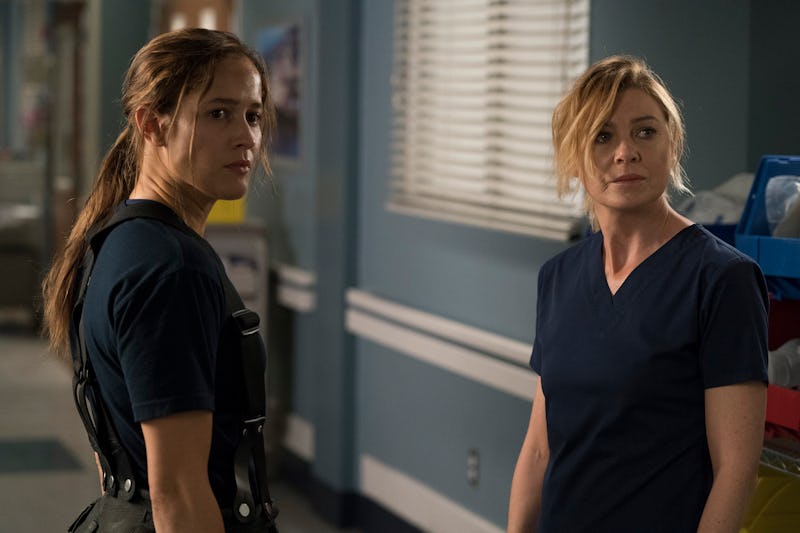 Mitch Haaseth/ABC
Shonda Rhimes must never sleep, because her pool of new television show ideas is seemingly never-ending. First came Grey's Anatomy. The latest addition was How To Get Away With Murder... until now. The newest show that Rhimes is producing is Station 19, and, not to sound like Stefon from Saturday Night Live, but it's got everything: Hot guys. Drama. Meredith Grey. And did I mention drama? Station 19's new trailer shows that it's going to be must-see TV when it premieres on March 22.
Us Shondaland fans have known this show was coming for a while — during the Season 13 finale fire explosion extravaganza, Ben, Miranda Bailey's husband, was inspired to become a fireman. He's been in training (much to Miranda's chagrin), and now, he's done. He's ready to be a fireman (and the star of the spinoff), even though, as the trailer shows, he doesn't do much but talk about how he used to cut people open. Not for nothing, but running into burning buildings doesn't make a person a slouch, Ben. In any case, Ben is welcomed by the station, and it's a family affair — Andy Herrera and her dad are in the same station. He's the captain, and it's all fun and fires until one day, her dad passes out in a fire. He decides that he has to step down, causing Andy to have to step up.
Andy is understandably upset, but she has to keep it together. And who to help her do that better than Meredith Grey? Meredith, ever prudent about where to cry in a hospital, pulls Andy aside and lets her cry it out in the supply closet, where many a Grey Sloan employee has either made out or let it all out. Rhimes' shows are never at a lack for powerful women, and Station 19 is no different. Aside from the required love triangle (it is a Shondaland show), Andy will definitely be grappling with what it means to replace her father as captain of her station. It's complicated being a woman in the world in general, so we can all imagine that it's complicated to be a woman in charge of a whole station of firefighters.
Also, did you catch that I mentioned above that this show is filled with hot men? If Rhimes delivers on anything, it's shows with a whole bunch of very, very attractive people (men and women) to make out with each other. There's something for everyone here. Plenty of good looks to go around. Hot people and drama — that's what ABC specializes in at this point, and boy, will people eat this show up. It's going to be serious-lite. Lighter than Scandal, less confusing than How To Get Away With Murder, perhaps more engaging than Grey's Anatomy. If you like any of these shows, you'll probably love Station 19.
And, if you love Grey's Anatomy, you're also in luck. Station 19 showrunner Stacy McKee said that there is more than enough room for Grey's characters to appear on Station 19 from time-to-time and vice versa. According to The Hollywood Reporter, McKee said the show was "Grey's adjacent" and there was "a lot of potential for cross-pollination."
As the pre-eminent Grey's character to travel over to the spinoff, Ben knows about cross-pollination. At Entertainment Weekly's pre-Emmys bash at the Sunset Tower Hotel in Hollywood, Jason George, who plays Ben, spoke about Ben's new path and the new show. "It's completely different. It's people on the street [in Seattle]," he said. "Grey's saves the lives when they come into the hospital, and my understanding is this is about saving the lives where they get in danger, and then getting them to the hospital... We've already established that Ben is a bit of an adrenaline junkie so that stuff appeals to him. And to me, for that matter. I'm a bit of an adrenaline junkie myself."
Well, then — adrenaline junkies unite, because Station 19 is sure to please when it premieres on March 22.