Here's Everything 'Grey's' Fans Need To Know About Meredith & DeLuca's Potential Romance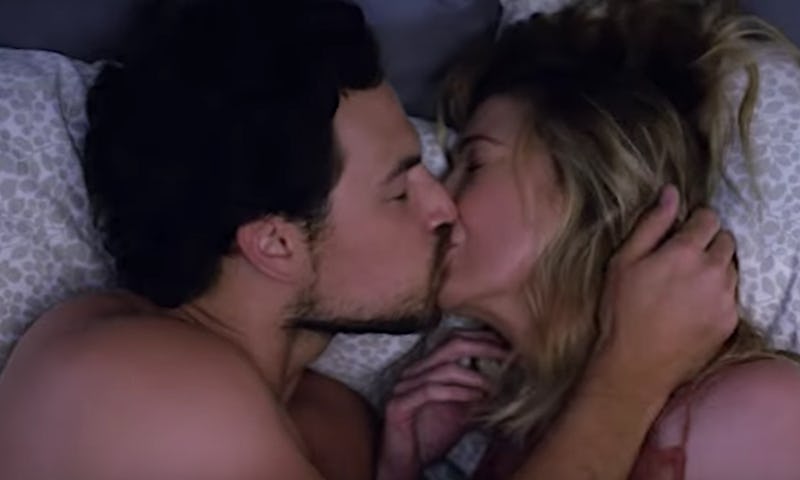 ABC
The world made a collective gasp when a recent Grey's Anatomy Season 15 trailer showed Meredith and DeLuca in bed together sharing a very steamy (and very unexpected) kiss. Fans were eager to determine what it could mean. Was it real or could it all end up to be just a dream, meant to temporarily throw audiences off? Little information has been revealed up until this point, but actor Giacomo Gianniotti recently spoke with Entertainment Tonight and hinted that a Meredith and DeLuca romance is in the works on Grey's Anatomy. Though how far it'll end up going remains to be seen.
"What is going on? We don't really know," Gianniotti told the outlet, though he insisted that fans shouldn't be all that surprised given that his character drunkenly kissed Meredith at Jo and Alex's wedding in Season 14. "Last season in the finale, they shared this drunken kiss," he recalled. "We didn't know what it meant but there was something there. Meredith kind of pushed it off and it's something we've been revisiting in this season." And just in case you thought that steamy hookup scene is just a quick flash in the pan, the Grey's star assures viewers that it's only a little taste of what's to come.
"Definitely in the premiere you're going to see it right out of the gate, which is basically what you saw in the trailer but it's going to be a little longer, a little bit more detailed," Gianniotti teased. "I think we're going to see something blossoming between them: A friendship? A friendship that could be more? At the moment, we don't know. We're only on the sixth episode. We are definitely building some romance, but to what degree, I don't know."
From the sound of things, it sure seems like the whole dream sequence idea could be put to bed (literally). But for those who are still skeptical about whether or not this is all just a red herring, Gianniotti promised that fans will get all the answers come the night of the two-hour premiere. "I would say that when you're sitting on your couch [on Thursday], you will have all your questions answered!" he stated. "The premiere is incredible. We're packing so much storytelling in it."
Like many of the doctors over at Grey Sloan Memorial, DeLuca's love life has been a bit of a roller coaster ride. First there was Maggie, and then he was forced to say goodbye to Sam Bello, who left to work for Cristina Yang in Switzerland when the threat of deportation loomed in her future. So will the poor guy have a little bit better luck this season? "I think Sam was the first person that DeLuca really, really cared about, that we really saw him go through great heartbreak and loss over that," Gianniotti lamented. "But I'm hopeful that maybe this season he can find someone that could last. Who knows? Maybe it could be Meredith."
If that's the case, then that just leaves us with one simple question: what the heck should their couple name be?!