Meryl Streep Loves Viola Davis As Much As You Do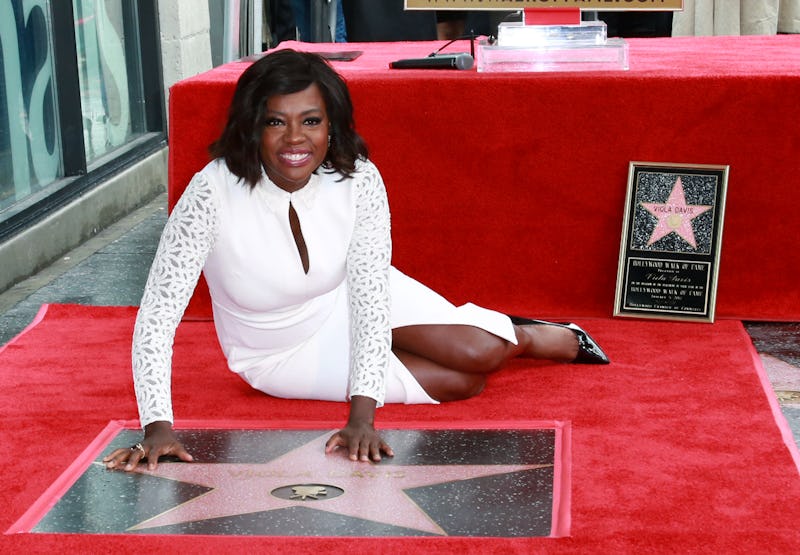 Jonathan Leibson/Getty Images Entertainment/Getty Images
The How To Get Away With Murder actor started 2017 in style by accepting a Hollywood star on Thursday, Jan. 6. But, arguably, Viola Davis' Walk of Fame star wasn't the biggest compliment the thespian was paid about her acting talent this week (though, given that she was the first celebrity to be honored with a star in 2017, it was already a pretty big one). Meryl Streep, who starred alongside Davis in the 2008 drama Doubt, was at the Hollywood Walk of Fame Star ceremony and she spoke movingly about Davis' prodigious skills:
Viola Davis is possessed. She is possessed to the blazing, incandescent power. She is arguably the most immediate, responsive artist I have ever worked with. She's so alive, she glistens... She plants herself in a scene where she has no words and she writes paragraphs with her eyes... She's a force of nature... and she's the most generous, present person I know. She has earned every step on the ladder to the leadership position she now enjoys in this business.
Holy smokes, Batman. Streep certainly knows to pay a compliment, right? I'd pay an infinite number of dollars for her to inscribe any of the following in my old yearbook: "She's so alive, she glistens." "She's the most generous, present person I know." You can watch the full speech here:
Still, it's hardly as if Davis hasn't earned every one of Streep's words or as if Streep is the first to pick up on Davis' incredible talent. When legendary film critic Roger Ebert reviewed Doubt, he said of Davis' role:
She appeals directly to Sister Aloysius, in a scene as good as any I've seen this year. It lasts about 10 minutes, but it is the emotional heart and soul of Doubt, and if Viola Davis isn't nominated by the Academy, an injustice will have been done. She goes face to face with the pre-eminent film actress of this generation, and it is a confrontation of two equals that generates terrifying power.
But if you've received a lot of compliments in your time, it's probably because you're all sorts of talented. If that's the case, and you're relatively self-assured, you probably knew all of your best qualities before someone else told you about them. As such, I present to you the absolute best way to accept a compliment, courtesy of how Davis reportedly responded to sweet words from the audience at San Diego Comic Con about her performance in Suicide Squad.
She was more emotional when accepting the honor at the Hollywood Walk of Fame star ceremony, saying:
I was going to treat this like every other day. I wasn't going to cry or anything. The only thing I could think about is my dad — I wish he were here.
In short, let's all be Viola Davis when we grow up, 'kay? She's smart, she's talented (and she knows it), and she's got a star that may even shine as brightly as she does.