Meryl Streep Hit A Major Oscars Milestone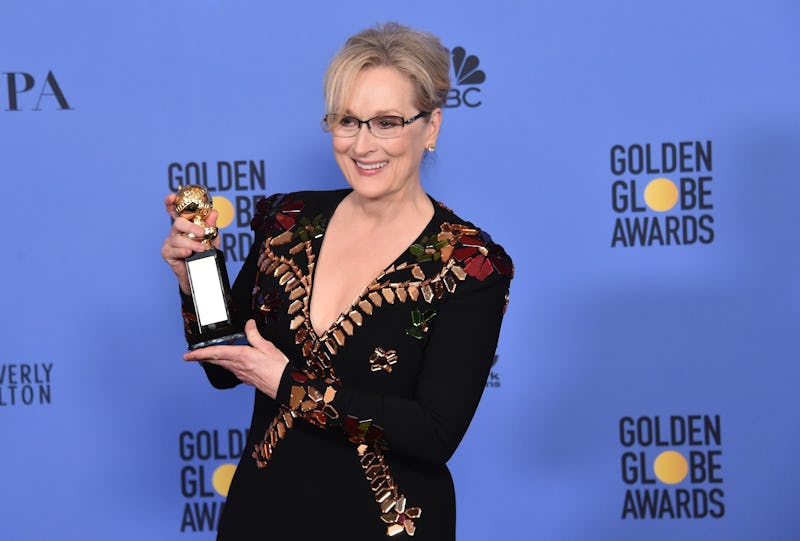 Alberto E. Rodriguez/Getty Images Entertainment/Getty Images
Well, it's that time of year again. The Academy Awards are just around the corner, and it should come as no surprise that Meryl Streep received her 20th Oscar nomination during Tuesday morning's announcement. This time, she's up for Best Actress for her lead performance in Florence Foster Jenkins, in which she starred as the titular socialite. The character is based on the real-life woman of the same name, a patron of the New York arts who famously performed at Carnegie Hall despite her lackluster vocal talent.
Streep's performance, of course, was critically lauded, and the Oscar nod is just another in her burgeoning trove of accolades. She's also perhaps one of the most celebrated actors in recent history, so at this point it's almost a given that her roles will nab some honors. Not because it's an obligation, but because yeah, she's just that good. This Oscars year she's up against Emma Stone (La La Land), Natalie Portman (Jackie) Amy Adams, (Arrival), and Isabelle Huppert (Elle). It's safe to say the Best Actress category is crowded, but Streep certainly deserves to be there. Her reaction to the news? A gif of herself dancing in what looks like 2009's It's Complicated, because of course it is.
Though it seems like Emma Stone is poised to take home the top prize this time around, it won't be any sweat of Streep's back. The veteran actor has raked in record-breaking awards show noms throughout her 40 year career, most recently top-lining the Golden Globes with a staggering 30 nominations. She's won eight of those — another record — including the prestigious Cecile B. Demille Award.
Her work has also earned her three Oscars, two Screen Actors Guild Awards, a Cannes Film Festival award, five New York Film Critics Circle Awards, two BAFTA awards, an induction in the Actors Hall of Hame, and five Grammy Award nominations, among many, many others. She was awarded the AFI Life Achievement Award in 2004, the Gala Tribute from the Film Society of Lincoln Center in 2008, and the Kennedy Center Honor in 2011 for her contribution to American culture through performing arts. President Barack Obama honored her with both the National Medal of Arts in 2010 and the Presidential Medal of Freedom in 2014. In 2003, the government of France made her a Commander of the Order of Arts and Letters.
Suffice it to say, Meryl Streep is probably one of the most decorated stars in Hollywood, but it's good to see that 20th Oscar nom still gets her dancing.