The Meryl Streep Shouting Meme Has A Sequel, Thanks To The 2018 Oscars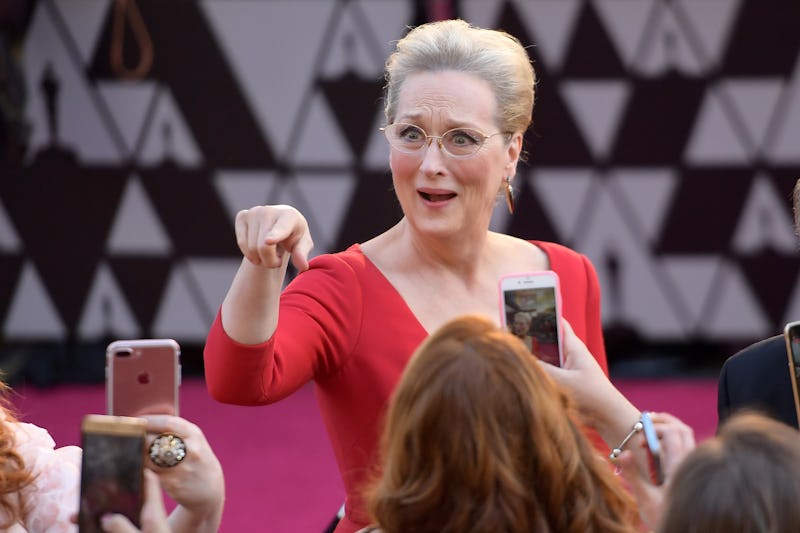 Matt Winkelmeyer/Getty Images Entertainment/Getty Images
Of course you know that Meryl Streep is an incredible actor, nominated for her staggering 21st Academy Award this year for The Post. But have you sufficiently recognized that Meryl Streep is also a world-class audience member? Her exuberant award show personality landed her her very own meme a few years back, and the actor has done it again. At the 2018 Oscars, Meryl Streep inadvertently (I have to assume) launched another meme, strikingly similar to her previous work. That's right, there's a new Streep shouting meme to incorporate into your Twitter and Tumblr repertoire.
Streep was sitting front and center at the Mar. 4 telecast, because she's not just a nominee, but — as host Jimmy Kimmel pointed out — probably the greatest actor who's ever graced the screen. And you'd think with as many of these things as she's gone to, the performer might begin to find awards ceremonies a little old hat. But one of the reasons why the world loves her is that Streep always looks as though she's having a terrific time. She gets into it, which is refreshing and so very relatable.
Some sharp-eyed Twitter users spotted that at this year's Oscars, Streep pulled a similar move to something she did at the 2015 Screen Actors Guild Awards. To refresh your memory, Streep was showing some enthusiastic support to Lifetime Achievement Award Winner Debbie Reynolds at that event. And it turns out, that's just how she cheers for stuff. Here's the 2018 version of the Shouting Streep meme:
Because the internet does as the internet does, the first Meryl Streep shouting meme didn't go viral until a couple of years later. In March 2017, Twitter users started using the screencap to accompany song lyrics, basically sharing with their followers what songs they are guaranteed to start singing at the top of their lungs. (Who was the trailblazer here? That's difficult to find out, but it started spreading like wildfire very quickly.) Streep became the face of full-fledged abandon, and honestly, it fits her so well.
Here are a few expert uses of that first meme:
And what else is the Oscars for, but to cherry-pick some fun and weird moments to meme into oblivion? As soon as the latest Streep screencap hit the internet, Twitter went wild. I don't know if the 2018 version will fully replace this tried-and-true reaction photo, but Streep's red dress at this year's ceremony does give the meme a nice pop of color.
Some Twitter users used the side-by-side comparison to mark the passage of time, or to suggest that the actor leveled up this year.
Some fans wanted to stump for their fave.
Some are impressed by the power that Streep wields.
And this isn't even the only meme that Streep was a part of at this ceremony. Some fans watching the Academy Awards felt that Streep's hairstyle, red gown, and glasses together were reminiscent of a certain animated film character. Yep, Twitter thinks that Streep came to the Oscars cosplaying as the Fairy Godmother from Shrek. And actually, she's probably the only person in the entire film industry who could pull that off. She could play the Fairy Godmother in her own spinoff movie and probably get her 22nd Academy Award nomination.
Win or lose, Streep is always a delightful, warm presence at any awards show that she attends. She doesn't have an ego about it. She's always game to participate in a bit. And just by being herself, Meryl Streep won over the internet twice during Sunday's ceremony. So have fun with your new Streep memes — you know that she'd want you to.