Mexico Just Recognized A Gay Couple's U.S. Marriage For The First Time Ever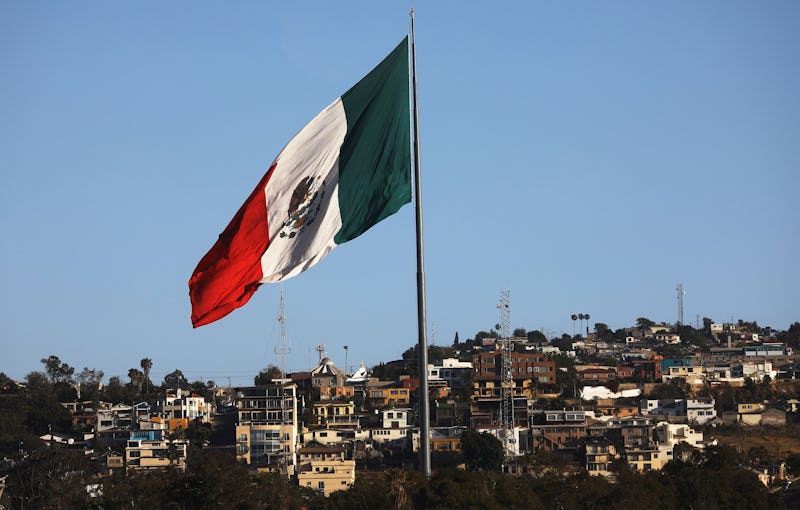 Mario Tama/Getty Images News/Getty Images
Gay rights in Mexico is a tricky subject — same-sex marriage is legal in 12 of 31 states plus Mexico City, and gay marriages are federally recognized. However, it's still not technically legal to marry freely nationwide. On Wednesday, in an important step toward supporting same-sex unions, Mexico recognized a gay couple's U.S. marriage, paving the way for other Mexicans living abroad to exercise their own right to marry freely.
On Nov. 26, Daniel Berezowsky and Jaime Chávez Alor, both Mexican men living in New York City, tied the knot at the Mexican consul general's home on the Upper East Side. The New York Times reported that Berezowsky and Chávez Alor initially attempted to get a marriage license at the General Consulate of Mexico in New York, but were denied because gay marriage isn't a federally legalized right.
"When we were rejected, we had two options," Berezowsky told Gay City News. "Either say 'OK,' and get married whenever it happens in Mexico, or we can continue fighting for this."
The couple instead filed a lawsuit in Mexican civil federal court, and in a landmark decision on Oct. 19, actually won. According to The Times, the court opposed the viewpoint that Berezowsky and Chávez Alor should have to marry in one of the Mexican states that allows gay marriage, and granted them a marriage license to be wed in the United States.
"It felt like after months and months of getting so many noes and rejections, we were finally able to do what should have taken a week to get done," Berezowsky told The Times. "Needless to say, we were both thrilled with the ruling."
The day after their marriage, the Mexican consulate released a statement publicly congratulating the "happy couple." This milestone, the statement says, "paves the way for Mexican couples of the same sex who wish to legally join in marriage at an Embassy or Consulate of our country."
The New York City Mayor's office similarly applauded the ceremony. In a post on Facebook, the Mayor's Office for International Affairs thanked Berezowski and Chávez Alor for their "courageous actions in pressing their case for marriage equality," adding that their "persistence will make a meaningful difference for LGBT Mexican immigrants and their families living in New York City and elsewhere."
With a majority-Catholic population, Mexico has long had social opposition to gay rights, even as legalization movements have steadily pushed ahead. But the country also has a history of keeping the church out of political systems, and bit by bit seems to be moving toward a more liberal approach to same-sex marriages in particular.
Berezowski added that he thinks the decision will help to accelerate federal legalization of gay marriage. "It will take the same-sex marriage discussion back to Mexico, where recently, presidential candidates kept saying it was not a national issue and that it belonged to individual states and local governments," he told The Times. "But this ruling should prove to Mexico's federal government that same-sex marriage should be legalized throughout the country."