The First (And Only) Black Republican Woman In Congress Just Conceded Her Race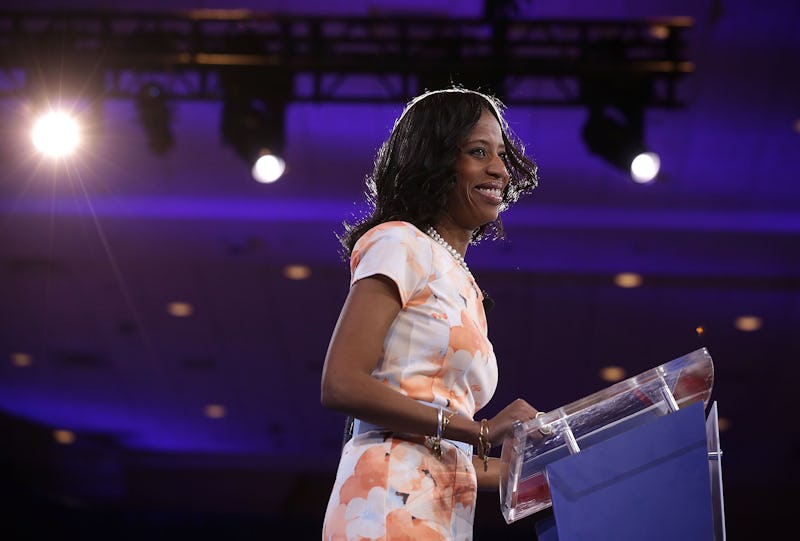 Alex Wong/Getty Images News/Getty Images
On Monday, Utah Rep. Mia Love delivered a concession speech after officially losing reelection to her opponent, Democrat Ben McAdams. But while Democrats may celebrate yet another midterm victory, the race has significant consequences for the House's diversity. Specifically, Love's concession means that the only black Republican woman in Congress has lost her spot.
On her way out, Love blasted not only the president, but the GOP as a whole, honing in on the party's relationship to minority communities. "You see, we feel like politicians claim they know what's best for us from a safe distance, yet they're never willing to take us home," Love said, per the New York Post. She continued:
Because Republicans never take minority communities into their home and citizens into their homes and into their hearts, they stay with Democrats and bureaucrats in Washington because they do take them home — or at least make them feel like they have a home.
President Trump mocked Love's loss the day after the midterm elections, suggesting that she would have won if she had asked him for help. "Mia Love gave me no love and she lost. Too bad. Sorry about that Mia," Trump said at a press conference, per multiple reports.
Love described Trump's remark as a "jab," and said that "he lamented that I wouldn't ask him to come to the state of Utah."
"The president's behavior toward me made me wonder — what did he have to gain by saying such a thing about a fellow Republican?" Love said in her concession speech, according to video shared by ABC News. "It was not really about asking him to do more, was it? Or was it something else?"
Love did not stop there. She also went on to say that the president's remark "gave me a clear vision of his world as it is: no real relationships, just convenient transactions. That is an insufficient way to implement sincere service and policy."
But while Love did share her insight into the inner workings of the GOP and the president, she also opened up her criticism to all Washington politicians, suggesting that it wasn't just Republican officials who have a problem with minority communities. "This election experience and these comments shines a spotlight on the problems Washington politicians have with minorities and black Americans — it's transactional, it's not personal," she said, according to The Washington Post.
Love won her first bid for Congress in 2014, making her the first black Republican woman ever elected to the legislature. At the time, she resisted framing her success within the context of race, according to The New Yorker.
"Understand that Utahans have made a statement that they're not interested in dividing Americans based on race or gender," she told CNN after her first victory. "That's really what made history here. It's that race, gender, had nothing to do with it."
Love has said she's not sure if she will run for office again. In the interim, she has joined a long list of government officials who have rebuked the president on their way out of office.