Stormy Daniels' Lawyer Is A Master Of Must-See TV. He Told Us Why He Needs You.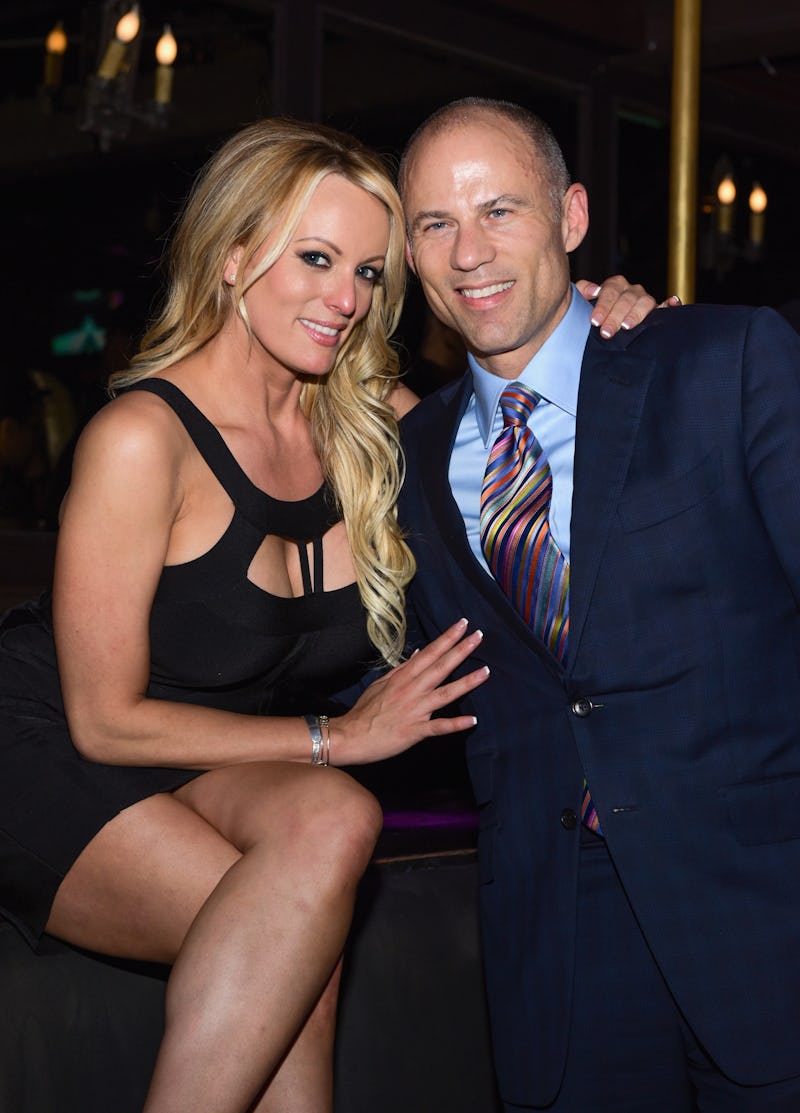 Tara Ziemba/Getty Images Entertainment/Getty Images
It has been five months since America entered the era of Stormy Daniels, and Michael Avenatti, Daniels' attorney, takes credit for keeping the spotlight on his client. "If it wasn't for me, very few people would be talking about Stormy Daniels right now," Avenatti tells Bustle. "It would have been a three-day story."
If Daniels' case is — as she contends — about powerful men, namely the president of the United States, and Michael Cohen, his personal attorney, attempting to silence her, then it is notable that Daniels chose a fast-talking, media-savvy male attorney to represent her.
Avenatti says that Daniels' account of being intimidated by Trump and Cohen motivated him to get involved. "I don't react well to Goliath attempting to intimidate Davids," he tells Bustle. Avenatti won't reveal how he first met Daniels, but he is adamant that their initial meeting was not politically motivated, and he denies recent reports that he sought funding for his work from left-leaning individuals.
Why Is Avenatti Going To Battle For Stormy Daniels?
Just this week, Rudy Giuliani, Trump's personal attorney, went on a tirade about Daniels, saying, "A woman who sells her body for sexual exploitation I don't respect."
On Twitter, Avenatti fired back. "Mr. Giuliani is a misogynist. His most recent comments regarding my client, who passed a lie detector test and who the American people believe, are disgusting and a disgrace," Avenatti tweeted. "His client Mr. Trump didn't seem to have any 'moral' issues with her and others back in 2006 and beyond."
Avenatti knows how pervasive the bias against adult entertainment stars can be, and admits that prior to meeting Daniels, he had misconceptions based on her profession.
"If it wasn't for me, very few people would be talking about Stormy Daniels right now. It would have been a three-day story."
"I had heard about the 'Make America Horny Again' tour, and I knew that she was an adult film star, and I think I unfortunately subscribed to some of the stereotypes relating to that profession and the people that operate within the profession," Avenatti admits. "But... those misconceptions were thrown out the window when I realized what she was all about."
Avenatti confirms that his team is continuing to look into a number of claims from other women interested in potentially bringing legal cases against Trump, and says that his team is "continuing to vet a number of those cases." Avenatti claims that two of the women who have come forward had signed NDAs, and after seeing the backlash against Daniels, one of those women decided not to come forward. "This is what happens when you have a media culture that engages in personal attacks of clients and attorneys that have the fortitude or the bravery to come forward," Avenatti says. "It dissuades others from doing so." The other woman is still weighing her options, and Avenatti remains hopeful that she will share her story.
"I'm a staunch believer in equality, whether it be by gender, race, sexual orientation, or otherwise. If that makes me a feminist, then I guess I'm a feminist."
For publicly confronting the most powerful man in the world, Daniels has been dubbed by some as a feminist "hero." Whether Avenatti himself is a feminist depends on your definition of the term. "I certainly believe in sticking up for the rights of women and men," Avenatti tells Bustle. "I do not believe that women should be subjected to a different set of standards simply because they're a woman, regardless of the context, whether it's an employment context, a legal context, or any other context. I'm a staunch believer in equality, whether it be by gender, race, sexual orientation, or otherwise. If that makes me a feminist, then I guess I'm a feminist."
Is Avenatti Just Using Trump's Tactics Against The President?
Avenatti has become a fixture on television, with seemingly constant buzz about pending television projects and big reveals.
"I am representing my client, and I am shoring up public support for my client's position, and who she is, and what this case is all about," Avenatti tells Bustle. "I also continue to do them in an effort to communicate directly to the American public, our position, and the strength of our case, and what my client stands for."
Avenatti bristles at the suggestion that he is using Daniels' case to raise his own profile. "Every time that I am identified anywhere, I'm identified as 'Stormy Daniels' lawyer,'" he tells Bustle. He calls interest in him a "byproduct" of his representation of Daniels. "It's not something that has been sought out in any way, shape, or form."
"I am not Donald Trump when it comes to criticizing the media."
In fact, when Avenatti assesses his own missteps throughout this process, media access is top of mind. "We've been far too accessible to print journalists, in particular because there's a lot of bad apples, and we've been lied to quite a bit relating to intentions by journalists, only to find out that their intentions were not as represented and that they had agendas in connection with writing hit pieces," he says.
The media barrage, the Twitter warnings of "stormy weather," and his penchant for punchy language (asked about reports that Cohen aspired to be mayor of NYC, Avenatti quips, "The guy's not qualified to be a dog catcher") have led many to wonder if Avenatti is stealing a page from Trump's playbook. But when Bustle makes the comparison, Avenatti snaps back and insists his critique of the media bears no parallels to the president's.
"I am not Donald Trump when it comes to criticizing the media. I have criticisms of particular journalists who didn't do their job, who didn't adhere to journalistic ethics," he says. "That doesn't mean that I'm not a proponent of the First Amendment because I absolutely am. And it doesn't mean that I believe the content of the president relating to the press is acceptable, 'cause it absolutely is abhorrent."
What Do Avenatti And Daniels Really Want?
According to Avenatti, pursuit of justice on behalf of Daniels has four elements: They want a non-disclosure agreement that Daniels signed, but Trump did not, invalidated; damages paid to Daniels in defamation claims against Trump's attorney, Michael Cohen, and Trump himself; and full disclosure of evidence relating to Essential Consultants, the shell company Cohen used to pay Daniels. "That's justice," Avenatti tells Bustle.
Avenatti is doubtful that impeachment is a real option. "I think it's unlikely that a Republican-controlled Congress would impeach a Republican president," Avenatti says.
As for Daniels, Avenatti thinks she's going to move on after the case. "I think she's probably going to continue on with her life, and you know, take stock of what hopefully she's accomplished at that point by coming forward," he says. "She's not going to get too caught up in all of it."
Avenatti's plan? "Sleep."