Stormy Daniels' Lawyer Will Protest Trump In London & He's Ready To "Bring The Noise"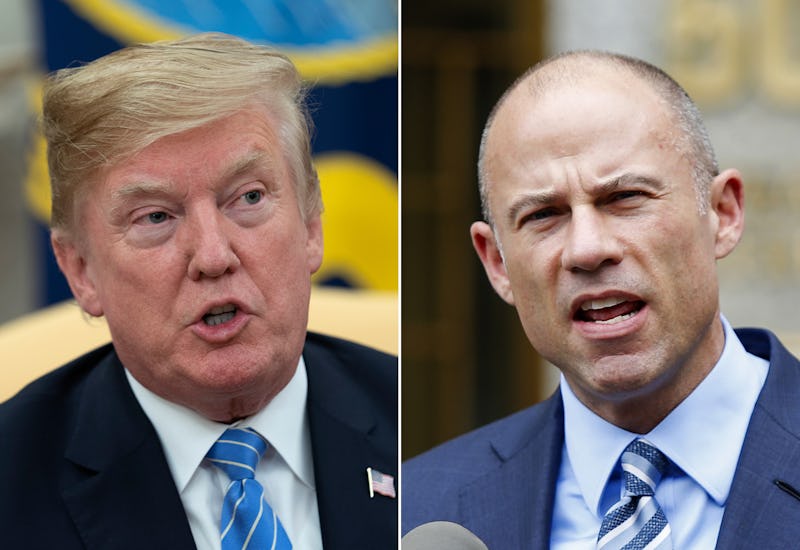 Pool/Getty Images News/Getty Images / Eduardo Munoz Alvarez/Getty Images News/Getty Images
Organizers in the UK have been ramping up elaborate protest plans surrounding President Donald Trump's visit to Britain, arranging for what some are calling a "carnival of resistance." And one more high-profile demonstrator is officially joining their cause — Michael Avenatti will protest Trump in London with a women's march group.
Avenatti — who's best known for representing adult film star Stormy Daniels in lawsuit against the president regarding a nondisclosure agreement about their alleged affair, which Trump has denied having — announced on Twitter on Tuesday that he'd be going to London to join what could be thousands of protesters, Newsweek reported.
"Looking forward to joining @SholaMos1 and tens of thousands of others in London for this incredible event Friday," Avenatti wrote, referencing activist Dr Shola Mos-Shogbamimu. "The cause is a global one, with enormous importance. #BringTheNoise #Basta #FightClub"
The lawyer quoted the Women's March London account, which presented a platform aiming to advocate against child separation and women's reproductive freedom.
"If you believe children shouldn't be separated from their families," the Women's March London post Avenatti retweeted read. "If you believe women should have control over THEIR OWN bodies If you believe that our planet is worth protecting If you believe that racism should be fought every step of the way Then you better make some noise."
Although he's garnered most media attention for his work on the Daniels case, Avenatti has more recently represented about 60 migrant parents who were separated from their children, according to The Washington Post.
Some media outlets, such as more conservative-leaning Breitbart, have argued that Avenatti is chasing the limelight and inserting himself into stories dominating the news cycles such as migrant family separation. Avenatti has called this claim inaccurate and insulting, telling The Post in June that the idea he was in it for the media attention was "a bunch of nonsense, and it's offensive — highly offensive — to me."
But during the UK protests later this week, Avenatti will likely just be one of thousands chanting and protesting the president, whose meetings for the visit are to take place away from the demonstrations.
Trump will be meeting with Queen Elizabeth II herself at Windsor Castle and the British Prime Minister Theresa May at her country residence Chequers.
Meanwhile, London will be abuzz with droves of demonstrators — and not only for the Women's March. A "drag protest parade" has nearly 8,000 people interested in attending on Facebook, the group Stop Trump is planning to march into Trafalgar Square for a rally, and, to top it all off, there will be a giant, orange Trump baby balloon.
Yes, activists are flying a huge orange balloon that depicts a frowning, cartoonish, baby version of Trump wearing a diaper. The mayor of London, Sadiq Khan, is allowing demonstrators to fly their balloon over the UK Houses of Parliament on Friday, after some initial resistance to the idea, Time reported.
But Trump will miss most of this hoopla, as his meetings were scheduled away from all the noise. US ambassador to the UK, Woody Johnson, has said Trump's meetings were not strategically planned to take place away from the protests in order to avoid them, The Guardian reported.
And the bigger the demonstration, the more police action. The Guardian reported that officials are planning to have thousands of officers posted up across the country to keep an eye on and contain protests. It will be the biggest mobilization of police officers since riots formed in the country after police fatally shot Mark Duggan in 2011 in Tottenham, England.
Avenatti's newly announced involvement in this week's demonstrations are just one more thing to watch during what's shaping up to be an eventful presidential visit.