Michael B. Jordan Revealed A Major 'Rocky' Villain Will Play A Big Role In 'Creed 2'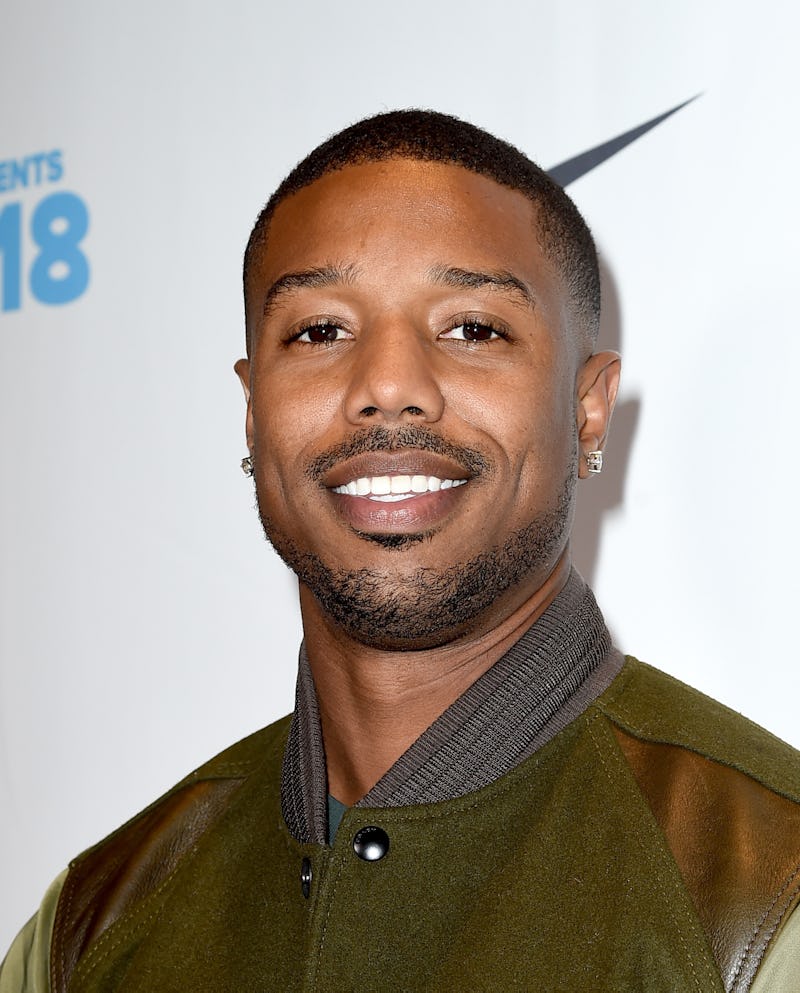 Kevin Winter/Getty Images Entertainment/Getty Images
Ahead of his latest highly-anticipated cinematic release, Michael B. Jordan shared comments about Creed 2 to the Toronto Sun which suggest that the Rocky legacy will continue live-on with the return of the film's biggest villain, Ivan Drago. The film franchise, which the Sun points out, turns 42 in November, resulted in five sequels – and, years later, spawned an incredibly successful revamp with with Creed spinoff in 2015.
While there were many highs and lows throughout original film series, which chronicled the trials and tribulations of Rocky Balboa (Sylvester Stallone) and his boxing camp, the film was notably marked by the shocking and tragic loss of Rocky's close friend, Apollo Creed, who died in the ring at the hands of Drago (Dolph Lundgren) in Rocky IV.
When developing the storyline for the first Creed film, writer and director Ryan Coogler decided to place focus on a narrative surrounding Apollo's son, Adonis (Jordan), as he made the questionable decision to follow his father's footsteps into the boxing world, while enlisting the help of Rocky (Sylvester Stallone). Although there were many who would test Adonis', aka Donnie's, fortitude in the ring, the movie showed no signs of a real villainous character – much less one as threatening as Drago - as it solely honed in on the young fighter's tribulations with himself as he attempted to climb the ranks in his sport. However, it seems that movie's sequel will evolve its storyline in order to follow a path similar to that of the original film's narrative.
In his chat with the Sun, Jordan revealed that the plan to reintroduce Drago as a villain was the urging of Stallone, who felt the new film series needed to add a bad guy to its narrative. Jordan explained, "Sly was very adamant about this one having a villain."
The Sun notes that Jordan went on to share the importance of making the storyline personal for Adonis by having Drago return with his son, Viktor (Florian Munteanu) in tow. Despite the threat that the Dragos pose to Adonis' future, the details appear to make sense for the film's sequel. In a trailer for the film, which was released in June, Rocky tells Adonis:
"You've got everything to lose. This guy has nothing to lose. This guy... he's dangerous."
Speaking to the Toronto Sun about the franchise's growth due to the addition of Drago, Jordan continued:
"Drago was so huge in Rocky IV and he really (put a stamp) on the franchise at that time. So we wanted to make a sequel that was bigger. It's always tough to shoot a number two to anything, but we wanted to do a fresh take. We didn't have a real villain the first time around. That was more of an origin story with Adonis fighting himself to figure out who he was. This time, I think we found the perfect vehicle to build on that and take it to the next level."
Despite the harrowing history of his father and Drago's beef, Adonis' gripe with the newcomers won't be solely rooted in vengeance, according to Cinema Blend. Jordan explained:
"Viktor's storyline is very layered. The two guys are similar in a lot of ways... Adonis feels, naturally, a certain animosity towards Viktor and Ivan, and then there are other themes in there: the maturity of growth, the importance of family, of legacy, is what makes Creed so special. It's not just about revenge. It's about a lot of things... If we get that lesson across, then I think we've made a pretty special movie."
When Jordan was later asked by the Toronto Sun if he planned to remain in the role as long as Stallone has, the 31-year-old actor offered a bit of hope about the film franchise's future, explaining:
"If I'm lucky. I want to keep making them as long as they're good. I always want to keep my finger on the pulse. Forty two years, I mean, who knows?"
Although the possibility of subsequent movies is unclear, it's worth pointing out that Jordan has made a huge dedication to getting into top shape for his role in Creed II. Despite the revelation that things have been a tad bit more difficult for him the second time around, he explained:
"(Gaining muscle) was easier when I was younger. I'm 31 and I shot the first one when I was 26, 27. I'm not saying I'm old by any means, but the process of getting in shape was a bit harder for Creed II. For Black Panther, I had to get bigger… I'm probably the biggest I've ever been… But I knew I was fighting someone who is a lot bigger than I am, so I wanted to try and catch up as best I could, and I killed myself in the gym to do that."
Sounds like Jordan and the rest of the Rocky universe may be gearing up for many more films to come and the addition of Ivan Drago and his son, Viktor may just be the beginning.