Michael B. Jordan's Response To U.S. Open Winner Naomi Osaka's Crush Will Make You Swoon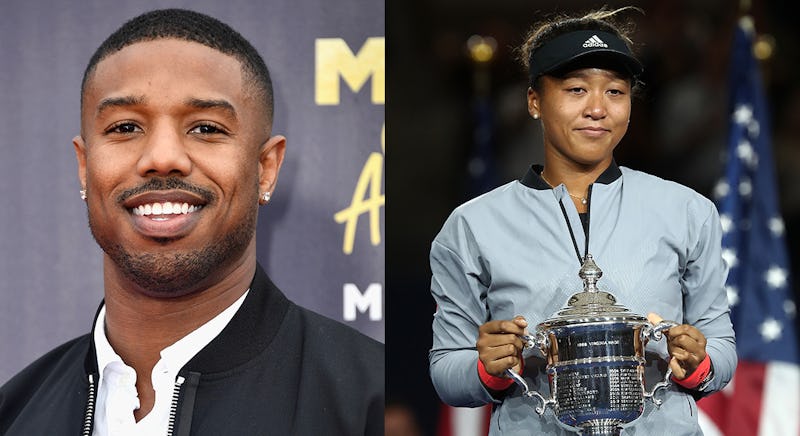 Frazer Harrison/Getty Images Entertainment/Getty Images; Julian Finney/Getty Images Sport/Getty Images
If Naomi Osaka wasn't already having the best week ever after beating out Serena Williams in the U.S. Open on Sept. 8, Michael B. Jordan's response to Osaka's crush on him should certainly help to seal the deal. Osaka dropped by The Ellen DeGeneres Show on Wednesday, Sept. 12 and opened up to the talk show host about her celebrity crush, revealing that it was none other than the Black Panther star after being pressed by the comedian. After finally getting an answer out of Osaka, who was totally coy about responding to the question, DeGeneres then tried to play matchmaker, taking a selfie with the tennis champion to send to Jordan in an attempt to set them up.
Embarrassed by the whole situation, Osaka practically begged DeGeneres to not text Jordan, but her pleas only seemed to make the host that much more excited with DeGeneres responding, "I'm just trying to help." As DeGeneres proceeded, the tennis champion blushed bashfully quipping: "You're stressing me out. I'm too young to be stressed out like this."
Despite it being, probably one of the most awkward TV moments for the young athlete, DeGeneres' tactics appeared to have worked in Osaka's favor with Jordan taking to social media to respond in the sweetest way.
In a video, which was posted to the @TheEllenShow Twitter account, Jordan said:
"I wanted to send my love and support and just say congratulations... The way you carry yourself with such humility and grace, it's really amazing to see."
The 31-year-old Creed actor, who, according to Deadline, is reportedly being considered to take over the role of DC Films' Superman, concluded his video, by taking off his sunglasses, telling Osaka, "Keep being great. Everybody's watching now... me too."
The world certainly has their eyes open to see what's next for Osaka, who became the first Japanese-born person to win the U.S. Open when she defeated 23-time Grand Slam champion Serena Williams in a match which was largely overshadowed by Williams' issues with an umpire.
In alignment with Jordan's praise, Osaka showed a great amount of modesty after the triumphant win over her idol, Williams during the following awards ceremony. The rising star, who had defeated Williams 6-2, 6-4 to earn her first Grand Slam title, apologized to the crowd before accepting her trophy, saying:
"I know that everyone was cheering for her and I'm sorry it had to end like this. I just want to say thank you for watching the match."
During an interview with NBC's Today Show on Monday, Sept. 10, Osaka explained her apology, saying she felt everyone was disappointed by her win.
She explained, "I just felt like everyone was sort of unhappy up there and I knew the ending wasn't how people wanted it to be," she explained. Osaka, who is of Japanese and Haitian descent, added:
"I've been a fan of Serena my whole life," she said. "And I knew how badly the crowd wanted her to win so, I was just really emotional up there."
Despite the tearful incident, Naomi Osaka couldn't be having a better moment in the spotlight, now that she knows she's on everybody's radar – including Michael B. Jordan's. #OsakaFTW