These Quotes From Trump's Ex-Lawyer Show How Quickly Their Relationship Crumbled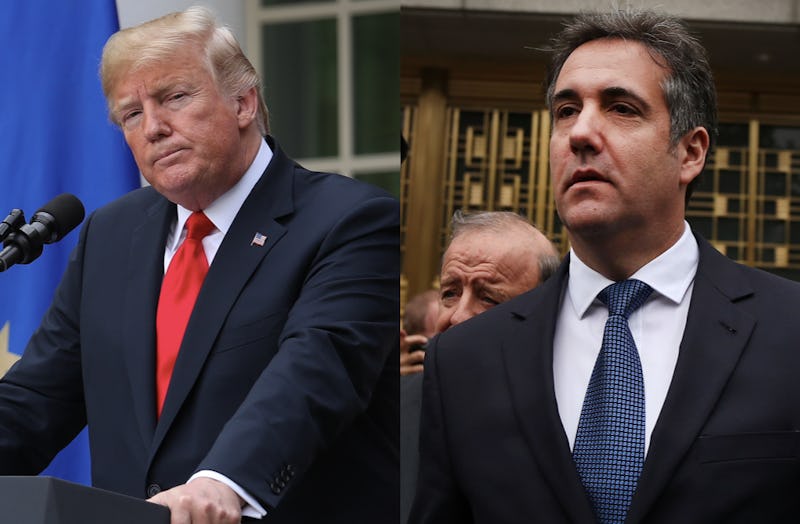 Spencer Platt; Win McNamee/Getty Images News/Getty Images
Michael Cohen and Donald Trump appear to be officially on the outs. In fact, the man who once said he'd take a bullet for the president now appears to have flipped from Team Trump. And these Cohen quotes about Trump show just how fast their relationship fizzled.
After more than a decade of serving as Trump's fixer and personal attorney — not to mention his devotion as a self proclaimed Trump loyalist — Cohen went public Tuesday with a secret recording of a 2016 conversation he'd had with Trump. In the recording, which was provided to CNN's Cuomo Prime Time by Cohen's attorney Lanny Davis, Trump and Cohen are heard discussing a potential hush-money payment designed to bury a former Playboy model's allegations of an affair with the then-presidential candidate. (Trump has denied the affair ever happened, and his team similarly denied that a payment was ever made.)
While Cohen's decision to release this audio recording certainly marks his clear departure from Trump's camp, it was preceded by a few signs his once unwavering loyalty was... well, wavering. In the months since FBI investigators raided Cohen's homes and office, Trump's former attorney has increasingly expressed frustration and dismay at the lack of support he's received from Trump.
Recently, Cohen has said his "first loyalty" rests with his family and country, signaling that he may be willing to work with special counsel Robert Mueller's investigation into allegations of collusion between the Trump campaign and Russia's meddling in the 2016 election, which Trump has repeatedly denied. But just how did Cohen go from reportedly describing himself as "the sixth Trump child" to flipping on the president? These Cohen quotes show the lawyer's relationship with Trump isn't what it used to be.