Michael Cohen Just Sued The Trump Organization & This Is The Messiest Breakup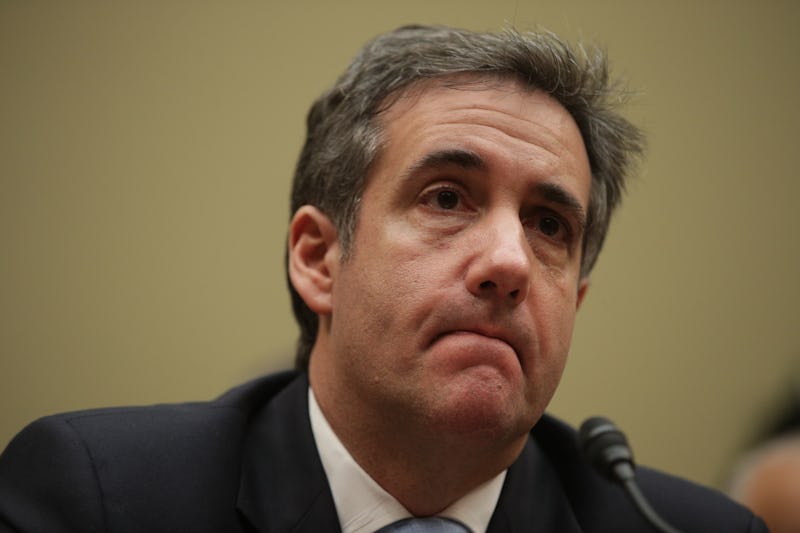 Alex Wong/Getty Images News/Getty Images
Less than a week after testifying about his relationship with President Trump in front of Congress, Michael Cohen is now suing the Trump Organization over unpaid legal fees, Axios reported Thursday. Cohen says that the organization owes him $1.9 million in "attorneys' fees and costs incurred" that he incurred during his work for the company.
Bustle has reached out to the Trump Organization for comment.
Cohen says in the lawsuit that he entered into an agreement with the Trump Organization in 2017 under which the company agreed to pay legal fees that Cohen incurred as he himself was under investigation. Cohen ultimately pleaded guilty to tax evasion and campaign finance violations, and will soon begin a three-year prison sentence. According to Cohen, however, the Trump Organization stopped paying his legal fees once it got wind that he would be cooperating with Special Counsel Robert Mueller's investigation into the Trump administration.
"The Trump Organization agreed to indemnify Mr Cohen and to pay attorneys' fees and costs incurred by Mr. Cohen in connection with various matters arising from Mr. Cohen's work with and on behalf of the Organization," Cohen's lawsuit says. "These matters included multiple congressional hearings, Special Counsel Robert S. Mueller III's investigation, and others."
Cohen worked for Trump in some capacity for over 10 years, famously proclaiming in 2017 that he was "the guy who would take a bullet for the president." That year, Trump, the Trump Organization, and the Trump administration all fell under increasing scrutiny — from Mueller's office, from the U.S. Attorney for the Southern District of New York, and from Congress. Because some of the matters investigators looked into involved Cohen himself, Cohen hired his own legal counsel in May 2017, the lawsuit claims.
Two months later, in pursuant to what the lawsuit calls a "joint defense" agreement between Cohen and the Trump Organization, the Trump Organization agreed to pay Cohen's legal fees "in connection with Mr. Cohen's representation in the defense in the Investigations and other matters."
During his recent testimony to the House Oversight Committee, Cohen acknowledged that he lied to Congress to protect Trump — though he was careful to add that Trump never explicitly told him to do this.
"Mr. Trump did not directly tell me to lie to Congress. That's not how he operates," Cohen told Congress. "Mr. Trump had made clear to me through his personal statements to me that we both knew to be false. And through his lies to the country that he wanted me to lie. And he made it clear to me because his personal attorneys reviewed my statement before I gave it to Congress."
Cohen claims that, through June 2018, the Trump Organization honored its agreement to pay his legal fees. That same month, however, Cohen began telling friends that he would be cooperating with federal investigators from Mueller's office and the Southern District of New York, according to the lawsuit — and that's when the Trump Organization allegedly stopped paying his legal fees.
"As it became clear that Mr. Cohen would cooperate in the Investigations, the Trump Organization took steps to thwart Mr. Cohen's ability to receive amounts he was entitled to under the indemnification agreement and thereby breached its duty and fair dealing in its performance of the indemnity agreement," the lawsuit alleges.
In addition to the $1.9 million in unpaid legal fees, Cohen is also seeking another $1.9 million from the Trump Organization to pay for the fines he incurred due to the crimes he committed while working for Trump.