Here's When A Judge Is Expected To Announce Michael Cohen's Sentence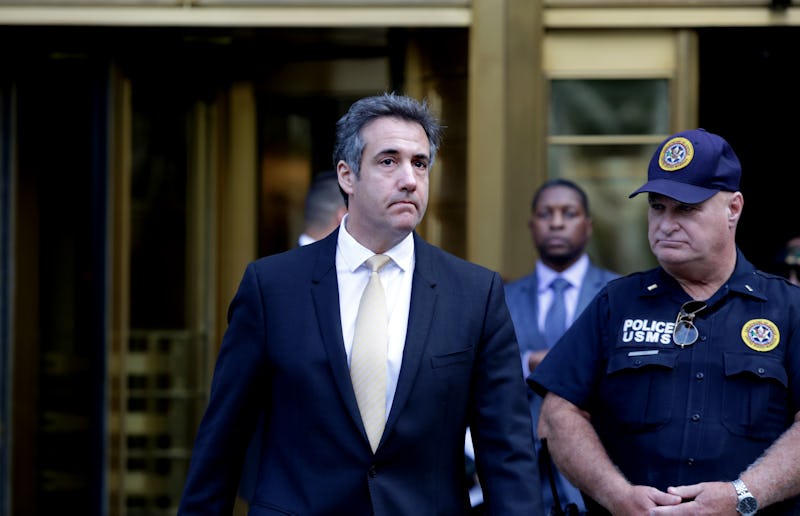 Yana Paskova/Getty Images News/Getty Images
On Tuesday, President Trump's former lawyer pleaded guilty to eight criminal counts, including tax fraud and campaign finance violations. While Trump's former counsel could face significant prison time as part of his plea deal, Michael Cohen's sentencing hearing actually won't happen until 2018 is coming to a close. So, the attorney will have to wait quite some time before knowing his fate.
As Bloomberg reported, Cohen's guilty pleas were part of a deal reached in federal court in New York on Tuesday. And according to The Guardian, as part of the plea agreement, Cohen has agreed to not challenge any prison sentence ranging from 46 to 63 months. However, it will be some time before Cohen knows his actual sentence. Right now, his sentencing date is set for Dec. 12 — around 3.5 months away. Until then, Cohen is allowed to leave custody and return home. He was released on a $500,000 bond on Tuesday.
As Bloomberg reported, following news of Cohen's plea deal, one of his lawyers, Lanny Davis, released a statement asserting that Cohen agreed to the deal so that his family could move forward. He also indicated that Cohen wanted people to know the "truth" about Donald Trump, who Cohen alleges instructed him to commit a crime (Trump has not been charged with any crimes).
Bloomberg noted that Davis said, in part:
This is Michael fulfilling his promise made on July 2 to put his family and country first and tell the truth about Donald Trump. Today he stood up and testified under oath that Donald Trump directed him to commit a crime by making payments to two women for the principal purpose of influencing an election. If those payments were a crime for Michael Cohen, then why wouldn't they be a crime for Donald Trump?
Following the plea agreement, Trump's lawyer, Rudy Giuliani, also issued a statement of his own, asserting that the president has not been accused of any criminal acts. As Giuliani stated (as reported by CNBC):
There is no allegation of any wrongdoing against the President in the government's charges against Mr. Cohen. It is clear that, as the prosecutor noted, Mr. Cohen's actions reflect a pattern of lies and dishonesty over a significant period of time.
In addition to Cohen, another former Trump associate, Paul Manafort, also learned his legal fate on Tuesday, as CNN reported. Manafort, Trump's former campaign manager, received guilty verdicts for eight of 18 criminal counts against him, many of them centering around tax and bank fraud. Manafort still faces another federal trial in Washington, D.C. (Tuesday's verdict came from a federal court in Alexandria, Virginia). However, for these eight verdicts alone, he faces a maximum of 80 years in prison. Manafort has not yet received a sentencing date for the Virginia counts, but the judge indicated that prosecutors have until Aug. 29 to decide whether or not to retry the former campaign manager on the ten charges in which a mistrial was declared.
Overall, Tuesday certainly offered many updates regarding the criminal cases of some of Trump's former associates. However, Cohen, Trump's former lawyer, faces a substantial waiting period before he learns the sentencing implications of his plea deal.