Twitter Is Going Nuts Over A New Tape Of Trump Discussing Paying Off A Playboy Model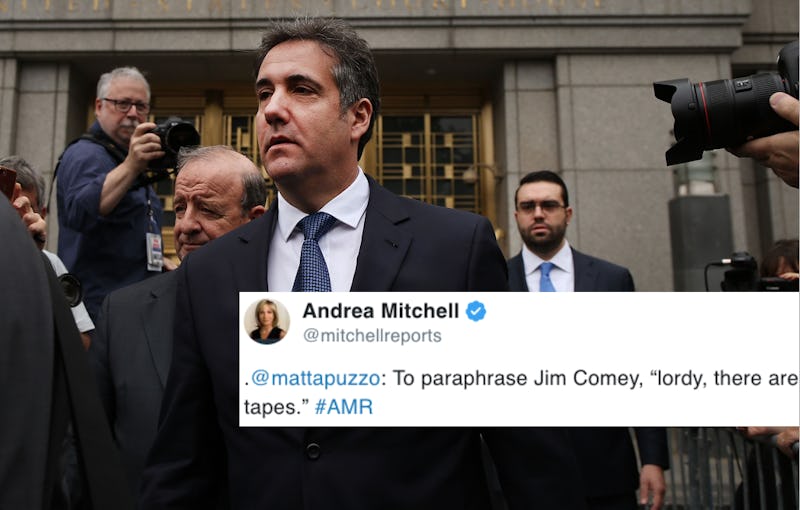 Spencer Platt/Getty Images News/Getty Images
A bombshell report dropped on Friday that involved a damning tape, President Trump, his lawyer, and a Playboy model. Twitter users sprang at the news that President Donald Trump's longtime lawyer Michael Cohen had secretly recorded a conversation with Trump in which they discussed paying a former Playboy model who said she had a yearlong affair with Trump shortly after he married Melania. (Trump denies this.) And people have opinions.
The New York Times broke the news about the conversation, which took place just two months before the 2016 presidential election. The FBI apparently found the recording when they raided Cohen's offices earlier in the year. The potential payment in question was to former model Karen McDougal, who alleged an affair with Trump that started back in 2006.
Trump's spokespeople said before the election that McDougal's claims about an affair weren't true. And despite the news of the tape, Trump lawyer and former New York Mayor Rudy Giuliani said that Trump didn't do anything wrong. Giuliani did, however, confirmed the recording existed to The New York Times, but he said the payment was never made.
"Nothing in that conversation suggests that he had any knowledge of it in advance," Giuliani told The Times. Meanwhile, Cohen's lawyer told the newspaper he and his client had "nothing to say on this matter."
The rest of the world, however, had loads to say. Some users on Twitter cracked jokes about James Comey's famous "lordy, I hope there are tapes" line, while others made a more serious call for the tapes to be released.
Writer Lily Herman wrote: "JFC THEY'VE FOUND EVERY DAMN TAPE EXCEPT THE PEE TAPE."
This was in reference to an alleged videotape from 2013 that is said to show Trump in a fancy suite in Moscow watching two prostitutes pee on a bed that President Barack Obama supposedly once slept in, as New York magazine's The Cut explained. The tape was allegedly recorded by Russia's state agency FSB, which would mean that Russian President Vladimir Putin would most likely be in possession of it. Trump has strongly denied all of the allegations.
But when it came to the confirmed Cohen tape, people on Twitter made tons of references to former FBI Director James Comey's famous quote: "Lordy, I hope there are tapes."
The Hill reported that, during a Senate Intelligence Committee hearing last year, Comey said he hoped his conversations with the president had been taped, and thus ensued the surprisingly "oh, shucks" quote, which is newly applicable now.
Other Twitter users imagined how the president took the news of the Cohen tape, and how he'd publicly respond to it.
Meanwhile, adult film star Stormy Daniels' lawyer, Michael Avenatti, held a press conference about the tapes, which he posted a clip of on Twitter. He asked that the tapes be made public and said that some of them related to his client, Daniels, whom Avenatti is representing in a lawsuit against the president regarding a nondisclosure agreement about an alleged affair between Daniels and Trump. The president has denied the affair.
"We now have what I will refer to as the Trump tapes," Avenatti said at the conference. "Mr. Cohen and his attorney... should release all of those audio recordings to the American people and to Congress, so that they can be heard by all and people can make their own determinations."
Details about the tape are scarce, but there are plenty of tweets about it to keep everyone busy.