Michael Phelps Is Fighting Mental Health Stigma In A Personal & Brave New Interview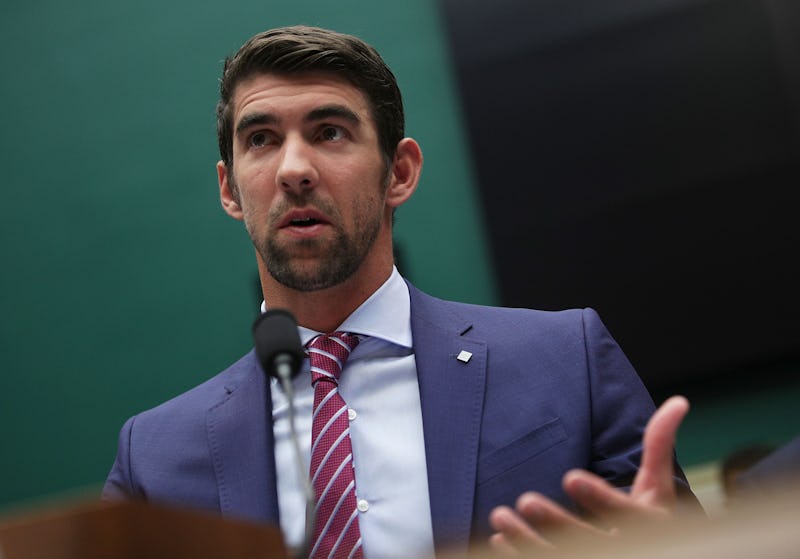 Alex Wong/Getty Images News/Getty Images
The stigma surrounding mental health still exists, but that didn't stop Michael Phelps from discussing anxiety and depression on Thursday's Today show. The Olympic swimmer bravely opened up about his past and present battle with both anxiety and depression, which he's talked about before. Just because Phelps is a top athlete with 23 gold medals doesn't mean he has to always be strong. His new interview importantly shows others that you don't have to be happy or positive all the time.
Warning: This article contains mentions of suicide, which some may find triggering.
Phelps opened up to Hoda Kotb and Savannah Guthrie about how in October 2014 he hit his lowest point around the same time he was arrested a second time for drunk driving. It was such a difficult time for the swimmer that he even thought about suicide. He explained,
"For me, I was so down on myself. I didn't have any self-love and quite honestly, I just didn't want to be alive. It was a really, really, really crazy time for me and I didn't want to see anybody. I saw myself as letting so many people down — and my, myself, in particular. That's hard to carry."
During this hard time, Phelps admitted, "Over those three or four days where I didn't want to leave my room and I didn't want to talk to anybody, I finally realized that I can ask for help and it's OK not to be OK."
This realization changed his life for the better. "I never asked for help really ever in my career," he said. "That was the first time that I really did that. I was basically on my knees, crying for help."
It was a truly difficult time for the swimmer, especially when facing so much pressure as an Olympic star who felt like he had to maintain a certain front as an athlete. Like he said on Today, "Being an athlete, you're supposed to be strong and be able to push through anything. My struggles carried on through my career and I hid them well."
And here he is today fighting the mental health stigma and helping others along the way. One of the ways he wants to help people facing mental health issues is by encouraging to talk about their struggles. Phelps himself sees a therapist.
"I'm lucky to be able to sit down with a therapist and chat and talk and open up," he revealed. "It's challenging for people to do."
Phelps is even a shareholder and member of the advisory board with TalkSpace, an online form of therapy that sets up customers with licensed therapists. He also uses TalkSpace, which is beneficial with him traveling so much.
Even though Phelps is doing better compared to two years ago, he still fights anxiety and depression. "From time to time, I'll have bad days where I do go into a depression state." He added,
"There are so many people who struggle from very similar things that I go through and still go through. … At times, it was a little scary and challenging to go through, but I found a way to get through it and I'm addressing these issues that I have."
This is definitely an important conversation to have, as Phelps has proven. He's inspiring for not only helping others, but for also bravely opening up about his own mental health battles.
If you or someone you know are experiencing suicidal thoughts, call 911, or call the National Suicide Prevention Hotline at 1-800-273-8255 or text HOME to the Crisis Text Line at 741741. For international resources, here is a good place to begin.