The First Photo Of The 'Downton Abbey' Movie Is Here & Includes Some Fan Favorites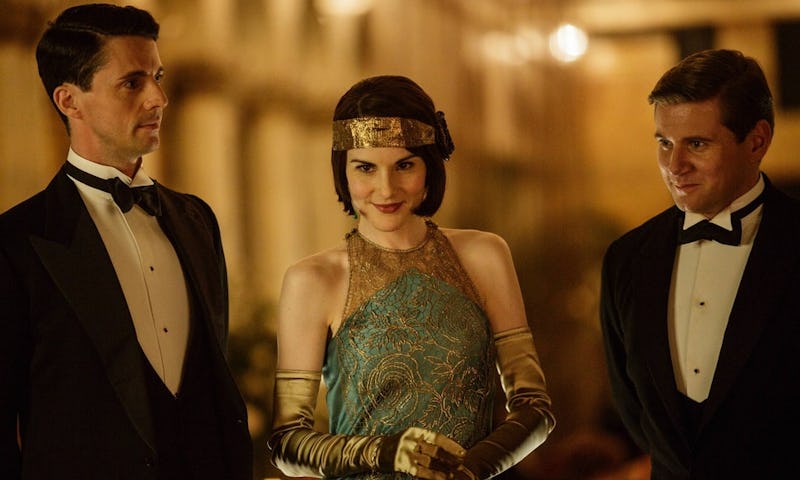 ITV
Ever since Downton Abbey closed its doors in March 2016, the world has seemed a little less bright. So when news broke that a Downton Abbey movie is officially happening, fans and cast members alike had a difficult time containing their excitement. (Mr. Carson would've surely found such behavior undignified.) But now viewers have even more reason to celebrate because production for the Downton Abbey movie is officially underway, as evidenced by a photo Michelle Dockery recently posted on her Instagram. And while it may provide very little information in the way of plot details, it offers concrete proof that these beloved characters are hard at work once more.
The image is of a computer screen, which shows the first take in a scene that will undoubtedly be part of the Downton Abbey film. The figures in the background are somewhat blurred due to the fact that the focus is on the director's clapboard, but eagle-eyed fans can probably venture a guess that they are none other than Jim Carter and Phyllis Logan, who play Mr. Carson and Mrs. Hughes, respectively. Not much else can be garnered from the photo apart from their involvement, but it's still comforting to see them back together again. Hopefully they're still happily married and keeping Downton running smoothly as per usual. Then again, would we expect anything less from them?
Most of the original cast is expected to reprise their roles in the movie, including Dame Maggie Smith, which comes as a bit of a happy surprise, since she had previously told the Radio Times last year that going on to make a film would be "squeezing it dry." Evidently, she's had a change of heart since then and will go on to deliver more incredible one-liners as the Dowager Countess.
Unfortunately, Lily James confirmed that she won't return to play Lady Rose, not because she didn't want to — but simply due to the fact that it wouldn't make sense for her character. "My character Rose moved off to New York, so it would be farfetched to bring her back," James told People during an interview. "I would have loved to have come back for a scene, but for a movie it can't be like a Christmas special and it needs to be a focused storyline." In short, James felt that, "There was no space for Rose."
Of course, many fans would also love to see the return of Dan Stevens, who played Matthew Crawley up until his tragic demise in the series' third season. Dockery even posted a recent photo of the two of them reuniting on Instagram, causing many fans to wonder if his involvement in the film could actually be possible or if they're just toying with our heartstrings. Regardless, Dockery has always been eager for a movie adaptation to be made, telling Town & Country back in 2017:
"We are still hopeful. I think that these things take time, but I think there is definitely a possibility. And that's all I can say! That's all the information I can share."
Thankfully, that hope is finally coming to fruition, and now that filming has officially begun, it's only a matter of time until we're invited back to Downton for what's sure to be an unforgettable visit.