Dan Stevens May Have Just Revealed That Matthew Could Return For The 'Downton Abbey' Movie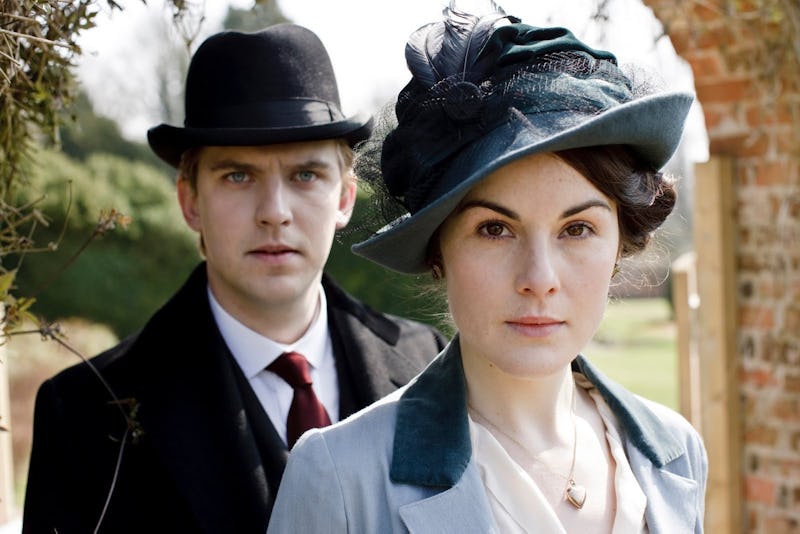 MASTERPIECE
When it comes to heart-wrenching character deaths, Matthew Crawley's ranks pretty highly on the list. His time on Downton Abbey came to an abrupt halt at the end of Season 3 after he was killed in a car crash right after Mary gave birth to their son, George. Naturally, that appeared to be the end of his storyline, however, a recent Instagram photo posted by Dan Stevens himself is making fans wonder if Matthew will be in the Downton Abbey movie, which was announced to be in the works back in July.
According to Deadline, production on the Downton film is scheduled to begin sometime in the summer with most of the original cast — including Maggie Smith, Michelle Dockery, Hugh Bonneville and more — set to reprise their roles. Of course, the idea of Stevens coming back as Matthew didn't even seem like a possibility at the time, given his character's tragic fate, but the actor sent the internet ablaze on Sunday after he uploaded a photo of himself reuniting with both Dockery (Lady Mary) and Allen Leech (Tom Branson). That in itself could draw suspicion that he's part of the filming process, but Stevens took it a step further by writing a cryptic caption that read: "Should Matthew have a mustache for the #DowntonAbbeyMovie...? Vote below..."
On the one hand, this could just be Stevens toying with our Downton Abbey-loving minds, knowing the level of excitement and shock that would ensue — in which case, well played, sir, but also, how dare you? On the other hand, though, it is totally possible that he's offering up a hint that Matthew will appear in some form within the Downton Abbey movie. Sure, there's a chance these three people just happened to bump into each other and decided to have some fun with fans. But the fact that filming is supposed to be starting soon makes this feel like way more than just a coincidence.
Unfortunately, there are very few details available regarding what the plot for the feature film will be about. Will it serve as a continuation to the last time we checked in with the Crawleys, or could it go back in time a bit to when Matthew was still around?
Creator Julian Fellowes has hinted in the past the possibility of a Downton prequel, which could indicate that he isn't opposed to mixing up the timeline a bit and allowing the movie to exist separately from the series. "I think it would be possible to do a prequel that was re-cast and do a love story," Fellowes told reporters at a China Exchange event last year, as reported by The Mirror. "So you went right back and had the young cast arriving in the show as footmen and Mrs Patmore being a kitchen maid."
Obviously, they were able to get enough of the original cast back together to not need to go so far back in time, but that doesn't mean the writers will nix the time-jumping concept altogether. Whether it happens in the form of a flashback or the film takes place prior to the accident, there's plenty of ways for Matthew to reappear and save us from the heartache we've had to endure since his departure.