Michelle Obama Made A Not-So-Subtle Dig At Trump's Moral Leadership On 'The Late Show'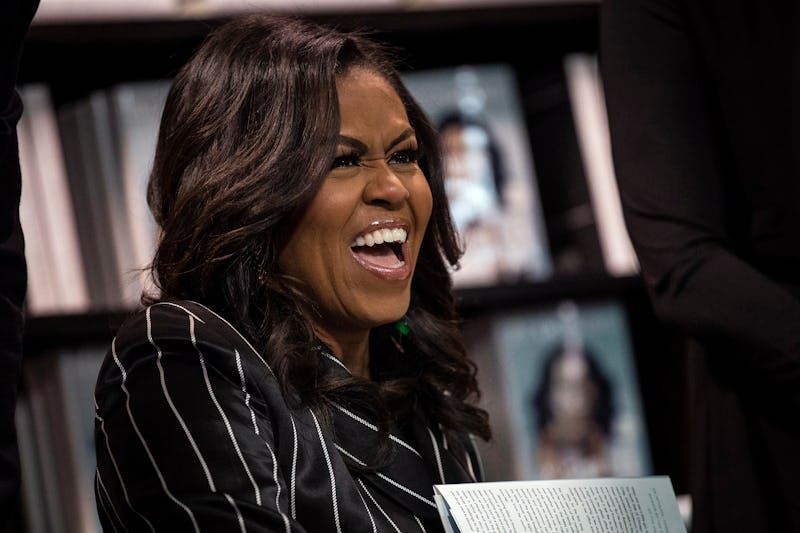 Drew Angerer/Getty Images News/Getty Images
Some leaders aim simply to lead, others aim to serve, leading by example and a commitment to core ideals. At least, that's how one former first lady sees it. Indeed, Michelle Obama took a jab at President Donald Trump on Friday when discussing the importance of moral leadership in the White House with The Late Show host Stephen Colbert.
"I have been very clear about how I felt about that," Obama said when asked by Colbert how she felt "to see the next occupant of the Oval Office" appear to be "indifferent" to the responsibility of moral leadership. "I felt torn about it from the day I watched it happen," she added in a not so subtle reference to Donald Trump's election.
But Obama said it's not about what she thinks anymore. "The country has to ask itself, what do we want, what is the bar that we are setting for ourselves?" she said. "It doesn't matter what you or I think at this point, it's up to the voters now to figure out what kind of moral leadership do we demand in the White House? Regardless of race, regardless of party, regardless of gender, regardless of where you are: what do we want our president to look like, how do you want them to act? And if we vote for one set of behavior, then that's obviously what we want, until we vote differently."
In 2016 Obama famously coined the phrase, "when they go low, we go high" during her speech at the 2016 Democratic National Convention. The slogan has become a rallying cry for Democrats eager to keep civility in politics. In a column for Politico, a former speech writer of Obama's noted that the former first lady "verbalized her moral impulses," a trait that contributed to her success as a speaker.
In speaking with Colbert on Friday, Obama also discussed the pressures that come with having her family looked to as an example of the country's moral center during her husband's presidency. "When you're the first of anything the bar feels higher," Obama told Colbert. "You feel like you don't have room to make mistakes."
The former first lady then went on to share a story about the last time she departed from the Capitol on Air Force One. "When I was leaving from the Capitol, we waved, and got on Air Force One for the last time," she said. "I cried for about 30 minutes and it was just the release of eight years of feeling like we had to do everything perfectly. That there wasn't a margin of error, that we couldn't make mistakes. That we couldn't slip, that our tone had to be perfect because that was the bar that was set for us."
But Obama admitted that, as first family, she and Barack had chosen to set a high bar for themselves, too. "It was also the bar that we always set for ourselves thinking that, as the first, people will measure everyone of our race, of our gender by what we do — and there is pressure that comes with that."
Obama said they couldn't afford to make mistakes while in the White House. "We knew that we were the moral compass and so we had to speak carefully and clearly and intelligently and we couldn't just say things off the cuff," she said. "We couldn't afford to look cavalier, we had to watch our language, and we also knew that everything we said, we thought about how it would be viewed by children."
Touché, Obama. Touché.