Michelle Obama Had The Best Feminist Surprise On International Women's Day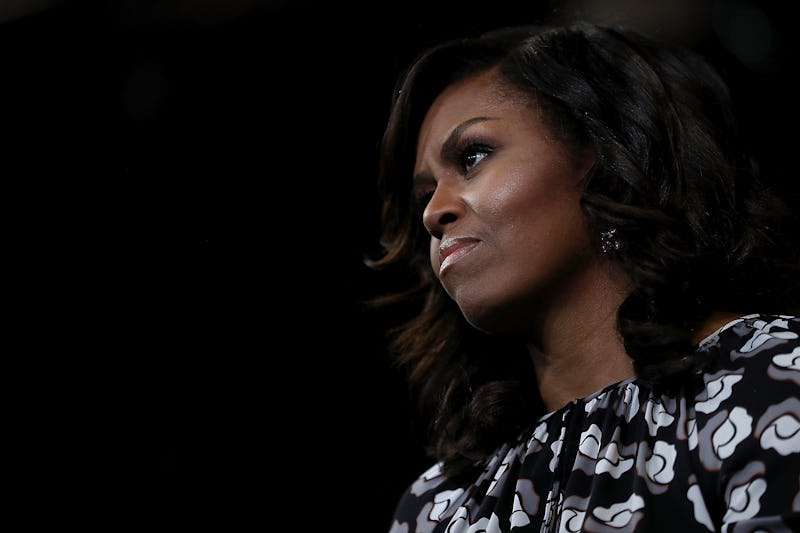 Justin Sullivan/Getty Images News/Getty Images
If you're a Democrat, or a progressive, or hey, just somebody who thought Barack Obama was a pretty good president, these are likely challenging times for you. Donald Trump is now in the White House, and the agenda he's trying to enact is far from familiar ― on immigration, refugees, transgender protections, the environment, business regulations, and health care alone, it's looking pretty grim. And the Obamas are gone from public life, although that doesn't mean they won't resurface sometimes ― for instance, Michelle Obama met with some high school girls on International Women's Day, surprising them with an unexpected visit.
Obama posted photos of the visit on her Instagram account, showing her embracing a student at Washington, D.C.'s Cardozo Education Campus. As The Washington Post noted, it was her second trip to a D.C. public high school in recent weeks, and it clearly delighted and enthralled the students in attendance. According to the school's principal, Tanya Roane, she didn't even know about the visit, and had brought a dozen teens representing the student body to the school's media room when the former first lady entered:
We just happened to look up and in walked this tall, incredibly beautiful woman who certainly looked like Michelle Obama but couldn't have been Michelle Obama because Michelle Obama wouldn't be in our school. We were simply elated and overwhelmed.
Obama remains one of the most popular, if not the most Democratic popular figures from throughout her husband's presidency. Although she has conclusively and repeatedly ruled out ever running for public office, it's not hard to see why so many people wish she would ― she boasts both the sky-high approval ratings you'd want in a political candidate, and the ability to light up a room, too.
According to the Post, the students hailed both from the school's standard academic program, and its program for international students who've recently immigrated to the United States, and they all got to sit down with Obama to discuss their goals and ambitions. She reportedly spent about two hours with the children ― not bad, considering none of them had any idea it was happening to begin with, huh? Obama's entrance into the room was also captured on Snapchat, complete with the surprised and tearful reactions of all the girls.
Obama also dished out some of the hugs she's so fond of ― after all, this is the same woman who memorably set off a slightly absurd brouhaha in the United Kingdom when she hugged Queen Elizabeth. Let's just say she's done a great job living up to her self-proclaimed title (in her Instagram bio) of "hugger-in-chief." And really, in these strange new political times, is there anyone who wouldn't want a hug from her?
Suffice it to say, the whole thing looks and sounds like it was an awesome surprise, and one that almost surely won't be forgotten by anyone in attendance. It'll be fascinating to see just how high a profile the Obamas maintain over the next several months, especially during a time when so many people would give anything to have them back in the White House.