Every Living First Lady Is Against Separating Migrant Families — Even Melania Trump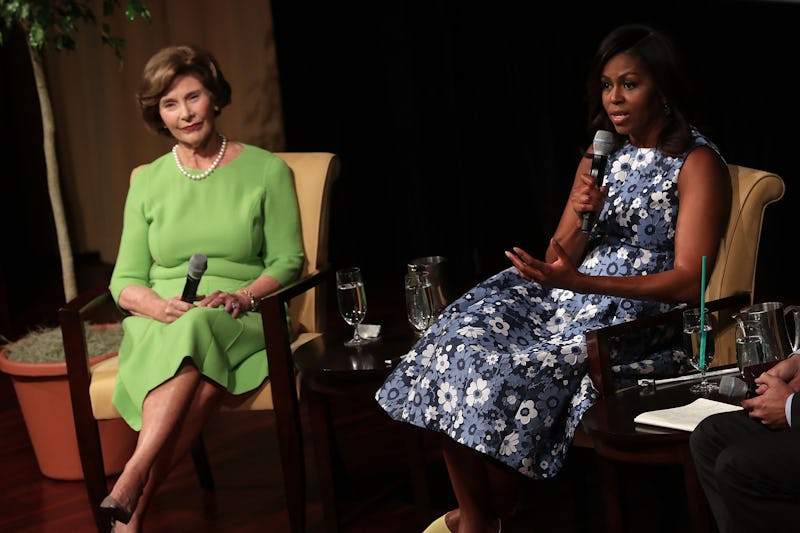 Alex Wong/Getty Images News/Getty Images
President Donald Trump's aggressive immigration policy is drawing fierce criticism from both sides of the aisle this week. Soon after the publication of her fellow former first lady's op-ed slamming Trump for separating migrant families at the border, Michelle Obama responded to Laura Bush in a tweet that broke down the typical Democrat/Republican divide.
"Sometimes," Obama tweeted on Monday, "truth transcends party."
The president's family separation policy has brought not only Obama and Bush together, but also former first ladies Hillary Clinton and Rosalyn Carter, who each condemned Trump's immigration stance on Monday. Additionally, current First Lady Melania Trump publicly disagreed with her husband's policy — though she called on "both sides" to fix it in Congress.
As for Obama, it's not the first time that the former first lady publicly took a stand on immigration. In 2017, she addressed Muslims and immigrants directly in her final speech as First Lady: "Do not ever let anyone make you feel like you don't matter, or like you don't have a place in our American story — because you do," Obama said.
"Know that this country belongs to you, to all of you," she continued then. "From every background and walk of life. If you or your parents are immigrants, know that you are part of a proud American tradition . . . that has made us the greatest country on Earth."
So it seems to be no surprise that Obama would agree with Bush. In her Washington Post op-ed, Bush wrote, "I live in a border state. I appreciate the need to enforce and protect our international boundaries, but this zero-tolerance policy is cruel. It is immoral. And it breaks my heart."
Recently, a small group of journalists from The New York Times, The Washington Post, The Wall Street Journal, MSNBC, and others were given controlled access to a Walmart-turned-detention center in Brownsville, Texas. Some 1,500 immigrant boys reportedly are living in the center, where reporters say the detainees' routines are strictly scheduled and monitored by internal staff members.
"Our government should not be in the business of warehousing children in converted box stores or making plans to place them in tent cities in the desert outside of El Paso," Bush wrote.
In addition to having their children taken away from them, Immigration and Customs Enforcement (ICE) agents also reportedly confiscated immigrants' personal belongings, including rosemaries, toothpaste, water, wallets, blankets, and more.
So far, the president appears unbothered by the critics who've condemned him for tearing children away from their mother and fathers. "Children are being used by some of the worst criminals on earth as a means to enter our country," Trump tweeted on Monday. "Has anyone been looking at the crime taking place south of the border? It is historic, with some countries the most dangerous places in the world. Not going to happen in the U.S."
Trump has also blamed the Democratic Party for his own policy of separating immigrant families.
"It is the Democrats fault for being weak and ineffective with Boarder Security and Crime," the president tweeted on Monday. "Tell them to start thinking about the people devastated by Crime coming from illegal immigration. Change the laws!"
While the president repeatedly blames Democrats for the current situation at the border, political observers online have been quick to point out that the family separation policy is a product of Trump's own presidency.
Ultimately, the president's Twitter rants may not help him. It's clear, after Obama concurred with Bush, that some Democrats and Republicans are willing to bridge the gap between political parties in order to unite against Trump's immigrant policy.