Michelle Obama Reportedly Met Meghan Markle & Oh, To Be A Fly On The Wall For That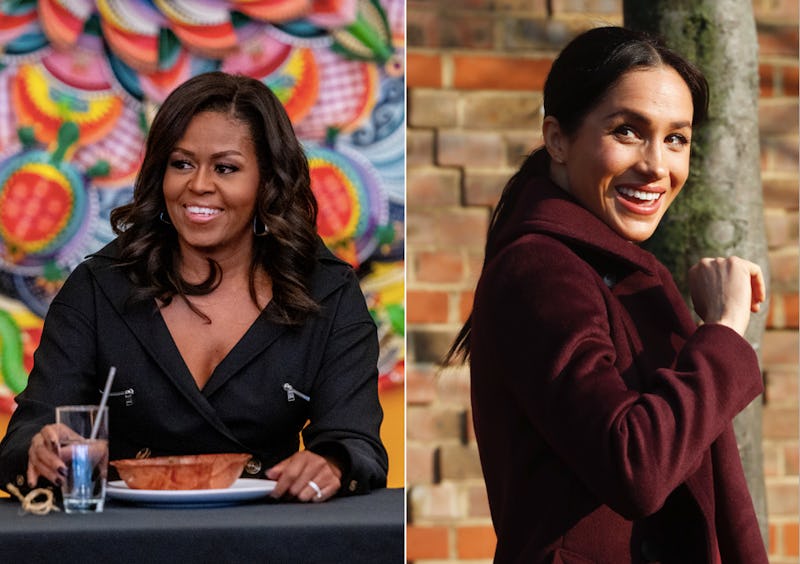 Roy Rochlin/Getty Images News; Chris Jackson/Getty Images Entertainment/Getty Images
The Duchess of Sussex and America's former first lady met on Monday evening for the first time, according to Us Weekly. The publication reported that Meghan Markle and Michelle Obama's meet-up took place at the Royal Festival Hall in London, United Kingdom. The encounter between both women comes as Obama continues on her tour for her memoir, Becoming.
According to an anonymous source who spoke to Us Weekly, Markle met Obama privately. In comments to The Evening Standard, an unnamed source shared the contents of both Obama and Markle's conversation.
"They spoke at length about the importance of supporting and empowering women across all cultures and communities," the source told The Evening Standard. "They also talked about shared experiences of pregnancy and raising children, plus shared causes including girls' education."
According to Us Weekly, Markle was in the audience when Obama had a candid conversation with novelist Chimamanda Ngozi Adichie about her memoir. It was on Monday night that Obama revealed why she supported her husband, Barack Obama, in his first run for presidency in 2008. In a frank admission, Obama said that she didn't really believe America was ready to accept a black man as its president.
It was at that book tour in London that Obama talked about her initial thoughts on her husband seeking to run for the Oval Office. "One of the reasons why I agreed to support Barack's run for president was that," she said, "deep down I was like, there's no way he's going to win. And we can just sort of get this out of the way and I could be that supportive wife going, oh, honey, you tried."
This made her crowd laugh, but she got serious and said that she didn't know if America was ready for a black man to be president. Her husband's full name, Barack Hussein Obama, didn't help either, she said.
Obama echoes the same kind of concern in Becoming. Back in 2008, her husband's urge to run for president worried her. "I said yes, though I was at the same time harboring a painful thought, one I wasn't ready to share: I supported him in campaigning, but I also felt certain he wouldn't make it all the way," she said.
Markle and Obama's Monday night meet-up may not surprise those who know that the Obamas have a warm relationship with Markle's husband, Prince Harry. After all, Barack was seen sitting next to Harry in Toronto in 2017. With Joe Biden tagging along, the former president spent time with Markle's husband at the Invictus Games that year.
The Obamas also congratulated the royal couple on their engagement in November last year. "Michelle and I are delighted to congratulate Prince Harry and Meghan Markle on their engagement," Barack tweeted. "We wish you a lifetime of joy and happiness together."
And in a most recent example, Obama gave Markle some heartfelt advice in an interview with Good Housekeeping. "Like me, Meghan probably never dreamt that she'd live a life like this, and the pressure you feel — from yourself and others — can sometimes feel like a lot," she said. "So my biggest piece of advice would be to take some time and don't be in a hurry to do anything."