Michelle Obama & The Girl Who Stared At Her Portrait Had A Dance Party, And There's VIDEO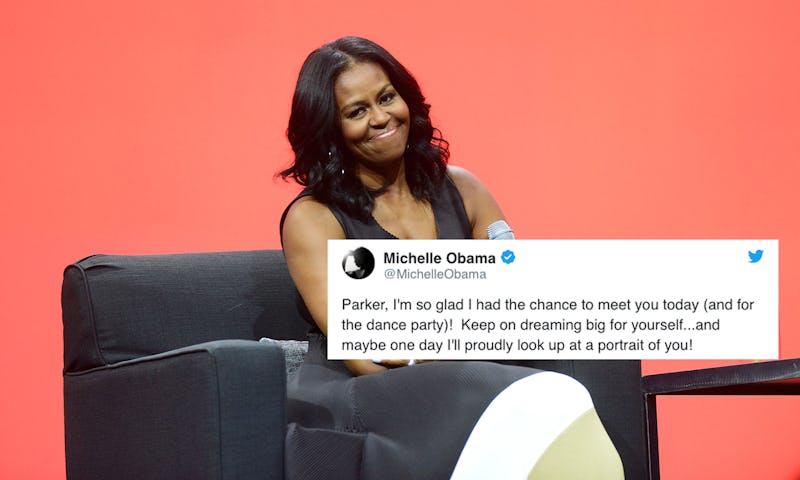 Gerardo Mora/Getty Images News/Getty Images
A viral photo of a young black girl gazing at the first black First Lady's official portrait melted hearts around the country last week. When it was later reported that the girl thought she was staring at a literal queen, tears were shed. But prepare yourself to turn into an actual puddle of emotion, because Michelle Obama and Parker had a dance party, and their meeting was pure perfection.
Parker Curry, age 2, was photographed staring admiringly at Amy Sherald's painting of Michelle. The pic swiftly went viral, with Sherald herself saying she was "feeling all the feels" about what representation means to young black children.
That's a sentiment Michelle has expressed as well, when she said at the unveiling:
I'm also thinking about all the young people, particularly girls, and girls of color, who in years ahead will come to this place and they will look up and they will see an image of someone who looks like them hanging on the wall of this great American institution.
And clearly, Michelle saw the significance and beauty of the photo of Parker, just like the rest of America did. She met with Parker, had a dance party to Taylor Swift's "Shake It Off," and then posted a video of them dancing (plus an inspiring message) on Twitter.
"Parker, I'm so glad I had the chance to meet you today (and for the dance party)!" she wrote. "Keep on dreaming big for yourself...and maybe one day I'll proudly look up at a portrait of you!"
Be still my beating heart.
The meeting was a really special moment for everyone involved. When the photo first went viral, Parker's mom, Jessica Curry, told CNN that it was everything she hoped for for her daughter.
"As a female and as a girl of color," Curry said, "it's really important that I show her people who look like her that are doing amazing things and are making history so that she knows she can do it."
Parker was in front on the portrait, and I really wanted her to turn around so I could get a picture with her, and she genuinely, honestly would not turn around. She was uncooperative with me because she was just so focused on the portrait and studying it, and she was just so fascinated. ... In further discussion with [Parker] yesterday and today, I realized that she believes Michelle Obama is a queen, and she wants to be a queen as well.
Michelle Obama has long been a role model for young women and girls — and she takes that very seriously. During her speech at the Democratic National Convention in 2016, Michelle made clear what she thought about what the presidential office and representation means for children in the country.
With every word we utter, with every action we take, we know our kids are watching us. We as parents are their most important role models. And let me tell you, Barack and I take that same approach to our jobs as President and First Lady, because we know that our words and actions matter not just to our girls, but to children across this country — kids who tell us, "I saw you on TV, I wrote a report on you for school." Kids like the little black boy who looked up at my husband, his eyes wide with hope, and he wondered, "Is my hair like yours?"
And while the Obama family might no longer be in the Oval Office, they re still on the national stage, and they are still very much role models for children (and adults) around the world. The viral photo proved that, but it was the dance party that proved why.