Michelle Obama Vs. Melania Trump's Views On #MeToo Couldn't Be More Different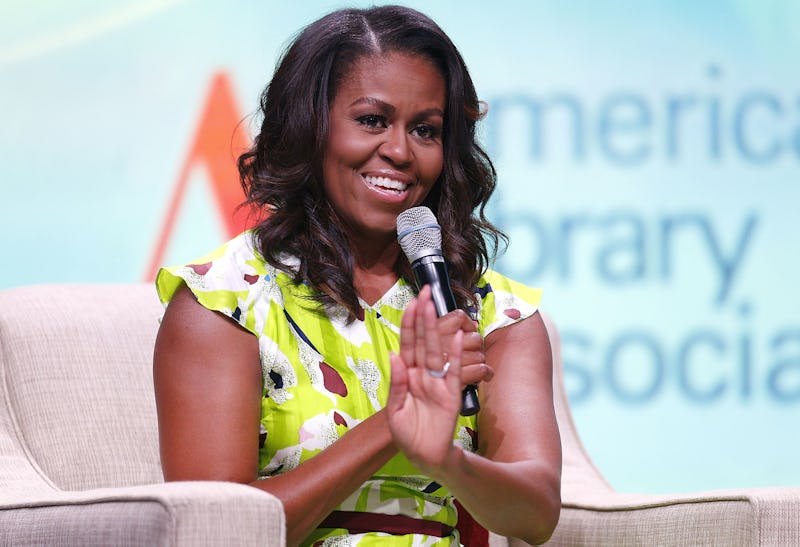 Jonathan Bachman/Getty Images News/Getty Images
The current and former first ladies don't see eye to eye on quite a few things, including the current movement shining a light on the ways men can use positions of power to sexually harass and assault women. Michelle Obama and Melania Trump's views on #MeToo are on totally different ends of the spectrum, as one believes survivors need to show "really hard evidence" in order to be believed, and the other thinks not enough has changed when it comes to supporting and protecting women.
"I'm surprised at how much has changed but how much has not changed. And I think that's where the fire is coming from. Enough is enough," Obama said on the Today show Thursday morning. "The world is a sadly dangerous place for women and girls, and we see that again and again. I think young women are tired of it. They're tired of being undervalued."
When asked about the (largely male) backlash to the #MeToo movement, Obama explained that it's to be expected. "Change is not a direct, smooth path. There's going to be bumps and resistance," she said, adding that the "status quo" for how women are treated in society has begun to shift.
"We as mothers, we have to think about the path that we want to pave for our girls," Obama told Today. "And if we don't start setting the tone now, they're going to walk into a world where they'll still be dealing with those issues in the workplace, and at home, and in schools."
Trump, on the other hand, told ABC News' Tom Llamas last week that women should be heard, but they need to have "really hard evidence" to prove their allegations.
"I support the women, and they need to be heard. We need to support them — and also men, not just women," Trump told Llamas. But when Llamas asked her if the media has treated men accused of sexual assault unfairly, Trump responded, "If you're accused of something, show the evidence." She later claimed that "sometimes the media goes too far and the way they portray some stories, it's not correct."
Trump's comments sounded like her husband's rhetoric, as he has repeatedly claimed sexual assault allegations against him were made up and publicly called his accusers liars. He's also criticized women who came forward with sexual assault and harassment allegations in tweets to his 55 million followers, asking why they didn't go to the police and insinuating that they were paid to make up the allegations.
The first lady's comments on the #MeToo movement came as she was touring multiple African nations to promote programs aimed at helping children. Obama launched her own initiative on Thursday, Global Girls Alliance, focused on girls' education that will create an online network to connect people working on this issue, offer financial support to specific community efforts, and raise awareness about the millions of girls worldwide who aren't in school.
Obama's comments on the #MeToo movement made it clear that she believes speaking out about the treatment of women will help make the world a better place for the next generation of girls.