Melania Trump Explained Her Views On #MeToo & Sounded Like Her Husband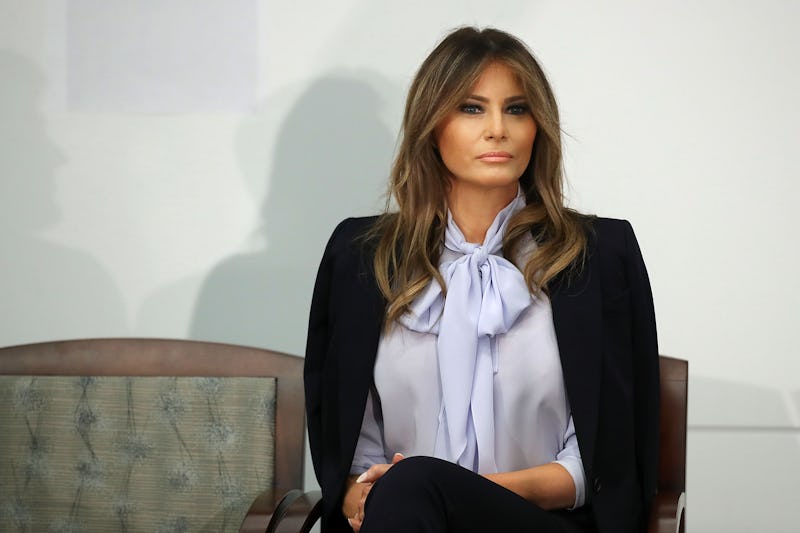 Chip Somodevilla/Getty Images News/Getty Images
The first lady has largely remained silent about the sexual assault allegations against her husband and Supreme Court Justice Brett Kavanaugh, but Melania Trump explained her view on the #MeToo movement in an interview with ABC News' Tom Llamas that will air in full on Friday. Her answer was still pretty vague, however, as she simultaneously said that women should be heard and that they need to have "really hard evidence" to prove their allegations. In fact, she started to sound a bit like her husband.
"I support the women, and they need to be heard. We need to support them — and also men, not just women," she told Llamas. When asked if men accused of sexual assault have been treated unfairly by the media, she responded that women need to prove their allegations. "If you're accused of something, show the evidence," she said, later claiming that "sometimes the media goes too far and the way they portray some stories, it's not correct."
The president has repeatedly denied the sexual assault allegations against both him and Kavanaugh, publicly calling the women who have accused him liars. In the same vein, Kavanaugh and the Republicans (and one Democrat) who confirmed him to the Supreme Court on Saturday claimed the woman who accused him of attempted sexual assault didn't have enough evidence to prove her accusation and was mistaken in who she identified.
Like the first lady, they claimed to support women. And as the first lady did in her latest interview, the president has frequently claimed the media promotes false stories. When protestors stood outside the Supreme Court to voice their opposition to Kavanaugh's confirmation last week, the president alleged that the press was inaccurately portraying the protest.
"The Fake News Media tries to make it look sooo big, & it's not!" he tweeted on Saturday.
Hours before Kavanaugh was confirmed, the first lady told reporters in Egypt that she thought the president's nominee was "highly qualified for the Supreme Court." She added that she was glad both he and Christine Blasey Ford testified before the Senate Judiciary Committee, and that the FBI investigated Ford's allegation, but wouldn't say whether or not she believed Ford.
Her comments to Llamas offer a glimpse into her thought process on Kavanaugh's confirmation, which wasn't all that different from GOP leaders'. Insinuating that the media "goes too far" and portrays stories inaccurately, while also asserting that women need to show "really hard evidence" in order to be believed, doesn't send the message that she believes women.
Before Ford testified to the Judiciary Committee, experts told Bustle that she didn't need to prove her allegations beyond a reasonable doubt because Kavanaugh wasn't on trial — he was seeking a job promotion. She chose to tell her story, and it was up to the Senate to determine whether or not the allegation disqualified Kavanaugh from serving on the Supreme Court. Lawmakers, along with the first lady, decided that the allegation wasn't disqualifying, making it clear where they stood on #MeToo.