Michelle Obama Is Going On Tour & You Can Get Tickets SO Soon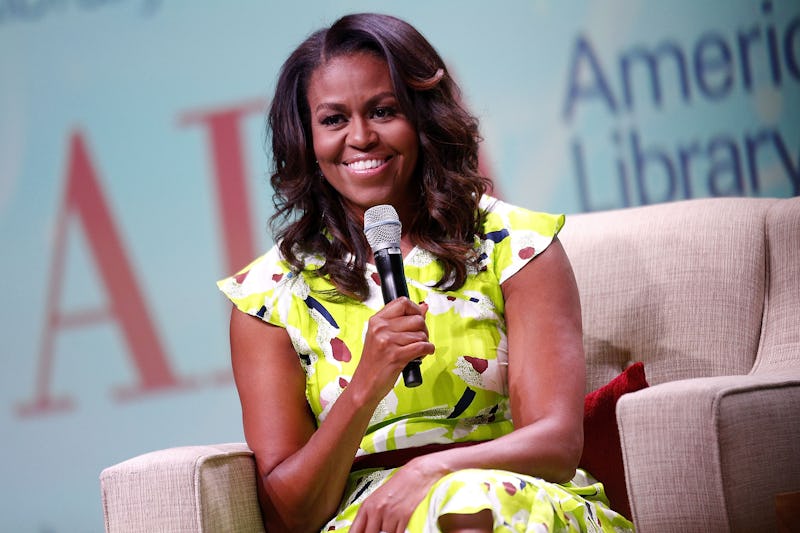 Jonathan Bachman/Getty Images News/Getty Images
Former First Lady Michelle Obama is hitting the road this fall for a series of events supporting the release of her forthcoming memoir, Becoming, and you could be one of the lucky people to attend. Bustle has got all the details on how you can get tickets below.
Today, Live Nation and Crown Publishing Group, a division of Penguin Random House, announced the date for Michelle Obama's book tour, which will kick off in her hometown of Chicago on Nov. 13 and visit 10 U.S. cities — Chicago, Los Angeles, Washington D.C., Boston, Philadelphia, New York City, Detroit, Denver, San Jose, and Dallas. The events will feature intimate conversations between Obama and a selection of still-to-be-announced moderators, and the former First Lady plans to expand on the personal stories she shares in her book, also due to hit shelves on Nov. 13.
Becoming is Michelle Obama's first memoir. In it, she writes about her childhood in the South Side of Chicago, her years as a lawyer, her tales of motherhood, and, of course, her historic time spent in the White House as the nation's first African-American First Lady. Obama is one of the most iconic, compelling, and poised public figures of this era, and her book provides the perfect opportunity to learn more about the person behind the persona.
Becoming by Michelle Obama, $23, Amazon
In a press release announcing the book tour, Obama says: "I've spent the last year and a half reflecting on my story as deeply and honestly as I could, and now I'm thrilled to travel the country and do the same with readers this fall. I hope that this tour will inspire others to reflect upon and share their own stories — all the joys and sorrows, all the scars and renewals — so that together, we can better recognize that each of us, in our own way, is in a constant process of becoming."
Check out more of her thoughts in the video below:
Here's what you need to know: Tickets will go on sale to the general public on Friday, Sept. 21 at 10 a.m. local time on the official Becoming website. The tour will use Ticketmaster's Verified Fan platform, which fans can register for until Tuesday, Sept. 18 at 10 p.m. PT. By signing up, fans will also get free access to the tour pre-sale, which will allow registered fans to purchase tickets on Thursday, Sept. 20 from 10 a.m. local time to 10 p.m. local time, a full day before tickets go on sale to the general public. A limited number of VIP meet-and-greet package will also be available at Ticketmaster.
Ticket prices have not yet been announced, but Obama and Live Nation, the tour's producer, have said that they will be donating 10 percent of profits to local charities, schools, and community groups in each city the tour visits.
If you don't want to miss out on a chance to see Michelle Obama in person, set your calendars now and visit the Becoming website for more details on the book and tour.