Michelle Obama Just Revealed The Cover Of Her Book & It's RADIANT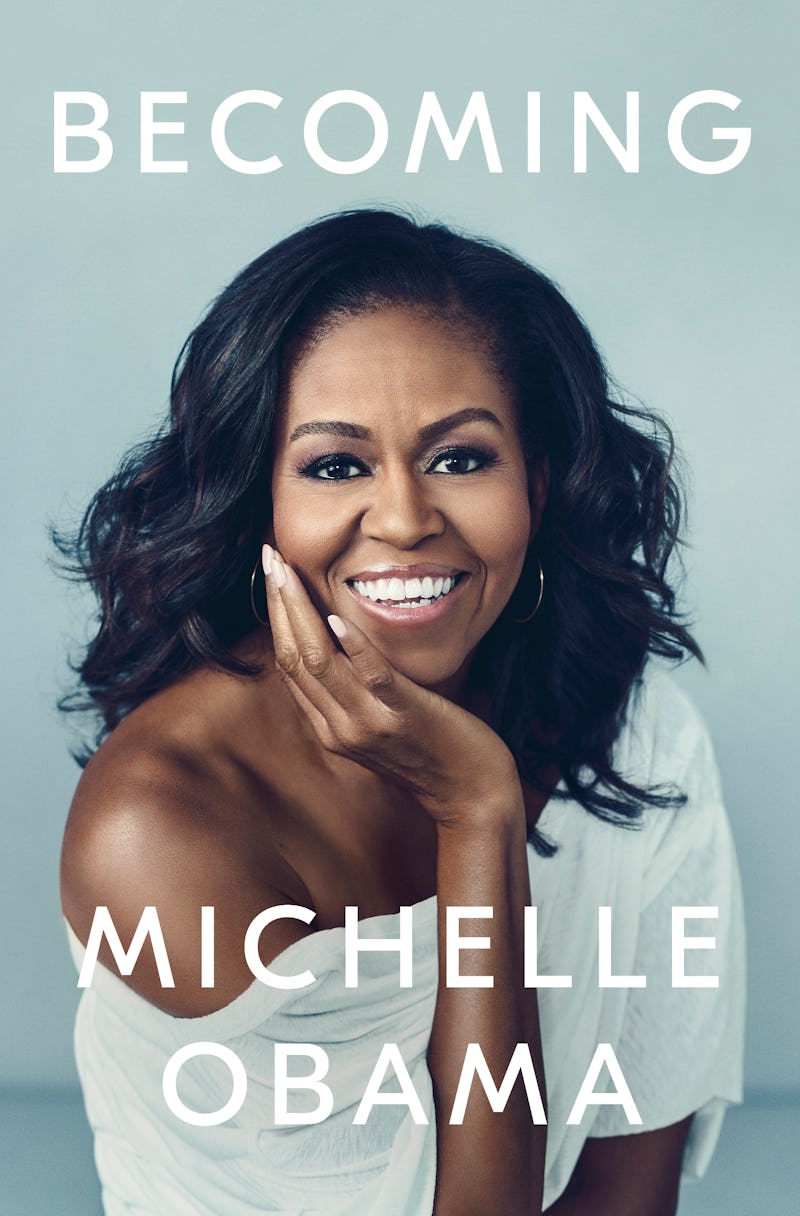 Penguin Random House
After eight years in The White House, Barack and Michelle Obama don't seem content to slow down anytime soon. Not only are the Obamas teaming up with Netflix for a production deal, both are set to release memoirs with Penguin Random House — with Michelle Obama's Becoming hitting shelves on Nov. 13, 2018. According to the publisher, Becoming is "a work of deep reflection and mesmerizing storytelling" in which the former First Lady will chronicle her experiences from her childhood on the South Side of Chicago to her historic time in the White House. It promises to be an intimate look at the personal, untold stories of one the world's most well-known public figures. And if the stunning cover reveal below is any indication, this book will be just as warm, wise, and lively as the woman herself.
The cover image was chosen by Michelle Obama herself, from a photo shoot that was done earlier this year in Washington, DC, by renowned portrait photographer Miller Mobley, who has photographed what seems like every celebrity under the sun, including Lin-Manuel Miranda and Lupita Nyong'o. In a press statement, Obama says, "I'm thrilled to share with all of you the cover for Becoming. The process of writing this book has been so personally meaningful and illuminating for me. As I prepare to share Becoming this fall, I hope you'll also think about your own story, and trust that it will help you become whoever you aspire to be. Your story is what you have, what you will always have. It is something to own."
OK, take a moment and then go ahead and wipe those "I miss the Obamas" tears that quote just induced, because you have got to check out this cover for yourself.
Becoming by Michelle Obama, $23, Amazon
Of course, an audiobook read by Michelle Obama herself will be released at the same time, so you can bring the Former First Lady along on your commute, gym sesh, or just let her voice soothe you when 2018 keeps being, well, 2018. U.S. and international book tours will follow soon after, to be announced at a later date.
And the Obamas' partnership with Penguin Random House doesn't end at their own books — in support of the mission of The Obama Foundation and Penguin Random House's own commitment to social responsibility, the publisher will donate in the Obama family's name, one million children's books published by Penguin Random House to First Book, a nonprofit dedicated to promoting equal access to education by providing new books, learning materials, and other essentials to children in need in the U.S. and Canada. And all I can say to that is, "Thanks Obama."