This Is What Michelle Obama Wants You To Remember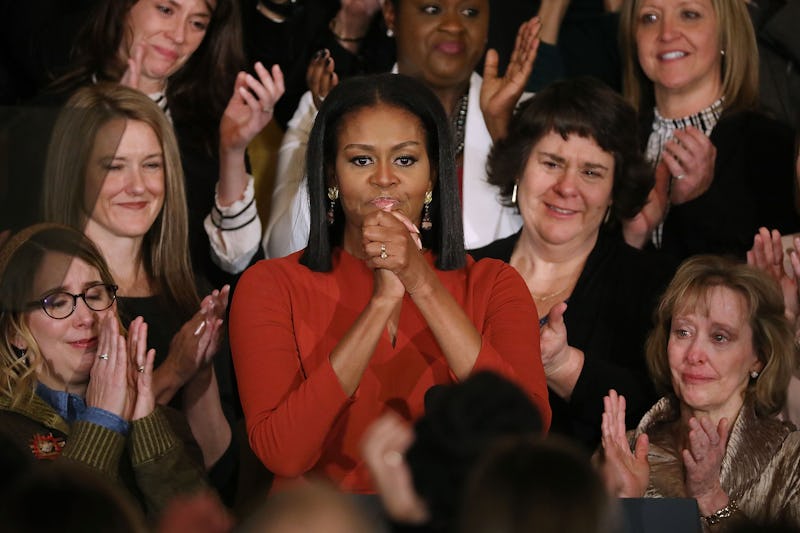 Chip Somodevilla/Getty Images News/Getty Images
Speaking from the White House on Friday, an emotional Michelle Obama used her final speech as first lady to reach out to America's youth with a message of hope, empowerment, and inclusivity. In a speech at an event honoring the recipients of the 2017 School Counselor of the Year award, Obama reminded young people the country belongs to them. She urged them to seek out a higher education to inform and empower themselves to lead "with hope, never fear."
"As I end my time in the White House, I can think of no better message to send to young people, in my last official remarks as first lady," Obama said in a speech at the 2017 Counselor of the Year Ceremony. "For all the young people in this room and those who are watching, know that this country belongs to you, to all of you."
In a powerful message delivered just two weeks before President-elect Donald Trump is sworn into office, the first lady applauded America's diversity, heralding it as one of the country's greatest assets. "From every background and walk of life, if you or your parents are immigrants, know that you are part of a proud American tradition: the infusion of new cultures, talents and ideas, generation after generation, that has made us the greatest country on earth," Obama said.
She stressed the idea of choosing to embrace and celebrate that diversity rather than fear it. "Our glorious diversity — our diversity of faiths and colors and creeds — that is not a threat to who we are, it makes us who we are."
The first lady urged young people not to let a contentious and divisive political climate steer them from pursuing their dreams or engaging with their community. "Do not ever let anyone make you feel like you don't matter or like you don't have a place in our American story, because you do," Obama said. She urged young people to add their voice to national conversations on political and social issues, saying it was vital they become informed and engaged in order to actively protect and preserve the freedoms past generations fought for.
"I want our young people to know that they matter, that they belong," a visibly emotional Obama said. "So don't be afraid. You hear me, young people? Don't be afraid. Be focused. Be determined. Be hopeful. Be empowered. Empower yourself with a good education. Then get out there and use that education to build a country worthy of your boundless promise. Lead by example with hope; never fear."