Michelle Obama Delivered A Feminist Message About Endurance & It'll Brighten Your Day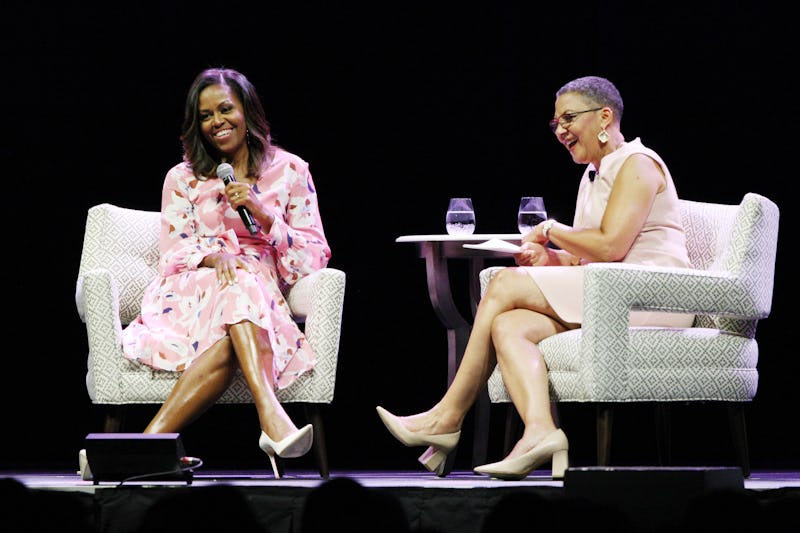 Jason Bahr/Getty Images Entertainment/Getty Images
It's pretty difficult to keep up with the news nowadays. Each morning seems to bring a new executive order that bans specific individuals from entering the country, or a new law restricting LGBTQ rights. But in the middle of all of this political turmoil, there was at least one small glimmer of hope on Tuesday night. Michelle Obama gave an empowering speech in Denver, and it just might make you believe that there really is still good in the world.
The former first lady, whose famous mantra is, "When they go low, we go high," didn't make explicit references to President Trump or any of his controversial policies during her armchair conversation at the Women's Foundation of Colorado's TogetHER conference.
But she did speak to the fear, anger, and anxiety that many around the nation undoubtably feel as a result of Trump's divisive presidency, and encouraged people to continue to believe in their country and each other.
The people in this country are universally good and kind and honest and decent. Don't be afraid of the country you live in. The folks here are good.
Obama went on to urge the crowd to recognize that America is not falling apart; rather, it is a young nation that is continuing to learn and grow from its mistakes and successes.
Obama faced her own share of negativity and discrimination throughout her eight years in the White House. As America's first black first lady, Obama was often the subject of racist remarks, including one particularly painful moment when a government employee referred to her as an "ape in heels."
She acknowledged that it hurt to know that "after eight years of working really hard for this country, there are still people who won't see me for what I am because of my skin color," but noted that she ultimately endured, as all women have the power to do.
Women, we endure those cuts in so many ways that we don't even notice we're cut. We are living with small tiny cuts, and we are bleeding every single day. And we're still getting up.
Obama's uplifting message may not change the policies that Trump and his administration are enacting. But hopefully, it will inspire you to keep getting up, to endure, and to remember each day that, political turmoil aside, there really is still good in this world — and it's worth fighting for.