Michelle & Busy Are The Coolest BFFs In Hollywood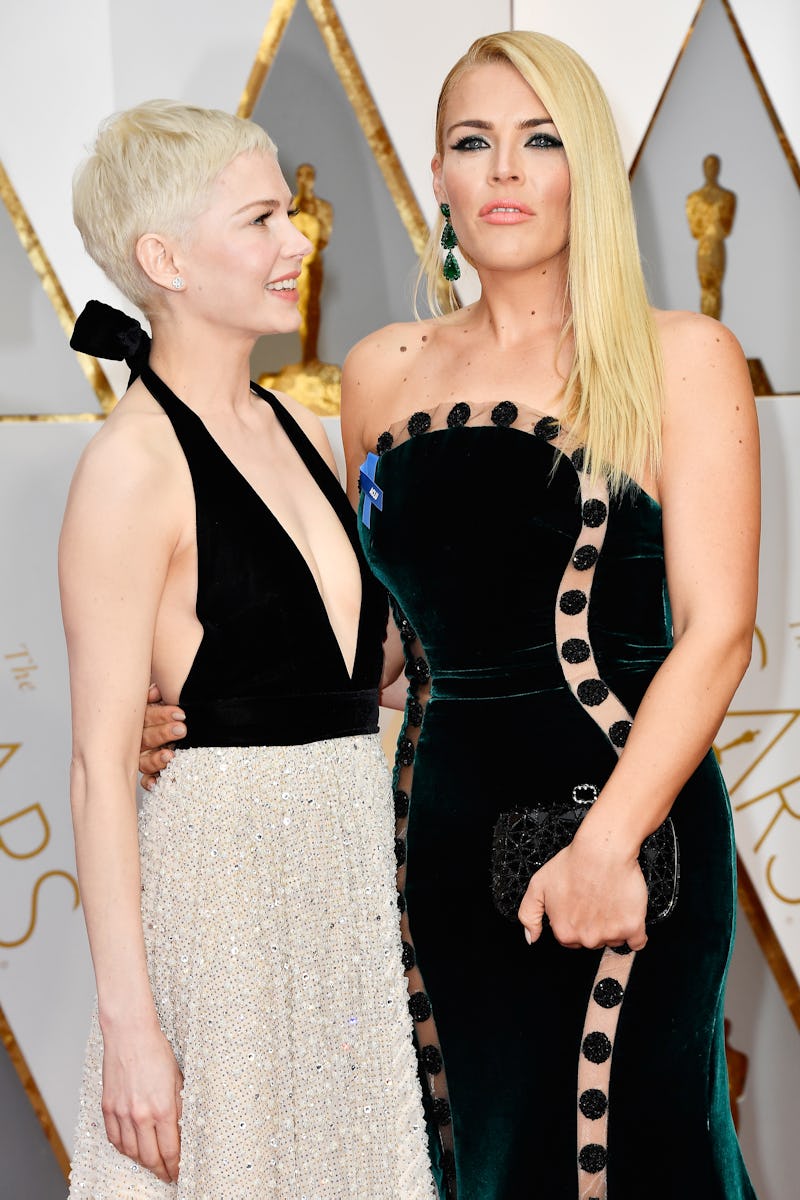 Frazer Harrison/Getty Images Entertainment/Getty Images
Whenever I think of celebrity best friends, the first duo that comes to mind is Michelle Williams and Busy Philipps. During this past awards season, Phillips has joined Williams on many red carpets, never straying too far from her girl and always offering the best support ever. Imagine how amazing it would be to always have your best friend by your side, especially while you're nominated for an Oscar? While admiring the adorable duo on the red carpet at the 2017 Oscars, I couldn't help but reminisce about some sweet moments that prove Williams and Philipps are the realest Hollywood BFFs and my personal OTP.
Williams and Philipps first met on the set of the iconic teen drama Dawson's Creek and have seemingly been inseparable since then. A few months ago, Philipps reminded fans of their strong and long friendship when she posted a hilarious #tbt photo of their early '00s outfits comparing them to their more refined looks today. Nothing says a true friendship more than standing by each other during those scary fashion moments!
Without further ado, here are some of the best Williams and Philipps best friend moments that will make you believe in love.
When They Got On A Flight Together
...and obviously couldn't do it without holding hands.
When Michelle Spoke About Their Love
At a screening of Manchester By The Sea in December 2016, Williams told People,
"I'm here with my best friend...I'm so in love with her. She's proof that the love of your life does not have to be a man! That's the love of my life right there."
D'aww!
When They Ate Carbs At The Golden Globes
Philipps wrote that they might not have eaten carbs in a whole week, so naturally, they had to eat them together.
When Michelle Pierced Busy's Ear In A Hotel Room
Isn't this something all BFFs do at some point?
When They Loved Taking Pics In The Bathroom
...More Than Once
Everyone on Earth knows that where all the lady magic happens.
When They Snuggled During An Instagram Story
Philipps also wrote in her caption that while supporting her BFF, she smashed into a crab cake plate. Sounds like a fun friends night out!
When Busy Spoke About Their Love
Philipps spoke to the Wall Street Journal in 2012 about their meeting, and it was love at first sight. She said,
"We were set up to be friends by a mutual friend, who thought that we would really love each other. And we did. We fell instantly in love...It was right before I got [Dawson's Creek ]. We shot that television show in a small town in North Carolina, so it's a very heightened experience when you're away from all of your actual friends and family. We became each other's everything in that time."
When Busy Was Her BFF's Paparazzo
This photo says so much about their friendship! While at the Golden Globes, Philipps made sure to capture beautiful moments of her friend while she had a huge moment in her career.
Over the years, Philipps and Williams have both supported, inspired, and loved each other deeply and it is a beautiful thing to see.