Here's What's Going On With Michelle Williams & Chad Johnson After Their Shocking Breakup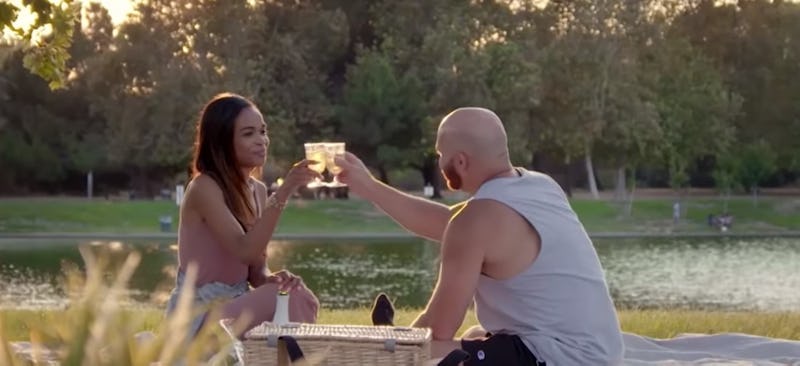 OWN Network
The season finale of Chad Loves Michelle drops on Dec. 22, but it looks like this episode might be a series finale, too. The show, which premiered in November, follows Destiny's Child star Michelle Williams and sports chaplain Chad Johnson as they navigate their new life (and engagement) together in Los Angeles. The couple lived in separate cities and previously hadn't spent more than seven consecutive days together, and unfortunately, it didn't work out for the best. Michelle Williams and Chad Johnson relationship updates confirm the couple has ended their engagement, as People reported earlier this month. Chad may still love Michelle, but their dreams of walking down the aisle are officially over.
According to People, Williams broke the news via a now-deleted Instagram story and simply said things didn't work out. She reportedly wrote that there is a ton of individual healing that needs to happen and she doesn't want to "destroy" another relationship. The singer wished her ex well and blessed her fans with "Fearless," a new ballad about chasing dreams and living your best life.
Williams has been open about her long-term battle with depression that started way back during her Destiny's Child days. This has played a major role in her relationship with Johnson, who angered many fans of the show after he asked her if she took her medication during a disagreement.
Reality TV has led to many couples calling it quits, but Chad and Michelle actually broke off their engagement twice, per People. She told the magazine that they kept working on their relationship after the first split, but ultimately, Williams called it off again, drove herself to an L.A. area hospital, and checked into a treatment facility.
"I thought I was over depression," Williams told the outlet. "I thought, 'I'm good!' I've got love, I'm working out. But I was so angry. The rage built up in me. I did not attempt suicide but I was questioning [life]."
MSN also reported that Michelle has pulled out of her Broadway role as advised by her medical team. The announcement of her departure came right on the heels of her breakup with Chad, so she probably needs some time away from the spotlight to focus on healing and taking care of herself. The unraveling of a relationship is never easy, but it has to be even harder when it happens in the public eye. Hopefully, Michelle will give herself plenty of time, space, and grace to put her health and wellness first.
Johnson, for his part, has been silent on social media since the break-up. There's no word on if the pair have been in communication lately, but hopefully everyone comes out of this relationship with lessons learned as they continue to move forward with their individual lives. Michelle was all smiles in a recent Instagram post and fans are rooting for her on this difficult journey.
OWN has yet to announce Chad Loves Michelle's cancellation, but it seems unlikely that it would continue now. Watch how it all ends on Saturday at 8 p.m. ET.