Michelle Williams' 12-Year-Old Had The Best Response To Kevin Spacey's Firing From Her Mom's Movie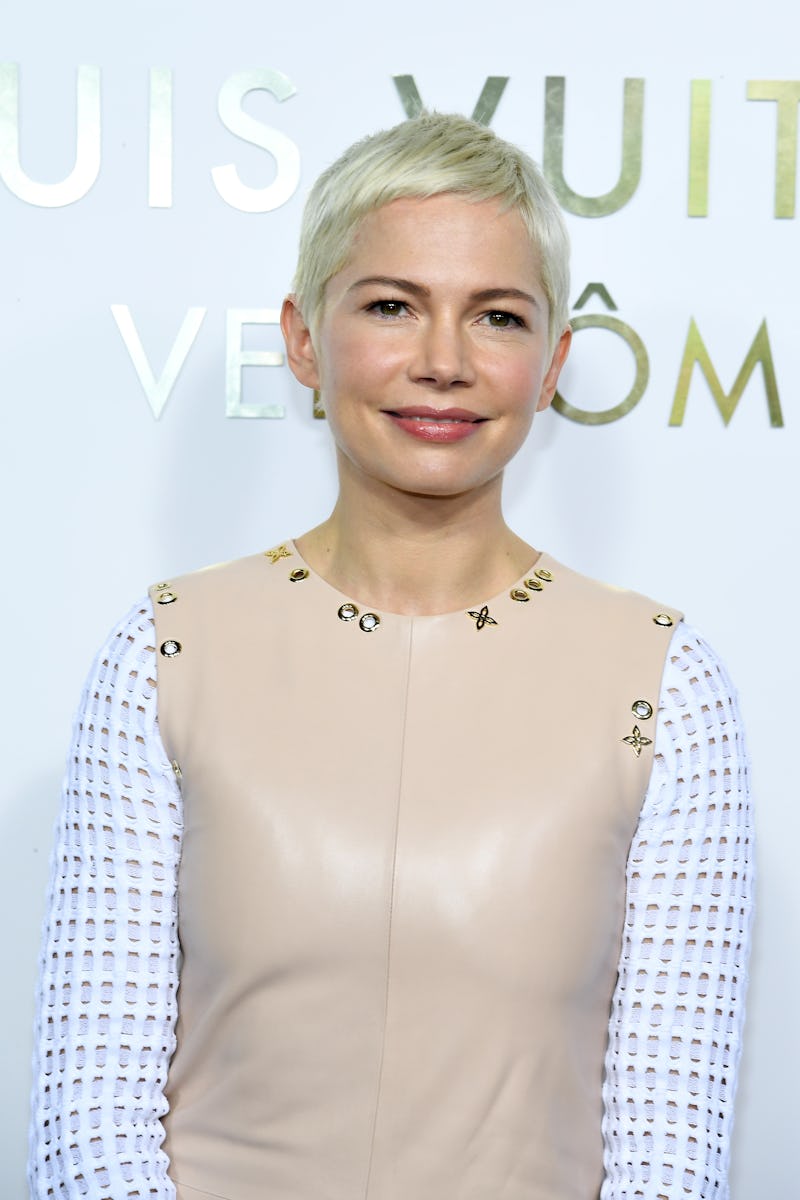 Pascal Le Segretain/Getty Images Entertainment/Getty Images
Like many actors in Hollywood right now, Michelle Williams has an intimate point of view and understanding of the sexual assault allegations toppling powerful industry figures. The 37-year-old, three-time Oscar nominee recently worked with Kevin Spacey in All the Money in the World (out Dec. 25) before Spacey was fired from the film after sexual assault allegations against him emerged. Christopher Plummer took over the role, leading to Williams and her co-stars returning to set to re-shoot scenes with the new actor. At the film's LA junket in mid-December, Williams explains how she's processing this complex, historic moment — with the help of her 12-year-old daughter, Matilda.
"I had the conversation with my kid and was like, 'Here's why I'm going to go back to work,'" Williams recalls. "She so generously and excitedly said, 'I want you to go do it, you worked so hard on that movie, and don't let a bad man take it away from all you guys. Go get 'em.'"
The actor's daughter (who she had with late actor Heath Ledger) inspires her and gives her hope for generations of women to come. "She won't stand for it," Williams says of harassment and the like. "She's f*cking amazing. I have so much faith in her generation. Who knows what she's gonna be, she's gonna be her own bad self."
The 12-year-old certainly gets her resolve from her mom. Williams says that when she heard the news about Spacey and learned he was being replaced in the film, she didn't think twice about having to unpack her character again to reshoot with Plummer. "If somebody was like, 'So and so was a sexual predator and you need to reshoot'... I'd be like, 'Yes! I would love to!' I would love to go back to any of my girls," the actor says.
Moreover, this opportunity was a morally sound "rebirth" for the cast and crew. "We were excited to take a stab at righting this wrong with the hope that maybe the film would be seen," Williams says. "At a certain point it looked like... we should all just walk away from this because this will never have a life. It's life is over. And this was like a rebirth and we were all happy."
Six weeks before All the Money in the World's theatrical release, assault and harassment allegations against Spacey surfaced, leading to the actor issuing a public apology and getting "evaluation and treatment," according to his rep. Shortly after, the film's studio held meetings about further action, which entailed in firing Spacey, reshooting 22 scenes with Plummer and the cast in just nine days, working long hours, retooling the trailer, and much more in order for the film to be released on time. In the movie, Spacey played billionaire Jean Paul Getty in a retelling of the kidnapping of his 16-year-old grandson; Williams plays the teenager's strong-willed mother Gail.
As someone who was so close to the controversy, Williams says she is still crafting the perfect response to Hollywood at large and all the hopeful young actors starting out in this current climate. "[That's] something that I've been thinking so, so much about," the actor says. "I've been trying to write about [that] every day for the last two months since all of this starting coming out."
Since the New York Times' expose on Harvey Weinstein was published on Oct. 5, the domino effect of sexual assault and rape victims brave enough to step forward has rapidly swept through Hollywood. Williams, who's been acting since she was a teenager, sheds light on how these few months have been for her, emotionally and mentally.
"I have woken up every day... and reached for my phone to check the news and to see what part of the structure has fallen while I was sleeping. What part of this power structure is crumbling? And is it going to hit me on the head?" she explains. On the flip side, Williams says the movement has also given her a new sense of confidence, identity, and power.
"I feel for maybe the very first time in my entire life empowered," she says. "I just thought, 'OK, well the world sucks. And it's wildly unfair. And all you can do is keep your head up and make the best of it and just eat the sh*t sandwich that they serve you... and I feel like for the first time, that can change."
Right now, Williams says, she feels an unprecedented sense of sisterhood, leaving her optimistic, not discouraged. "It's an amazing thing that we're watching happen... The root of the problem is the imbalance of power," the actor says. "If we can get to that... by being more fairly represented, then we will start to live in a more equal world."
While all the brave women who have spoken out have received praise, it's also an understandably tricky time for prominent figures like Williams to make any statements at all. Whatever they say will be analyzed by the eager-to-criticize public, and the actor says she certainly feels that pressure. "Everything gets misconstrued and picked apart and made fun of and teased.... There's always a risk that you run by saying something of value in a world that really doesn't wanna hear it, in a world that want to trivialize things," Williams says.
Still, she feels a sense of hope because being honest is so powerful. "I think we're seeing that truth is gaining momentum now," she says. "It's becoming deafening." And for the women of the future, like Williams' own daughter, there are so many strong voices to be heard, and so much to be hopeful about.
If you or someone you know has been sexually assaulted, call the National Sexual Assault Telephone Hotline at 800-656-HOPE (4673) or visit online.rainn.org.