Teen Charged With 20 Sexual Assaults Will Spend Just 45 Days In A Juvenile Center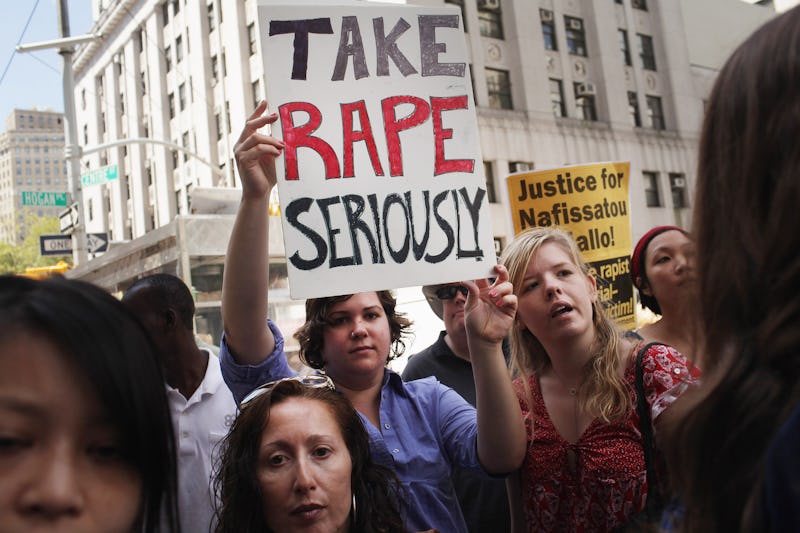 Spencer Platt/Getty Images News/Getty Images
Initially, a 16-year-old from Brighton Township, Michigan faced up to 31 felonies, including 20 counts of sexual assaults. The Michigan teen, however, will spend just 45 days at a youth facility, according to Livingston Daily. Once released, the teen will return home for "intensive probation services," possibly including an outpatient rehabilitation program for sexual offenders. The families of the three alleged victims, the youngest of which was only 12 at the time of the assault, are terrified for their children's safety once he's set free.
"These kinds of sentences are dependent on a lot of different variables and factors," Ann Snyder, public affairs coordinator for the Association for the Treatment of Sexual Abusers, tells Bustle (Snyder is not involved with the Michigan teen's case). "Where a youth is placed is dependent upon what the court deems his risk is to the community. In general, courts prefer to place youth in the least restrictive setting that still maintains public safety."
In each instance of assault, the teen, who isn't being named because he was charged as a juvenile, allegedly manipulated the girls and forced himself on them, local station WJBK reported. "He did this to all the girls. He would infiltrate their social media, get all their friends and go to work," a father of one of the victims, identified only as Byran, claimed to the local Fox affiliate. "He's a predator. Without a doubt, he is a predator."
A mother of one of the victims, Jackie, alleged to WJBK that the teenager "overtook" her daughter "with his size and strength" and later "apologized profusely and begged to come to see her in person to apologize because he was so sorry for what he had done to her — and then he raped her again."
Despite the victims' claims, the teen, who was 14 at the time of the assaults, reached a plea deal with prosecutors. He pleaded guilty to only six of the criminal sexual conduct charges: one count of first degree criminal sexual conduct, four counts of possession of child sexually explicit material, and one count of accosting a minor for immoral purposes. He was supposed to go to a facility to be evaluated for 15 months, WDIV reported, but the court referee went against the agreement and sentenced the teen to 45 days.
Some factors that prosecutors consider when determining a punishment for something like this are the age of the victims and the youth charged with the crime, according to Snyder.
[It] depends on how much or if any coercion was involved, whether there were any kinds of threats or not, the youth's mental capabilities, if there are mental health issues, cognitive issues. Typically, this youth is going to receive services that will address whatever those specific factors are. ... In many cases, before a youth is a perpetrator, the youth is a victim, so there may be some trauma to deal with.
Right now, however, the parents of the victims are rightfully concerned with their children's trauma. One mom, Ashley, told WJBK:
She has a life sentence; all of these girls do. And, to give him 45 days doesn't even seem fair to what these girls have gone through.
A judge will soon decide whether or not the teen will attend sex rehab.
"There's something called dialectical behavior therapy," Snyder says, "that is typical treatment for a variety of things, including sex offenders." It involves identifying the risks and needs of the accused. Risks include things like anger management, trauma, inability to understand social cues, and the needs are the tools the perpetrator needs to overcome these behaviors.
"Typically a youth sex offender who successfully and actively engages in treatment has only about a 5 percent chance of recidivating," she says, meaning they commit sexual assault again (according to government analysis, this rate varies depending on years of follow-up). "The phrase that caught my eye [in the Michigan teen case] was 'intensive services,' meaning they recognize that for whatever reason this youth will need a lot of wrap-around services."
In the meantime, the parents of victims continue to feel cheated by the sentence.
"He has practiced the same M.O. and has practiced the same tactics with multiple young girls," Jackie said. "[I'm worried] he's going to continue to offend and that's the thing that all of our girls were most concerned about."