You've Never Seen A TV Family Like The One On 'Midnight, Texas'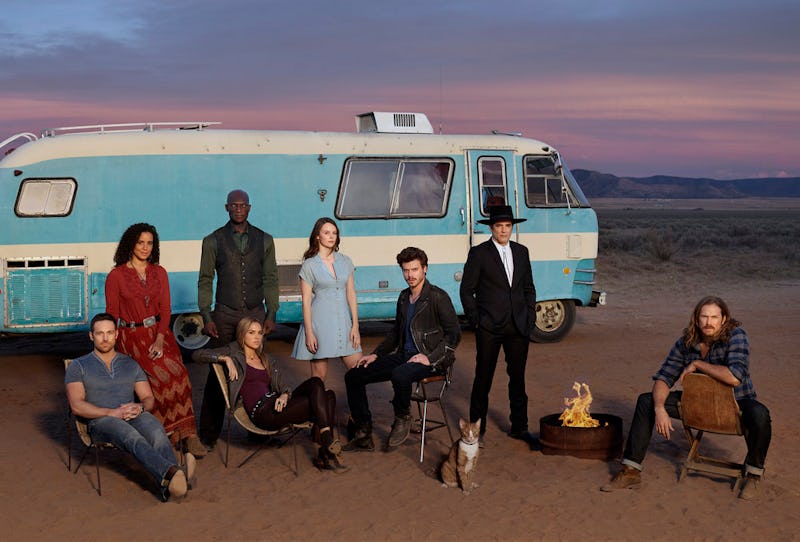 Virginia Sherwood/NBC
I'm sitting at a long table, swapping desserts with the cast and creatives of Midnight, Texas at the beginning of a set visit that I and several other journalists attended, and it could not be more apparent that this show is about family. Everyone there is welcoming and appears to genuinely love each other, which is well reflected in the concept of the NBC series. The Midnight, Texas characters form a family of witches, vampires, were-things, and everything in between, according to the actors involved.
While the first TV series to be based on Charlaine Harris' novels, True Blood, is all about shifting loyalties and the supernatural being out in the open, Midnight, Texas is a safe haven for paranormal misfits. The tagline "only outsiders fit in" tells you everything he needs to know about this mysterious town. "We're making a show about togetherness," says Orphan Black actor Dylan Bruce, who plays pawn shop owner Bobo Winthrop.
The series kicks off when a psychic named Manfred comes to Midnight at the behest of his dead grandmother. When he arrives, he finds a community there that takes him in. "He develops a sense of of purpose," says actor François Arnaud of his character, "and understands that he can bring something to the table — and maybe he's been fending for himself too long. He sees that it's rewarding to help others."
However, the town sits on a veil between the living and the dead. Arnaud aptly compares it to the Hellmouth on Buffy The Vampire Slayer. That's partly why the group is drawn to the town, but also why it's important that they stand together.
Peter Mensah plays the vampire Lemuel and describes his character as protective — one of the father figures in Midnight. "One of the charms of this show," he says, "is family in this particular incidence doesn't always look similar and doesn't even come from the same background. Yet you can find family. That's definitely what this story does."
Another town leader is the Reverend, played by Yul Vazquez. "Lem and I are kind of the moral compasses of the town," says Vazquez, "and the Rev in many ways tries to preserve the integrity of the town."
"We're a gathering of outcasts, and we formed a family from that," says Jason Lewis, who plays Joe Strong, His character reluctantly takes on a bit of a guiding role as the community continues to expand. "Honestly," he says, "I think most of us go through life with a sense of being a little stuck on our own island and wishing people would come across."
For Sarah Ramos' character Creek, Midnight is just the place where she grew up. Unlike many of her neighbors, she doesn't have any special abilities — or doesn't seem to. But Creek is drawn to the formed family of "Midnighters" as an alternative to dangers at home. "They would kill for her if necessary," says Ramos, and that's a security system Creek feels that she needs.
From what I observed, and with no degree of difficulty, everyone involved with the show feels a similar community bond. At the aforementioned dinner, executive producer and writer Monica Owasu-Breen talks about having a "no *sshole policy" for hiring writers, which guarantees a positive atmosphere. It's something she learned and borrowed from Maurissa Tancharoen and Jed Whedon while writing for Agents of S.H.I.E.L.D.
Midnight, Texas was filmed in New Mexico, and Season 1 shooting will been long completed by the time the show premieres on NBC on July 24. The cast experienced geographical isolation, since they live together in Albuquerque for months, and existential isolation, since they haven't gotten any audience feedback yet. The combination brought the cast together and strengthened their bond. What "could potentially lead to a level of insanity," says Ramos, instead became a home away from home.
"It's like being at a family retreat," says Parisa Fitz-Henley, who plays Fiji. "I can't say it enough," she says. "I'm in love with this cast."
"Midnight is a place where people go to feel safe," sums up Arielle Kebbel, who plays the assassin Olivia. "These characters wouldn't normally or necessarily be friends, because they're so different, and yet their differences and their strengths is what brings them together, keeps them together, and really showcases what a true village looks like."
Of course, everything is not all group hugs and sing-alongs. Danger is lurking, and the newly formed family has to fight for their survival in Season 1. Luckily for them, the love on set and off makes telling the story much less trying than living it. I wouldn't want to mess with the residents of Midnight, Texas. They roll deep.