Mike Pence Said Trump's Rhetoric Isn't The Cause Of The Pittsburgh Synagogue Shooting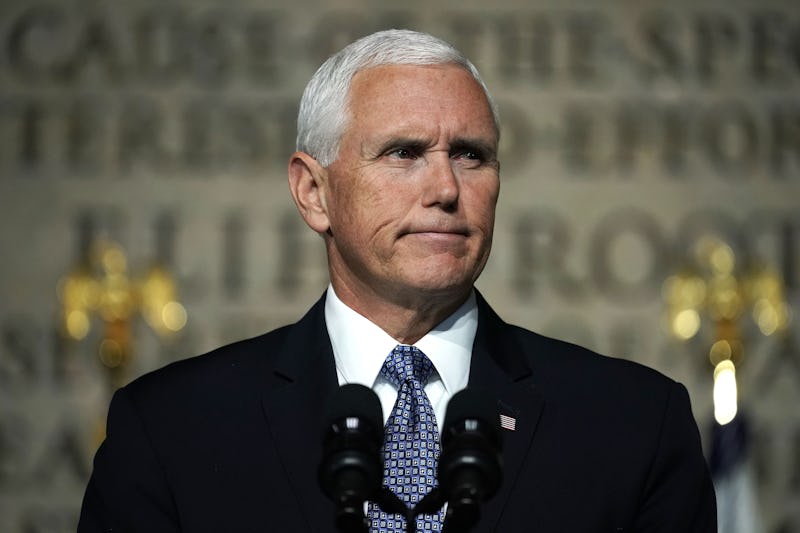 Alex Wong/Getty Images News/Getty Images
In an interview Saturday, Vice President Mike Pence said the synagogue attack wasn't Trump's fault. Pence described the attack as "evil" but said he didn't believe there was a link between the president's divisive rhetoric and a recent string of violent attacks within the United States, according to NBC News.
"Everyone has their own style, and frankly, people on both sides of the aisle use strong language about our political differences," Pence told NBC News in an interview. "But I just don't think you can connect it to acts or threats of violence."
On Saturday, a shooter opened fire at a synagogue near Pittsburgh, killing 11 people and injuring others. In the day after the attack, many critics drew connections between the president's rhetoric and the shooter's intentions, blaming Trump for fostering a politically tumultuous environment in the United States.
Press Secretary Sarah Huckabee Sanders vehemently denied that this was true, tweeting on Sunday that "the evil act of anti-Semitism in Pittsburg was committed by a coward who hated President Trump because @POTUS is such an unapologetic defender of the Jewish community and state of Israel."
In speaking with NBC News, Pence repeatedly distanced the shooter's motives from anything the president has said. "The American people believe in the freedom of speech," Pence said. "And throughout the history of this country we've always had vigorous debates and then we settle those debates in the ballot box. We don't settle them through acts or threats of violence like the pipe bombs we saw sent to the Obamas, the Clintons, to CNN and others."
In two tweets on Saturday, President Trump condemned the shooting, describing it as an "evil Anti-Semitic attack" and "an assault on humanity." "It will take all of us working together to extract the poison of Anti-Semitism from our world," Trump wrote. "We must unite to conquer hate."
Pence and others close to the administration echoed similar sentiments in the attack's wake. "America is stronger than the acts of a depraved bigot and anti-semite," first daughter and presidential advisor Ivanka Trump tweeted on Saturday. "All good Americans stand with the Jewish people to oppose acts of terror & share the horror, disgust & outrage over the massacre in Pittsburgh. We must unite against hatred & evil. God bless those affected."
In speaking with NBC News, Vice President Pence also highlighted the importance of what he described as "open political debate." "We want a free and open political debate in America where everyone expresses themselves passionately and openly — but also recognize the difference between passionate debate and acts of violence and evil," he said.
Saturday's attack renewed an ongoing debate about whether the president adequately condemns hate groups following violent events. Many on Twitter invoked Trump's statements immediately following last year's deadly white supremacist rally in Charlottesville, Virginia, which left one counter-protestor dead. At the time, he remarked that there were "very fine people on both sides" of the rally, sparking outrage from critics. Those comments circulated again on Saturday and Sunday.
While many Republicans defended the president over the course of the weekend, partisan tensions continued to simmer. At a time when the political divide is as great as ever, tragedies often serve to highlight that, even in grief, among many politicians, there is a clear lack of consensus.