Mike Pence Sends Mixed Messages About Obamacare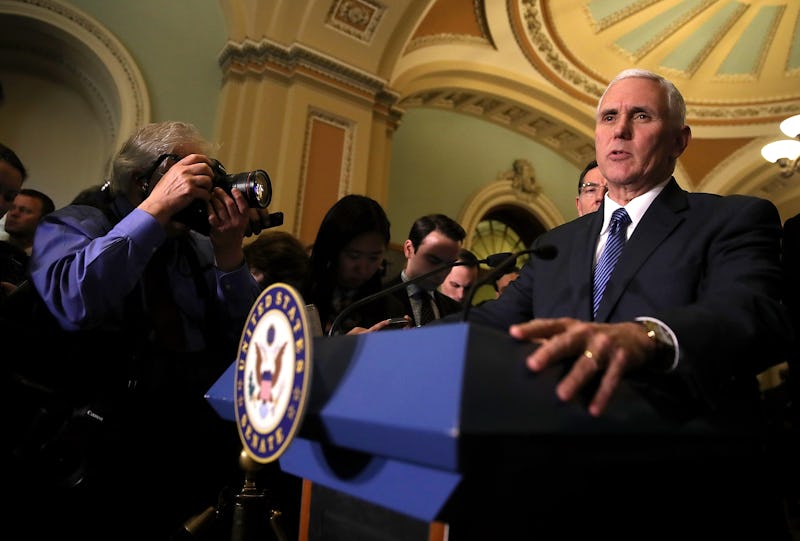 Justin Sullivan/Getty Images News/Getty Images
Rumors about the Republican Party's plan to repeal and replace the Affordable Care Act, a.k.a. Obamacare, have swirled since the GOP first coined the phrase "repeal and replace." On Monday, Republicans in the House of Representatives finally revealed their proposed replacement. But having the details out in the open hasn't necessarily made things crystal clear, as evidenced by a confusing tweet from Vice President Mike Pence about Obamacare and the GOP's plan.
According to his official Twitter account, the vice president spoke to senators on Tuesday about healthcare, a day after House Republicans introduced their Obamacare replacement bill. Although the bill came from Congress, President Trump wasted no time expressing his support for the plan. He called it "our wonderful new Healthcare Bill" in a tweet on Tuesday morning. Pence also expressed support for the bill, known as the American Health Care Act, via Twitter on Tuesday, saying that he and Trump see it as "the framework for reform."
In another tweet, though, Pence seemed to contradict himself about the provisions of the bill. His mixed messages suggest that there are still a few kinks to work out in the GOP plan. Not to mention, there are definitely some divisions within the party that will need to get sorted out before a plan goes into effect.
"If you like ObamaCare, you can keep it," Pence tweeted. In the same tweet, he also said, "ObamaCare must go." So, which is it?
It's not entirely clear what he meant, but Pence may have been referring to the push-back that the House proposal has received from some senators. For instance, Republican Sen. Rand Paul on Tuesday criticized the plan, calling it "Obamacare lite." Republican Sen. Mike Lee called it "exactly the type of back-room dealing and rushed process that we criticized Democrats for." For his part, President Trump appeared to acknowledge, but brush off, Paul's critique.
Whether or not the GOP has a unity problem, it certainly has a messaging problem. House Republican Jason Chaffetz opened himself and his party up to widespread criticism when he suggested to CNN on Tuesday that low-income Americans may have to choose between their iPhones and their healthcare:
Americans have choices, and they've got to make a choice. So rather than getting that new iPhone that they just love and want to go spend hundreds of dollars on that, maybe they should invest in their own health care.
According to CNN, Chaffetz later walked back his comments, but that didn't prevent the controversy from continuing. Americans were clearly outraged by his statements. Some even calculated how many iPhones they'd need to pay for their health care.
From Pence's contradictory tweet to Chaffetz's insulting insinuation, the GOP's health care message is in need of an overhaul. Any major health care reform is bound to be complicated, but divisions within the Republican Party and criticism from beyond the party's folds could give anyone a headache. Let's hope headaches are covered under the to-be-determined final plan.