'Real Housewives' Fan Mila Kunis Met Lisa Rinna In An AMAZING Bravo Fan Moment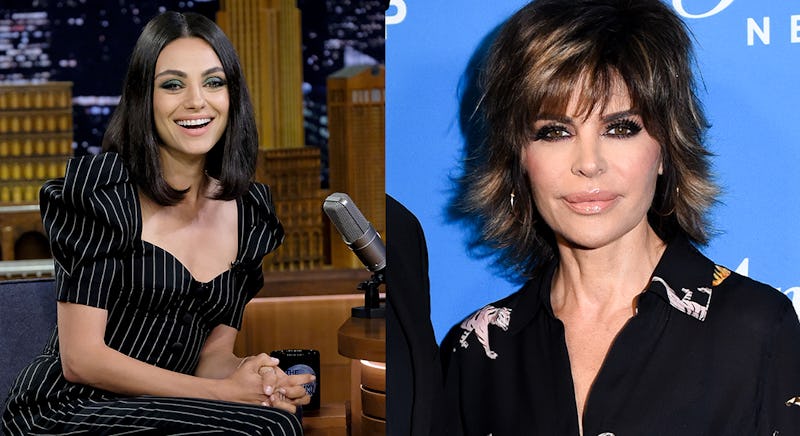 Jamie McCarthy/Getty Images Entertainment/Getty Images; Presley Ann/Getty Images Entertainment/Getty Images
Call it a case of a superstar getting super starstruck. Mila Kunis' reaction to meeting Lisa Rinna of The Real Housewives Of Beverly Hills on the Wednesday, August 1, episode of Live with Kelly and Ryan was the absolute sweetest Bravolebrity fangirl moment. Usual co-host Kelly Ripa apparently decided to take her vacation at the perfect time, as Rinna was filling in when The Spy Who Dumped Me's lead stopped by the talk show to promote her new action comedy.
After Kunis and Rinna exchanged compliments about how "gorgeous" the other is, host Ryan Seacrest let the cat out of the (Birkin) bag, telling Rinna that their guest is "obsessed with your show," as seen in the clip from the episode.
Although Kunis noted that "obsessed is a harsh word," she did admit that she's "seen every episode, every reunion episode, all the unseen footage..." In her trademark self-deprecating way, the seemingly flattered reality star responded, "Have you? I'm sorry."
Kunis, however, was far from apologetic. "Here's the thing, so I love the Real Housewives," she told Rinna during the episode. "It didn't matter to me if it was Atlanta, Orange County, Jersey, Potomac. I was, like, obsessed with it. And then Beverly Hills hit, and I was like, 'That's my hood.'"
Telling the RHOBH star in the clip that meeting her was "very exciting" and "such a treat" Kunis (wearing a Cushnie et Ochs dress) also threw in a playful Housewife-worthy barb: "You people are crazy."
Rinna, of course, didn't disagree, saying that Bravo's reality TV juggernaut is such an entertaining piece of escapism "because we're so nuts."
Added Kunis: "Yeah, but ... it's all fun. You have to go with it. I think if you take it too seriously, that's when people are like, 'it's so...' I'm like just go with the flow, it's not that big of a deal."
Rinna returned the compliment, again calling Kunis "gorgeous" on Instagram and sharing a photo of the pair with Seacrest on set.
Of course this isn't the first time the That 70s Show alum has confessed her Real Housewives love. During a 2015 appearance on Late Night with Conan O'Brien, she copped to putting daughter Wyatt (with husband Ashton Kutcher) in her Fisher Price rocker and watching RHOBH while she's on the treadmill. Joking that her husband initially "judges" her for her small screen selection, she went on to tell O'Brien:
"And then he gets sucked into it because it's, like, cat fights happen. Weaves are being chucked to places. The women just look like they got beat by a drag queen they have so much makeup on. It is amazing. It is one of the greatest things on television."
The Kutcher-Kunis family is also undeniably a part of Bachelor Nation, even helping Rachel Lindsay find love with an obstacle course challenge on a 2017 episode of The Bachelorette.
"We love the show so much, we went on our date night," she told Seacrest and Rinna of their appearance on the ABC hit, according to Us Weekly. "We were like, 'Let's go on, like, a fun date in the afternoon. What should we do? Let's go be on The Bachelorette.'"
Kunis, who called the franchise "a great study of human behavior" hinted that her pick for the next Bachelor may be one of Becca Kufrin's final two suitors: Garrett or Blake. But she assuredly has the right reasons for not revealing the guy she's rooting for to hand out his own roses next season.
What isn't a secret, however, is how much Kunis loves reality TV. And unless it was an unlikely attempt to hustle the hustler, her reaction to meeting Rinna was adorably relatable.