Will Donald Glover Land This 'Spider-Man' Role?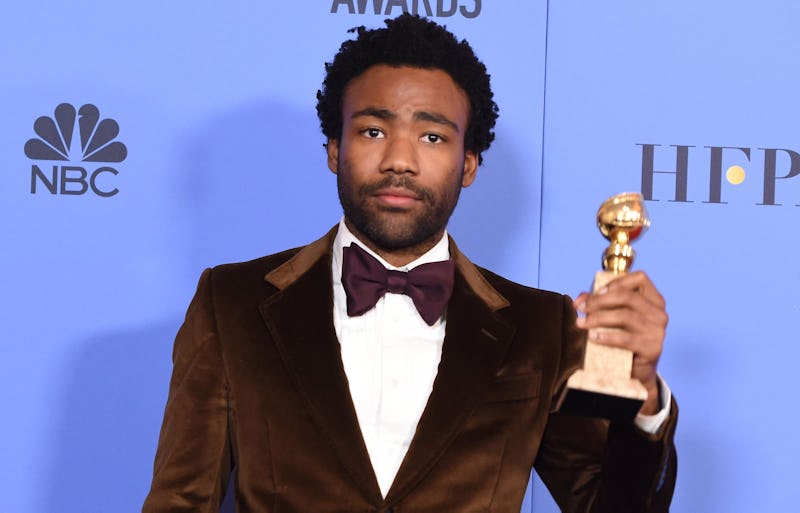 ROBYN BECK/AFP/Getty Images
Move over, Peter Parker — it's really happening. According to Deadline, Miles Morales will finally be the lead character in Sony's upcoming animated Spider-Man film. And while there have been no official casting announcements just yet, whispers that Donald Glover could possibly be getting really close to securing his dream role are already circulating. I mean, granted the film is animated, so if Glover is, in fact, cast in the role of Morales, it will only be a voice-acting gig, but hey, that's pretty close, right? Perhaps, it could even lead to a live-action adaptation role in the future.
It seems safe to assume that if Glover really wants to voice the character, the job is most likely his for the taking. You see, Glover already lends his vocals to Miles Morales, the Spider-Man character in Disney XD's Ultimate Spider-Man cartoon. And if that's not enough for the 33-year-old entertainer to seal the deal, it just so happens that Phil Lord and Christopher Miller — the same duo commandeering the upcoming Han Solo: Star Wars spin-off, which also stars Glover — are co-producing this project, according to Vanity Fair. So, yeah, my spidey senses are starting to tell me that he may be a shoo-in for the part.
Glover, who has long campaigned to the play the iconic superhero, is also set to appear in the upcoming Spider-Man: Homecoming, so it sounds like the actor's webs are aligning for him to secure the coveted spot. The recent Golden Globes accolades for his self-created and produced FX series, Atlanta, in which he also stars; his newly released Billboard 200 charting album; and his rapidly rising popularity certainly don't hurt his situation at all.
At this point, the only thing standing in the way of landing the potential acting gig is his age. In the comics, Morales is portrayed as a part African-American, part Puerto-Rican adolescent, and Glover will turn 34 at the end of the year. But, who knows — with the magic of Hollywood, anything is possible.
The long-awaited and currently untitled film is scheduled to hit theaters on Dec. 21, 2018. Since 2017 already seems to be Glover's year, I'm certainly rooting for him to finally get his wish. #DonaldForSpiderman