Miley Cyrus' First IG Since The Liam Hemsworth Split Is All About How "Change Is Inevitable"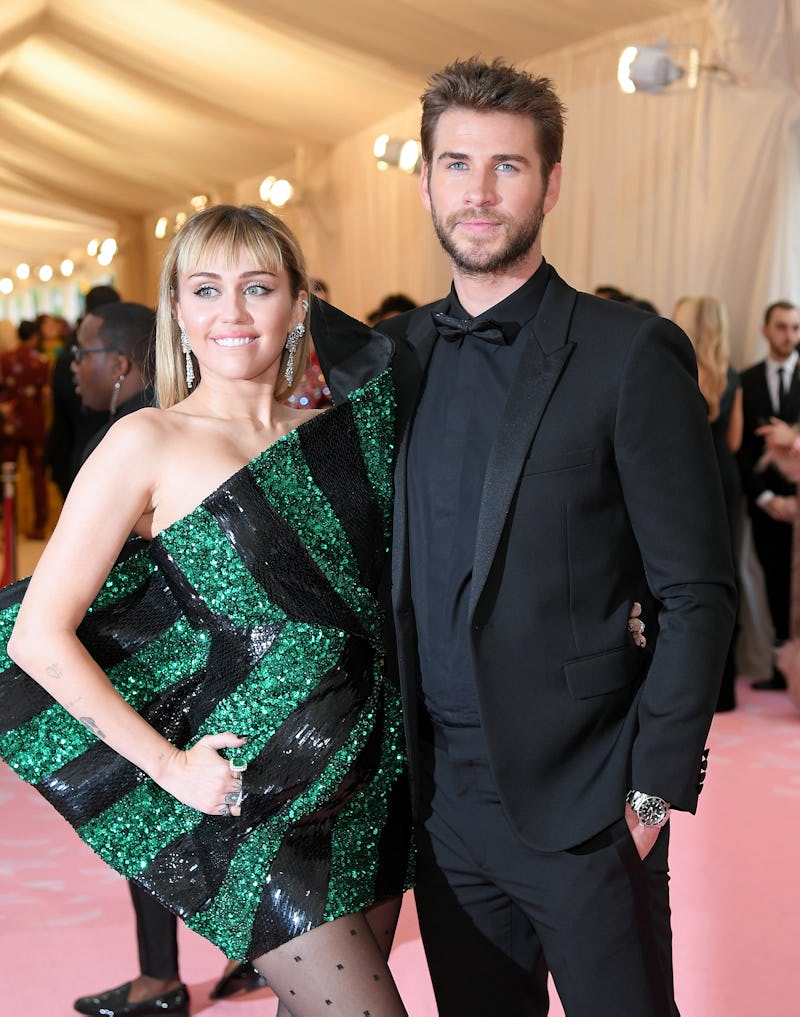 Neilson Barnard/Getty Images Entertainment/Getty Images
On her group vacation to Italy with Kaitlynn Carter and sister Brandi Cyrus, Miley Cyrus shared her first post-breakup Instagram and it seems to comment on her recent separation from her husband, Liam Hemsworth. She's posed before a grand backdrop of mountains and greenery while wearing Nike joggers and a backwards hat. The "Mother's Daughter" singer uses the nature setting to talk about how she's evolving as a person.
According to People, the two split because they are "ever-evolving, changing as partners and individuals," and "they have decided this is what's best while they both focus on themselves and careers."
The Instagram post from Cyrus is the first since the announcement was made. She captioned the photos,
"Don't fight evolution, because you will never win. Like the mountain I am standing on top of , which was once under water , connected with Africa , change is inevitable," she wrote. "The Dolomites were not created over night, it was over millions of years that this magnificent beauty was formed. My dad always told me "Nature never hurries but it is always on time".... it fills my heart with peace and hope KNOWING that is true. I was taught to respect the planet and its process and I am committed to doing the same with my own ...."
Brandi commented on the post with a string of heart emojis in support. The group has been taking the time to relax and reflect on their trip since the breakup announcement was made.
Although they've been in love for an entire decade, most fans know this isn't the first split Hemsworth and Cyrus have experienced. After meeting on the set of The Last Song in 2009, they began dating. They became engaged in 2012 and later ended it in 2013. Three years later, they rekindled their relationship and eventually tied the knot in December 2018.
It's unclear whether or not this split will be the official end of the couple's roller coaster of a relationship, but there's no doubt that they have love for one another. In July 2017, Cyrus discussed the first time she and Hemsworth broke up in an interview with Billboard, and the reason was similar to her statements this time: it's all about needing change.
"I needed to change so much. And changing with someone else not changing like that is too hard," she told Billboard. "Suddenly you're like, 'I don't recognize you anymore.' We had to refall for each other."
Although their relationship has stayed pretty private considering their level of celebrity, Cyrus has been open about her nontraditional approach to marriage and relationships in general. That approach could also have something to do with her break from Hemsworth.
"I think it's very confusing to people that I'm married. But my relationship is unique," she told Elle in July. "And I don't know that I would ever publicly allow people in there because it's so complex, and modern, and new that I don't think we're in a place where people would get it. I mean, do people really think that I'm at home in a f*cking apron cooking dinner? I'm in a hetero relationship, but I still am very sexually attracted to women."
After the split was announced, People reported that Cyrus was spotted kissing Kaitlynn poolside in Italy. It's unclear whether or not that moment is related to Cyrus' split from Hemsworth. Hemsworth has yet to publicly comment on the matter. For now, it looks like this split is another stage in the couple's ongoing evolution.