Here's A Full Timeline Of Miley Cyrus & Liam Hemsworth's Intense Relationship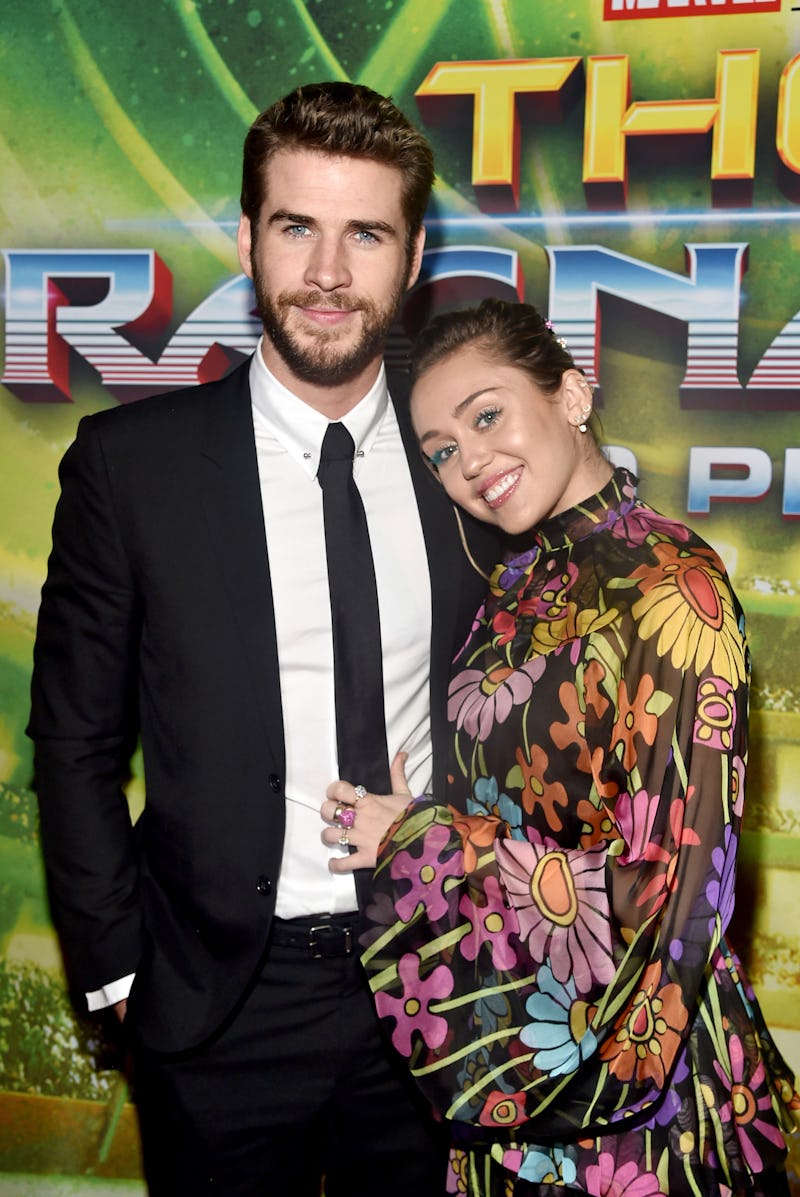 Alberto E. Rodriguez/Getty Images Entertainment/Getty Images
Miley Cyrus is returning to the Grammy stage on Jan. 28, performing alongside the legendary Elton John, but some fans are more excited for her potential off-stage date. After years of on-again-off-again tabloid drama, a twerking scandal, and one broken engagement, the Miley Cyrus and Liam Hemsworth relationship timeline has finally found more solid ground in 2018, and fans fully expect the two to walk down the 2018 Grammys red carpet together.
Cyrus and Hemsworth, the maybe-married, but definitely engaged couple has been making headlines since 2009, when they met on the set of their movie The Last Song. But, recently they've been keeping a low profile. In fact, they have only appeared at a handful of events together since getting back together in 2016. Though they seem stronger than ever, enjoying personal and professional success — Cyrus recently released a new album, Younger Now and Hemsworth recently starred opposite Woody Harrelson in The Duel — they've been careful not to step into the spotlight. In fact, they have successfully become one of the most private couples in Hollywood over the past few years, and looking back at the tumultuous Cyrus and Hemsworth relationship timeline, it's not hard to see why.
2009 — The First Meeting & The Last Song
Cyrus and Hemsworth famously met working on their film, The Last Song. In the movie, Cyrus and Hemsworth play a young couple who fall in love during one emotional summer. It was Hemsworth's first major role and Cyrus' first big role outside of Disney's Hannah Montana. Rumors of a romance between the two started circulating immediately beginning in the summer of 2009, when photos of them smooching during filming were captured by the press.
March 2010 — First Red Carpet
It wasn't until March 2010 that Cyrus and Hemsworth confirmed their relationship with an official celebrity outing. The two attended Elton John's AIDS Foundation Oscar Viewing Party together, declaring their love to the world. A few weeks later, they walked side by side down the red carpet premiere of The Last Song.
Aug. 2010-April 2011 — Two Breakups & Reconciliations
For the next year and a half, Cyrus and Hemsworth became a tabloid obsession. Speculations about the status of their relationship began almost as soon as they confirmed it and have been going on ever since. In August of 2010, it was reported that the two broke up. A reconciliation was reported one month later in September. The following month, another breakup was reported, but the two seemed to get back together for good the following year in April of 2011. The troubles, at least for now, appeared to be over.
Dec. 2011 — Post On-Again-Off-Again Red Carpet Debut
In December of 2011, following two years of break ups and make ups, Cyrus and Hemsworth walked the red carpet together once more for CNN Heroes: An All-Star Tribute. A few months later, in February of 2012, they made a splash at the Vanity Fair Oscar party (pictured above), putting all past drama behind them.
June 2012 — The Engagement
Cyrus and Hemsworth confirmed their engagement in June of 2012 after Cyrus was spotted wearing a ring on that finger. "I'm so happy to be engaged and looking forward to a life of happiness with Liam," Cyrus told People at the time.
Feb. 2013 — The Breakup Rumors
Rumors of infidelity and a bad breakup took hold in February of 2013 after Hemsworth was spotted hanging out with January Jones and Cyrus took her mother, Tish Cyrus, to Elton John's AIDS Foundation Oscar Viewing Party.
April 2013 — Billy Ray Cyrus Casts Doubts
Cyrus' father Billy Ray Cyrus fueled rumors of a potential breakup during an appearance on Nightline. "They're young, they're kids. The great news is they're great friends. They're really, really good friends. If you end up getting married, that's your business," he said.
Sept. 2013 — The Breakup
Cyrus and Hemsworth ended their engagement and their relationship in September of 2013. The news came following Cyrus' explosive performance at the 2013 Video Music Awards, and a report from E! News cited a source as saying that Cyrus called it off "after coming to grips with Liam being what she believed was less than faithful to her."
Nov. 2014-April 2015 — Cyrus Moves On
For the next few years, the two went their separate ways. Hemsworth occasionally appeared in the tabloids, but Cyrus' dating life was much more high profile. She famously dated Patrick Schwarzenegger, Arnold's son, from November 2014 to April of the following year.
Nov. 2015 — Dora
Shortly after her breakup with Schwarzenegger, Cyrus reunited with Hemsworth to help him adopt a dog, Dora (pictured above). The two had always maintained that they were friends despite their breakup, and Dora's adoption certainly seemed to confirm that the two were, at the very least, on good terms.
Jan 2016-Oct. 2016 — Reconciliation Rumors
In January of 2016, it looked like Cyrus and Hemsworth were back together — and not just back together, but re-engaged. The two refused to comment on their relationship, but Cyrus was spotted enjoying some time in Hemsworth's native Australia with his family, and she even made an appearance on his sister-in-law Elsa Pataky's Instagram page.
Later that same month, Cyrus posted a photo to Instagram that appeared to be showcasing her engagement ring. Granted, Cyrus' love of jewelry and inconsistency wearing her engagement ring in the first place made it hard to gauge whether or not the ring really did mean that she and Hemsworth were planning on walking down the aisle, but fans took it as a good sign.
For the next few months, Cyrus and Hemsworth continued their not-so-secret reunion. The two occasionally appeared on each other's social media pages. For example, eagle eyed fans spotted Cyrus in the background of Hemsworth's photo of a pig, shared in July of 2016.
Oct. 2016 — Relationship Confirmed
Cyrus and Hemsworth finally took their on-again relationship public at Variety's Power of Women luncheon in October of 2016, posing together for photos inside the event. A few weeks later, Cyrus essentially confirmed that they were back together and engaged once more. During an appearance on The Ellen DeGeneres Show, she talked about why she sometimes doesn't wear the ring, joking that it wasn't really her "aesthetic."
Oct. 2017 — First Re-Engaged Red Carpet
Cyrus and Hemsworth took a step out on the red carpet in October, attending the Thor: Ragnarok premiere together, supporting Hemsworth's older brother, Chris Hemsworth. The two have been going strong ever since. So strong, in fact, that there were rumors that the two had secretly wed in April of 2017. Chris Hemsworth shut down rumors of a secret marriage during an interview with SiriusXM's Sway in the Morning in January of 2018.
Married or not, Hemsworth and Cyrus appear more than happy just being together and leaving the drama of their early relationship behind.