Miley Cyrus & Liam Hemsworth May Never Walk Down The Aisle, According To A New Report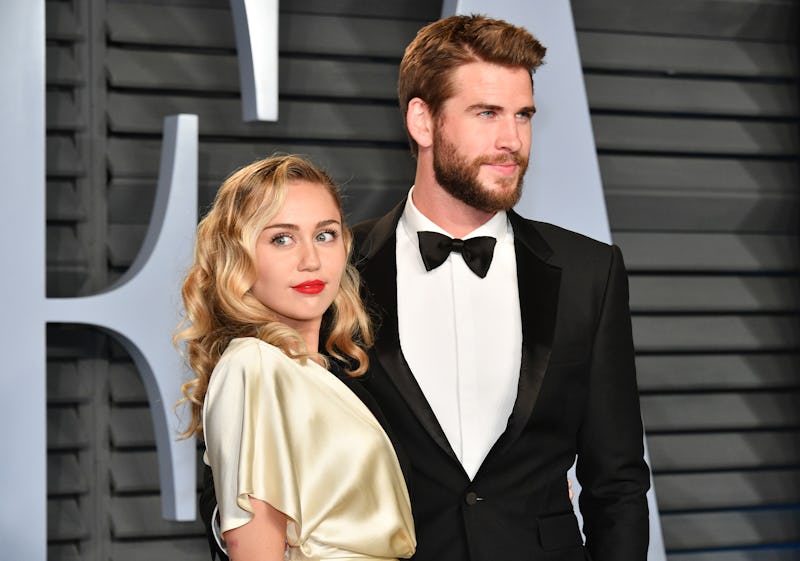 Dia Dipasupil/Getty Images Entertainment/Getty Images
The last month has been a whirlwind when it comes to rumors about Miley Cyrus and Liam Hemsworth's relationship. First, word on the street was that they were broken up, but then it was pretty clear from social media that they're still together. And now? Well, it sounds like if you're hoping for a wedding for these two anytime soon, you might want to temper your expectations. According to a report from TMZ, Cyrus and Hemsworth may never get married. (Bustle reached out to Hemsworth's rep and Cyrus' agent, but did not receive an immediate response.)
As sources who claim to be close to the couple told the site, Cyrus and Hemsworth are still happily together, but they don't necessarily see a wedding in their future — anytime soon, or possibly ever. Reportedly, they don't see a need to make things legally official when they know they love each other, which is a choice that makes sense for a lot of couples; sometimes, that formality is important, but not everyone feels that way.
TMZ also claimed that for them, their engagement is enough commitment, and that Cyrus isn't interested in getting married at all — but where their relationship is concerned, that shouldn't be taken negatively.
"They're both super chill and grounded," the insider told the site. "They're perfect for each other."
Being that this report is unconfirmed, it's hard to say if this is how Cyrus and Hemsworth actually feel. But if it is, that's totally OK. Not everyone needs or wants to get married — maybe these two fall into that category. And if they feel they've made a level of commitment to each other that they're both comfortable and happy with, who cares if they ever have a ceremony and sign paperwork?
This report isn't exactly surprising, since in the past, Cyrus has made it clear that she isn't quite ready to get married. In an interview with The Sun in September (via The Daily Mail), Cyrus said she's not thinking marriage anytime soon. "I don't envision marriage. I'm 24. I hope I get to live a little bit more. I have too much living to do," she said.
So what does she want in the future? In the same interview, she said she's hoping she'll be "even happier" with Hemsworth down the line, if that's possible. She said,
Three years ago, if you'd asked me if I'd be here, this happy with this man, I'd have been stunned. I'm just riding this out. In some relationships, you lose yourself by being with someone else. Actually, it made me find myself more. I have no idea what the next three years will bring, but if it's possible to get even happier, I'll take it.
As much as fans would love to see Cyrus and Hemsworth walk down the aisle, whether or not they get married is completely up to them. The decision to get married is a big one, and they're the only ones who can make that call. And in the meantime, those of us in love with their relationship can keep watching their sweet moments on Hemsworth's Instagram.