Here's Everything We Know About Miley Cyrus' New Music Coming REALLY Soon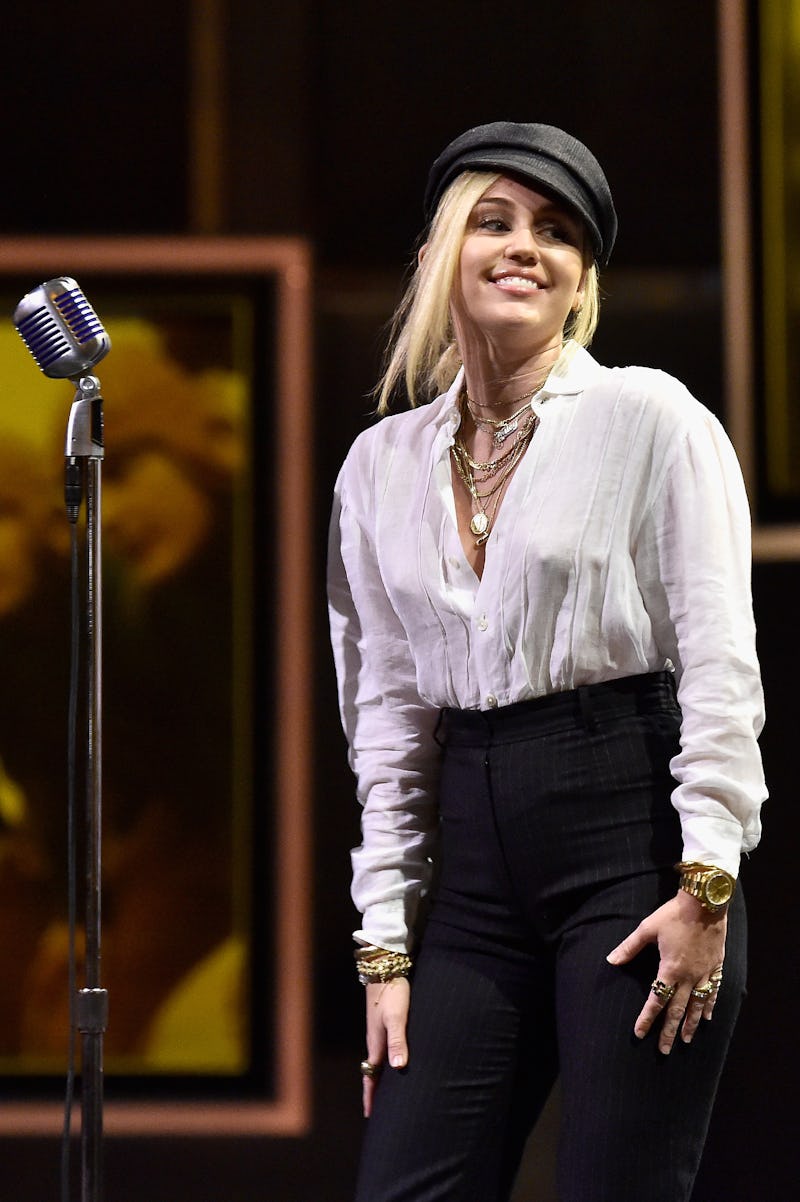 Frazer Harrison/Getty Images Entertainment/Getty Images
Miley Cyrus was once one of the biggest names in teen pop thanks to her Disney Channel hit Hannah Montana. Then, Cyrus grew out of that persona and produced some of the most well-known songs of the decade. From "Party In the USA" to "We Can't Stop," she's made her mark on pop music. Now, after a little bit of a break from releasing new tracks, Miley Cyrus is releasing new music sooner than you think. In fact, as her recent Instagram post teased, it's coming before December.
Cyrus teased her first big release in over a year on Monday, Nov. 26 with a major change to her Instagram page. The singer's Instagram bio now reads "11/29" followed by a broken heart emoji. Then, in her empty feed, she posted a video of a disco ball, in the shape of a heart, with a great big crack down the middle. The ball is slowly spinning, with red light bouncing off of it, and the video reveals a new song beat, visuals, and who she's working with. The beat playing behind it is very retro, like the video, and doesn't really give away much about the song itself. Is it the opening, the general chorus, or theme? It's not certain, but she did tag Mark Ronson, who posted the same video with the caption, "the heartbreak era is coming….sooner than u think."
According to a report by iHeart Radio, Miley Cyrus' new single will be titled "Nothing Breaks Like a Heart." Originally the single was reported to debut on The Graham Norton Show on Dec. 7, but based on Cyrus' Instagram post, it looks like the release has since been moved up. Ronson's Instagram caption and identical tweet hinted as much with the phrase "sooner than u think."
Cyrus wiped her Instagram feed clean back in July, a signal to fans that she was gearing up for some big announcement (she has used Instagram like this before). And fans have been waiting for any confirmation of new music since Billboard reported that Ronson and Cyrus were working together in May. As noted by the outlet, on May 24, Ronson tweeted, "jesus. miley cyrus can sang," and Cyrus posted a video of the two working on "heartbreaking tunes." A month later Ronson gave an update on his collaboration with Cyrus via Instagram, sharing a snapshot of the two and declaring that she helped him write "one of my favorite songs."
In addition to updating her Instagram, Cyrus has also been interacting with fans on Twitter, hyping them up to prepare to remember their broken hearts (and possibly break them all over again).
If you've been listening to Cyrus' music over the years, you'll know that she's not one to shy away heartbreak in her music. Her album, Bangerz was full of breakup tracks, from the aggressive and angry "FU" to the more toned down "Drive." Even in her Disney days, her hit song "7 Things" was about her pretty public young love with Nick Jonas.
And if that's not enough, it was just announced that Cyrus and Ronson will be on Saturday Night Live on Dec. 15, where they'll be the musical guests along with host Matt Damon, presumably to perform their new single.
Hopefully this all means fans can expect a new album coming soon. Either way, there's a lot going on for Cyrus right now, so buckle up because some good stuff awaits.